After more than four decades of hard work and commitment, Owner Operator Tony Boselli has a thriving chain of McDonald's restaurants.
His company, Boselli Investments, has not only allowed Owner Operator, Tony Boselli to build a chain of successful McDonald's franchises, but also form long-lasting relationships wihtin the community he loves. "I've enjoyed it every single day…I get to work with some of the best very best employees in the business," he declares.
In fact, some of his employees are his own children, and grandchildren, as he looks to make his operation a multigenerational family business. In addition, he also has watched his customers grow up over the years and even become parents. "Their kids work for me today," he adds. "I know quite a few of my guests each and every day as they walk in and out the door."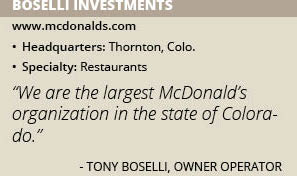 Boselli started the Thornton, Colo.-based company with his brother Bud in 1974. "He was the owner and I was his manager," Boselli recalls, adding that the brothers worked both the counter and the grill in their very first restaurant. "We both said it was the best day of our lives."
Today, Boselli Investments has 14 locations and employs a staff of 800. "We are the largest McDonald's organization in the state of Colorado," he declares, adding that its restaurants serve six million guests annually.
Hiring the Best
Boselli credits his company's success to his staff. "I was talking to a friend of mine the other day, and he was asking, 'Why is McDonald's so successful in having good employees working for them in so many locations?'" he recalls.
"People is our No. 1 priority and we work hard at retaining and identifiying the very best people in the restaurant business " Boselli says, adding that the company recruits only those who are willing to be loyal and put in a strong effort. When they are hired, they have to undergo an hour-and-a-half long-orientation in his office.
"It gives my top management a chance to see these people," he explains. "We really analyze the type of people we want working for us, and [whether] these people will be a good, long-term fit for our organzistion."
This focus has paid off for Boselli Investments, which has employees that have stayed with the company for more than 30 years. Boselli has rewarded those longtime employees with gifts that include watches, necklaces and rings, commemorating their years of service.
"We treat them as family, too," he adds, noting that his director of operations originally started with Boselli Investments 25 years ago as a crew person. "She's the top-paid person in the company and she manages 800 people."
He also highlights one of the company's managers who now oversees five restaurants. "When she started working for me, she didn't speak English," Boselli recalls, adding that she learned the language through family and friends.
"Now, she is one of our top people and is being recognized for 25 years in the business," he says. "That's why we're better than our competition — we take a lot of time to support and grow with our people."
Extra Steps
Boselli Investments strives to give customers the experience they expect at its McDonald's locations. "Whether it's in the drive-thru or at the front counter, they come to McDonald's for Speed," Boselli says. "We give them that quick service, but we add hospitality to that with convenience of table service and a genuine smile."
Many of the company's competitors overlook this essential portion. "We're very conscientious," he continues. "Our managers are smiling and asking them how their day is." They truly care about each guest that is served.
Its locations also have programs where a hostess will bring the food out to the seated customers and ask if they need anything else. "We're serving the customer what they want while they're at the table," he says.
"We're taking that extra step that our competition is not taking," Boselli says. "That's making a big difference in our sales and how our customers see us today."
Telling the Truth
McDonald's is one of the biggest brands in the fast-food industry. However, "There are often misconceptions and flat-out untruths about our food," Boselli says, McDonald's is fighting against these and educating the public about our fresh quality ingredients.
"Our Balanced Lifestyle effort continues to move the needle to teach families how to choose moderation in their diets," he says, adding that 80 percent of the McDonald's menu is under 400 calories. "We have plenty of other items that can be part of a wholesome lifestyle and meal plan."
Boselli, who eats McDonald's food every day, adds that its menu features salads, grilled chicken and apple slices. "We sell more apple slices more than any other restaurant in the world," he says, noting that the restaurants also serve 100 percent white meat chicken and 100 percent real beef with no fillers, additives or preservatives.
McDonald's also incorporates such brands as Kraft Food, Newman's Own, Tyson Foods Inc., Minute Maid and Dannon. "We're using the things you have at home," he says. "I'm very proud that I have those names in my restaurant."
The Marathon
After more than four decades, Boselli is proud of his company. "I never thought when I was a manager of a McDonald's at age 25, that I would still be doing this… and continue to be so successful," he admits, adding that his children and grandchildren work alongside him at Boselli Investments.
He also has contributed to his community through the company. "I've employed thousands of people in my community, which makes me very grateful," he says. "I see the grandparents that say, 'Remember when I worked for you? Now my daughter is up at the counter.'"
He predicts growth for Boselli Investments. "We always have to be looking for investments and to grow the business,"," he says.
Remodeling is an important part of this business. "We need to keep up with what are customer expects, stay relevant to their needs and be able to deliver an experience that is the best in the business.
"In the next six months, I'll have seven McDonald's remodeled," he says, noting that another three will be renovated in 2019 with new exteriors and interiors, as well as ordering kiosks. "Those modern additions and within the restaurant will really give us a competitive edge."
He also sees a strong, long-term future for Boselli Investments. His daughter Lauren is his business partner and owns five restaurants. "I've told my kids that this business is marathon," he says. "It's not a sprint. If you work hard every day, keep a close eye on your business and engage with your customers, you will no doubt be successful."