Boston Showcase has grown to supply high-profile clients in its region, including MIT and Harvard University.
Boston Showcase Co.'s business is focused on products, but the company has thrived thanks to its dedication to customer service. "It's always been our motto to be as easy to work with as possible," Brand Manager Matt Starr says.
His cousin, Sales and Marketing Manager Andy Starr, agrees. "We respond to the needs of the customers and we try to be attentive to what they're looking for," he says.
Based in Newton Highlands, Mass., Boston Showcase supplies everything to foodservice providers "that doesn't get thrown in the garbage or get eaten," Matt Starr says. "That would range from exhaust hoods to all of the equipment, blenders, mixers and food processors."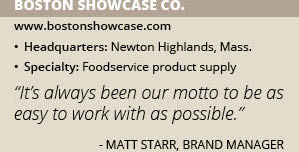 Starr's great-grandfather Max Starr started the business in 1913 after emigrating from Russia. A carpenter by trade, he made custom retail showcases for clients that included jewelry stores, bakeries, coffee shops and delis.
"We did a lot of stuff with the Mr. Donut Chain," Matt Starr says, noting that Max Starr's sons took over management of the company after his death. None of them was a carpenter, so the company moved from carpentry to kitchen equipment in the late 1940s.
"As people started eating out and restaurants became more commonplace, we weaved that into what we are now," Matt Starr says. He and Andy Starr represent the fourth generation of their family to lead the company.
Loyal Clients
Boston Showcase's foodservice customers range from Gillette Stadium to Davio's, a local Italian steakhouse chain. The company also works with Boston-based chef Ken Oringer and his Toro, Coppa, Uni and Little Donkey restaurants.
"We do a lot of other work with hotels and healthcare," Matt Starr says, adding that the company also serves high and middle schools, as well as Boston University, Massachusetts Institute of Technology, Boston College and Harvard University.
"When my grandfather got back from World War II, he attended Harvard," Starr says. In fact, he signed the renowned institution as the company's first foodservice client. "[It's] still one of our accounts 70 years later."
Many have stayed with Boston Showcase because it is a family-owned company. "As an outside salesperson, I can tell that it resonates with people," Starr says. "People like working with us and that definitely helps us."
Growing the Business
Boston Showcase invested in its technology in 2017. Not only did the company ensure its people have efficient computers, "[We bought] software programs that can help us manage projects more efficiently," Starr says.
The systems also enable its team to better manage inventory and solve problems "instead of having people drive themselves crazy," he says. "There seems to be more and more ways we can use technology to help grow our business."
Boston Showcase also is adding customer portals. Not only will clients be able to make orders, but "we're giving our customers the ability to go online in order to check invoices," Andy Starr says.
The company plans to have the portals live soon. "If we can, we try to come with a way to be as convenient as possible for our customers," Matt Starr says.
A Green Win-Win
Boston Showcase focuses on offering efficient products to clients. Although they may be more expensive up front, "It will save them in the long run," Starr says, noting that these include high-efficiency fryers.
It may be more tempting to buy a cheaper fryer, but temperatures often do not stay consistent in these products, he says. "If you buy the full system, you'll save on oil costs and operating costs," he says.
"We certainly are always looking to help save the environment, but there's a financial component to that," he notes. "If we can help be environmentally conscious, save our customers money and get them better products, that's a win-win all around."
Being the Best
Boston Showcase plans to continue to excel in its work. "We've been in business so long," Starr says. "We need to be the best Boston Showcase we can be."
Andy Starr also wants to grow its sales team. "Right now, we're at 10 and our salespeople are very busy," Starr says. "We can increase the lead flow through more marketing efforts, but we wouldn't have [the people] to cover it."
Additional salespeople would allow Boston Showcase to grow its share of business. "There really is a huge opportunity for us to gain market share with restaurants, hotels, more schools and assisted living healthcare," he says.