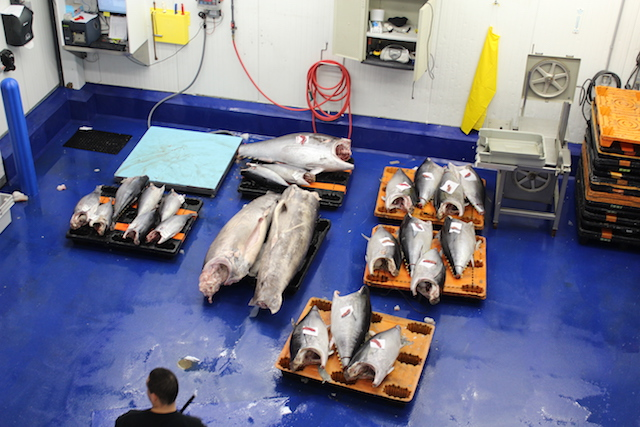 Boston Sword & Tuna is building a new processing facility to account for growth.
Famous for its fresh, local and sustainable seafood, Boston Sword & Tuna is building a new processing facility and expanding its frozen foods product offering.
To accommodate its growth, the family-owned and operated company broke ground in December on a new 50,000-square-foot facility in Boston. It plans to move operations from its current 33,000-square-foot facility early next year.
"We've seen significant growth in the past eight years," President Michael Scola says. "We've had almost 20 percent growth every year. This will allow us to be more diversified by bringing in more species and products from throughout the world." The company currently processes roughly 9 million pounds of salmon, 3.5 million pounds of swordfish and tuna, 2 million pounds of scallops, 1.5 million pounds of lobster, 1.5 million pounds of shellfish and 3.5 million pounds of ground fish. It is one of the largest seafood distributors in the United States.
The new facility will also allow for additional improvements to Boston Sword & Tuna's operations. "We will save time on efficiency," Scola says. "Right now, we don't have a shipping and receiving area. Our new building will have one."
In addition, the new facility will feature a new state-of-the-art lobster tank used to store live crustaceans. In an open flow-through system, water is pumped directly from the ocean into the tanks and then drains back into the ocean.
"It's going to be an open and closed lobster tank system," Scola adds.
The new facility will also allow the company freeze its own products and expand its frozen food holding area. Currently, its freezer has the capacity to hold roughly 70 pallets. The new one will be able to hold more than 300 pallets, which translates into more than 1 million pounds of frozen fish.
"In the last couple of years, we have expanded into frozen foods," Scola says. "We have frozen shrimp, tuna and swordfish. We see that market growing. When it comes to seafood, we call ourselves 'America's One-Stop-Shop for Seafood.' But that was one of the things we were short on. So, the frozen part of the business is what we're trying to expand."
One of Boston Sword & Tuna's goals – which it has been accomplishing – is to add at least one new product every year. It sources its seafood from the Pacific rim to South Africa, Canada and Central America.
Selling to food service distributers, retail markets, wholesale venues and supermarkets throughout the United States, the company is seeing a growth opportunity in the latter. "Our growth will expand more into the supermarket business," Scola says.
The new facility will allow Boston Sword & Tuna to become Safe Quality Food (SQF)-certified. Chris Ciarcia, the company's food and safety environmental officer, says that the new facility's design will feature more linear structures and lines.
"Right now, our facility has a variety of different processing areas that do not streamline linear production," Ciarcia says. "That can lead to potential for cross contamination if not supervised well. A linear structure minimizes potential for contamination."
Boston Sword & Tuna's current facility is FDA-inspected and the company has implemented SQF programs. "We buy from sustainable fisheries that have good agricultural practices and we are an MSC (Marine Stewardship Council) certified facility," adds Ciarcia, who is an SQF practitioner and PCQI (preventive control qualified individual). "We also do semi-annual safety training for our employees for good manufacturing practices, food fraud and food defense."
Boston Sword & Tuna got its start after the Scola family came to America from Sicily. Paul Scola and his partner Roland Harrington formed the widely respected R&P Seafood/Shellfish Company in 1972.
Later, brothers Michael, Paul, and Steven Scola took over the reins. In 2003, Michael Scola and his partner Tim Malley founded Boston Sword & Tuna. In 2007, the company officially merged R&P under the Boston Sword & Tuna banner.
In 2012, Larry Dore, a respected executive in the New England seafood industry, joined the company. "After Larry Dore joined us, we continued to beat sales records year after year," Scola says. "He has played a critical role in our continued success." Dore serves as a partner, vice president and manages the company's groundfish division.