Bottleneck Management aims to exceed its customers' expectations with high-quality service, food and beverages.
Bottleneck Management started when two Illinois Wesleyan University (IWU) friends, Jason Akemann and Nathan Hilding, decided to pursue their passion to become self-employed entrepreneurs. In 2001, the duo opened Trace – a two-story storefront tavern in Chicago's Wrigleyville.
Six years later, fellow IWU peer Chris Bisaillon joined the team as partner in 2007. That fall, Bottleneck Management opened The Boundary in Chicago's Wicker Park neighborhood.
Ten years later, Bottleneck Management has seen significant growth operating 15 vibrant restaurants across the United States in Texas, Pennsylvania, Illinois, Florida, Minnesota and Maryland. Its restaurant concepts include Trace, The Boundary, Sweetwater, South Branch, Old Town Pour House, Howells & Hood, The Crown – a special event venue – and City Works.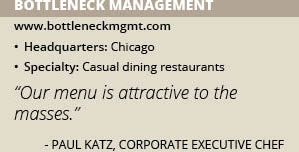 Although each concept is distinctive, they share the same unparalleled customer service and high-quality food and beverages. "We have several restaurants under our umbrella located in Chicago," Vice President of Operations Kevin O'Hare says. "This includes our upscale casual concept City Works. We also have Howls & Hood, Sweetwater, South Branch and The Crown, which is an iconic special event venue located at the top of the Tribune Tower."
He adds that the Chicago-based company just opened another City Works location in Frisco, Texas. The two-story concept features two full bars, dual patios, private dining rooms, and 13,000 square feet of dining space. "It's part of the brand-new The Star development of Frisco," O'Hare says. "It's opposite the practice facility of the Dallas Cowboys and the Ford Center entertainment venue."
Keys to Success
Bottleneck Management attributes its success to its unique restaurant culture. "Everyone is like-minded and likes to hang out together," O'Hare says. "It's a non-corporate environment, and we have great food and serve 90 beers on tap. It doesn't get any better than that."
Twenty-five to 45 percent of its craft beers are local, and the company's executive chefs offer weekly specials, which typically are location specific. "If the item sells well, it can become a permanent menu item," Corporate Executive Chef Paul Katz says.
"We have a daily menu and throughout the year we look at things we may want to change," he explains. "When we're not opening up restaurants, we conduct research and host tastings at least once a month. That is where the creativity of the menu comes from."
He notes Bottleneck Management seeks input from its chefs and ownership. "There's a big love of smoking in our restaurants," Katz says. "We have smoked barbecue ribs, wings, pork shoulder, duck and tomatoes."
"It's important that we distinguish ourselves," O'Hare adds. "We have legitimate smokers in our locations. Our smokers run all day, every day. It's a long process but it's worth it."
By offering a wide array of food, Bottleneck Management can tap into customers' distinct tastes, allowing it to meet and exceed diner expectations. "Our menu is attractive to the masses," Katz says.
O'Hare agrees, adding that Bottleneck Management aims to sell the best food and beverages it can. "We don't worry about cost when we're figuring out what we want to do," he says. "We don't charge extra or try to cut costs where we don't need to. We want to provide our guests with nothing but the best."
Ultimately, Bottleneck Management's goal is to provide its customers with a premium experience. "We serve premium food and drinks, and we only hire the best in the business," O'Hare says. "When you come eat with us, you're going to stay a couple of hours and then talk about the experience after you leave."
Cultivating Talent
Bottleneck Management's more than 900 employees play critical roles in the company's success. According to O'Hare, Bottleneck Management has a great work culture because it treats employees with respect. "We treat people how we want to be treated," he says. "In return, our employees have been loyal to us."
Additionally, Bottleneck Management not only engages but also invests in its employees with ongoing training. "We're spending more and more money on training because we feel that it's vey important," O'Hare says, noting each employee has a "very clear career path."
"Virtually everyone within our company has worked their way up through the ranks," he explains. "We have people who started as servers and are now general managers. We have general managers who are now director of operations, and so on and so forth. So there are plenty of opportunities for growth as we continue to expand."
Katz agrees. "Out of 15 restaurants, 10 of those chefs are now executive chefs," he says. "They have been with the company for at least two years. For us, it's very important to look within and elevate before we look elsewhere."
He adds that there is a difference between working for someone and with someone, and Bottleneck Management's philosophy is the latter. "We all work with each other and not for anyone," he says. "I think that mentality plays a huge role as to how people feel and positively impacts our culture drastically."
Looking Ahead
Bottleneck Management will open five new locations in 2018, which is right on track with its goal of opening five to six restaurants annually.
"We are being solicited by every major player in the country," O'Hare says. "Although many people are reaching out to us with opportunities, we're being very picky where we choose to open new locations."
The company is looking for the best locations to open one of its upbeat concepts. "We're not opening at the end of strip malls, we're opening in the center of lifestyle developments," O'Hare says. "We want to partner with big players in big cities where there are large sports teams as well."
Despite its many opportunities, Bottleneck Management is keeping its options open and remaining nimble. "Although we aim to open five to six locations annually, if another great location becomes available and increases that number, we will open more," O'Hare says.