Changing lanes
Bowlero Corp has become synonymous with entertainment. To maintain its reputation, the business is accelerating its efforts in innovation to create an all-round bowling experience
The top priority for Bowlero Corp (Bowlero) is its customers. According to Katie Warner, the company's Vice President of Marketing, the bowling business is continually searching for new ways to engage with its guests, and 'delight them at every turn'. In 1997, Tom Shannon, Founder, Chairman, and CEO of Bowlero Corporation, set out to revolutionize bowling with the acquisition of Bowlmor Lanes. Over the next 15 years, the company grew into a successful chain of six Bowlmor locations, with its first property opening in Bethesda, Maryland, in 2001.
Over a decade later, in 2013, the business acquired AMF, and grew from those six locations to a staggering 272 overnight, becoming the largest bowling owner and operator in the world. Shortly after, in 2014, it undertook another acquisition: Brunswick's Bowling Centre, and brought in an additional 85 locations under its umbrella.
For the next several years, the company focused on optimizing its operations, and expanding its footprint. After 2017, its targeted unit growth had a further opportunity to continue to enhance the performance of the overall business. We hear from a few of Bowlero's leaders about the developments taking place within the company to keep every center an exciting spot of entertainment for every visitor.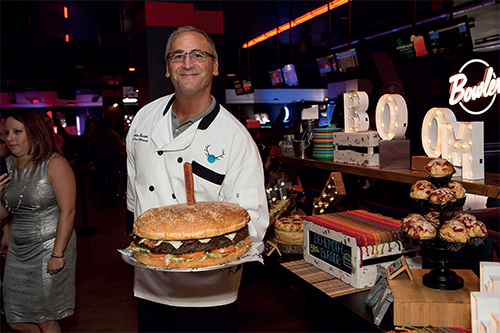 In the words of President and CFO, Brett Parker: "Bowling itself has a rich history, and is as 'Americana' as it gets." This is why design is one of the strongest pillars buttressing Bowlero's competitive advantage. The company strives to intertwine bowling nostalgia with a modern twist. Sharing his sentiments is Lev Ekster, the business's Chief Strategy Officer, who says: "This is why the designs are not all the same and that is something that we really pride ourselves on. However, what we do keep as an unchanging constant is a world-class experience. Customers can absolutely expect courteous service, good food and drinks, cleanliness, and an energetic environment, and that comes down to our choice of lighting, the sound, and the temperature; these are all details that we really focus on," shares Lev.
But customers don't come to Bowlero only to bowl. To help keep the energy of its visitors way up for an enjoyable bowling experience, Bowlero has also put together a tantalizing menu of food and drinks. "Our menu is loads of fun," begins Stephen Bartek, the business's Vice President of Food and Beverage. "For example on our event menu, we have with the Behemoth Burger – it's a six-pound hamburger with a Baked In House bun, it is just amazing. Then we have the 2' Mega Dog, which is the biggest in the business. We also have the pizza cake, its five layers of complete enjoyment.
"What I really love about my job is the development of each of these dishes. We bring in the team and go over all our ideas and current trends. Then we have two weeks of just making and tasting the food. Every time we do this, I gain about ten pounds and it'll take another three months to work it off, but I love it, and the process of getting the whole team involved has proved to be quite prosperous for us," Stephen shares jokingly.
Food concept
According to Stephen, bringing together a menu of this proportion is owed largely to the cities in which the centers are located. While maintaining its nostalgic charm, Stephen also highlights that there is a modern edge to its innovation, and one of the ways in which this manifests itself is through the food truck concept. "In all of the major cities, there are food trucks everywhere, the concept has grown very large. So, we decided to base many of our items on the popularity of this concept. The kitchen facade at Bowlero's is an actual food truck, because it fits in perfectly with our theme," he says. "We've added Street Tacos and our Nacho Avalanche with a homemade queso, and we have the best chicken tenders anywhere." To push the business that much further, he also shares how the menu has undergone a revamp, taking a deeper dive into the inspiration from the environments in which the centers are located.
Moving onto even more exciting ventures, the company is further cementing its drive for entertainment and innovation by incorporating an arcade experience into its centers; a project that falls under Lev's remit. "For the majority of the business's history, bowling has been the primary focus, but now we are bringing in the arcades as well. We'll have the latest and greatest games, which I feel definitely puts us up there, if not ahead, of our competitors. It comes down to delivering a world class experience, and that's what we're focused on. We're not trying to do everything; we try to do a select few things, but in a high-quality fashion," he says.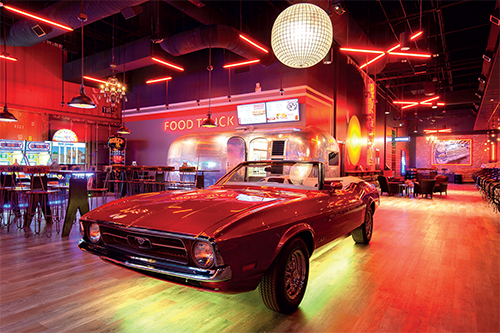 Bowlero is very much a data driven company, and is often drawing from historic research to interrogate ways in which to optimize its operation, and ultimately, the customer experience. "We work from various metrics to gain insights into where our areas of opportunity are. With over 300 locations spread across various markets in the US, we have a massive resource of data, and we're always looking to see where the improvement opportunities are. So, I would say that that is really our secret sauce – utilizing data constantly so that we are always optimizing," expresses Lev.
Continuing along the topic of competitive advantage, in addition to what we have already covered, new projects are currently underway at Bowlero to improve the user experience within its centers. One of which Katie shares with us. "We're investing with a company called App8. Through this partnership, we're looking to provide our guests with a mobile ordering application at our centers where they'll be able to order their food and drinks directly from their phones by scanning the QR code, and pulling up the menu. Their food will then be sent directly to them, wherever they're located at the center. At the moment, only 15 percent of our centers have this app, but it's something that we're looking to roll out across our entire footprint very soon," she says.
Creative experiences
From what we have heard, what makes Bowlero a successful business is that this sort of innovation has come in spite of industry challenges, particularly over the past two years. During the pandemic, Brett shares that when times of uncertainty come along, the most important aspect of his company's success is its ability to unite as a team and focus on the end goal. "We were clearly and completely determined to preserve the enterprise in order to create the maximum prosperity for the maximum number of stakeholders in the long term. That north star made difficult decisions clear and obvious. We stayed true to that mission and came out in a position of strength, and poised for continued success," he says.
As a result, another fantastic initiative also took place during the pandemic – the Global Showdown tournament – which Lev shares more about. "We started planning well before knowing the extent of Covid-19, but it turned out to be really timely, because it allowed us to host a global competition for players to bowl in a center that was local to them and at their convenience, as opposed to having lots of people congregate at one time for a competition, so that worked in our favor quite well," he highlights.
At the end of the tournament, approximately 13,500 bowlers entered, from over 565 bowling centers, across 27 different countries. Combined, these bowlers played over 100,000 games, which was great for the bowling centers that were able to host the competitions. In a time when centers were struggling to get back on their feet, the tournament catalyzed revenue. "The total prize fund was $50,000, with first prize equating to $20,000. It was actually won by a Romanian taxi driver. I found out that he used that money to buy a new taxi. These were obviously fantastic results, and we are very impressed with the way in which the tournament played out. I'm very excited to do more of these this year.
"The magnitude of this was incredible, and we have been able to learn a lot from the experience as well. The scoring system is integrated with an app that will capture a player's score and feed it into the leader board, so we gained a lot of valuable insight from doing this that I think will lead to other exciting formats and verticals that we can incorporate. In the US, we have over 300 bowling centers across the country, so with more of these showdowns, the more insights we gain, the more creative we can be when it comes to improving the overall bowling experience," says Lev.
From what we have discussed with these leaders, it is evident that the future of Bowlero looks promising. With its passion and determination, Bowlero is set for a prosperous journey ahead. From new interactive technology to a fantastic menu, the company is dedicating all its resources to offer a spectacular experience for its customers.
www.bowlero.com