B&P Littleford is a leader in batch and continuous mixing in the food and beverage industry.
Protein drinks taste pretty good, however, they require a complex combination of many ingredients. It is not that simple to blend all of them together, as it takes a unique mixing process to make a consistent and well-blended product to obtain a high-quality powder. B&P Littleford works with many drink mix manufacturers to give them a mixing solution that works best for their production needs.
B&P was launched in the 1800s as a manufacturer of mixers. During a series of mergers and acquisitions, the company was known as Werner & Pfleiderer, APV Chemical Machinery and Baker Perkins. In 1996, Baker Perkins was sold and became B&P Process Equipment. In 2015, B&P Process Equipment purchased Littleford Day, producers of industrial-grade equipment for mixing, and became B&P Littleford the following year.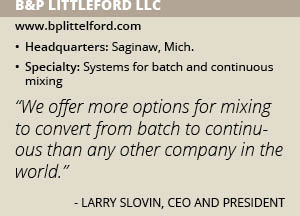 Today, B&P Littleford LLC designs and builds systems for batch and continuous mixing that includes plow mixers, double arm mixers, extruders, co-kneaders, TriVolution®, and centrifuges, as well as related equipment for drying and reacting. The company serves the food and beverage, chemical, pharmaceutical, aluminum, aerospace and plastics industries. "Since we became B&P Littleford, we have become a leader in mixing solutions in the industries we serve," CEO and President Larry Slovin says. "We have more mixing solutions than any other company in the world. We fit together like a glove."
Continuous Improvement
B&P Littleford is headquartered in Saginaw, Mich. That is also the location of the company's recently renovated technical center, which offers equipment testing and R&D. Its other facilities are located in Fort Mitchell, Ky., and Houston, Texas. The company prides itself on applying its mixing technologies to the needs of the industries it serves, especially food and beverage. "The strength of our company right now is converting batch processes into continuous mixing processes," Slovin says. "We really believe the food and beverage industry is a huge opportunity for us because it results in long-term cost savings.
"For our customers, consistency is very important," he continues. "Our process allows them to do that. For example, when you make cookies at home, no two batches come out the same. When you make it continuously you make the same product. Continuous processes are the future."
Process Engineer Mike Smith agrees. "What's great about our batch mixer is that it will conduct a number of steps – such as mixing, spray coating, drying and granulating – in one sequence with one machine," Smith says. "With this process customers don't have to dump out their materials and put them in another machine. This saves time, and eliminates exposure of the product to the atmosphere."
B&P Littleford's customers appreciate that its batch mixer is also versatile, according to Product Manager for Mixing Systems Shawn Hearn. "We can put varying amounts of shear energy into the product," Hearn says. "For example, we can be gentle with it, semi-intense or very intense. Some company's mixer designs are only geared for a certain type of product consistency. However, our versatile machine doesn't care what the consistency is. It can accommodate a dry powder, like flour or sugar, or a pasty heavy mix like a fruit or chocolate filling."
The company's mixers can also provide phase changes to the product. "Maybe it starts out as a powder, but if I add a liquid to it the consistency will change," Hearn explains. "If I add more powder to it, it will become pastier. I can heat or cool the product, allowing me to control the temperature depending on my process.
"This uniqueness allows the customer to do many things with one machine versus having a couple pieces of equipment to get the job done," Hearn adds. "We tend to eliminate extra equipment, allowing the company to get it all done in one machine."
Smith notes that B&P Littleford focuses on engineering design and final assembly, which is why the company works with hundreds of suppliers. "We engineer, design, specify the parts and subcontract them out to a number of qualified suppliers," Smith says, adding that having its headquarters in Michigan is an advantage.
"There are a large number of automotive suppliers here," he says. "Those suppliers supply high-quality parts to us. The companies we work with have both a high skillset and a high quality of tooling to manufacture parts to our specifications."
Hearn agrees. "We have major components that are on every machine we ship," he says. "Although we have several suppliers we can rely on, we don't want to put all of our eggs in one basket. That is why we try to keep them all happy by sharing the work. We think it keeps everyone honest, interested and assures us good turnaround times."
Keys to Success
B&P Littleford attributes three key things to its success: manufacturing quality products, leveraging cutting-edge technology and employing top talent. "The people of B&P Littleford are veterans of the industries they serve," Slovin says proudly. "Their expertise in manufacturing processes and equipment design shows in the high-quality equipment we produce."
Smith works in the technical center conducting tests for B&P Littleford's customers. "We use our equipment and their products," he explains. "We take their materials and run them at a pilot plant scale. Ultimately, we take their raw materials and convert it to a final product."
This test provides customers with an idea of the capabilities and capacities of B&P Littleford's equipment, Smith notes. "For example, we can tell them what quantity of materials they can expect to produce in any machine they buy from us," he says. "We can also guarantee performance, such as horsepower performance, because we have tested the machine in-house."
In addition, B&P Littleford has a fleet of equipment its customers can rent for a week, month or even year. "Some customers find this to be a more convenient way by conducting tests themselves," Smith says. "We rent out pilot-scale equipment and the customer can use it inside their own research and development facility. They can also determine how they want to optimize their processes this way." B&P Littleford also has a successful operation in Mexico. For more than 30 years, its Mexico office has handled technical requirements for nearly 300 manufacturing plants in the country with its equipment. Global Sales Manager Gerardo San Martin has also been with the company for more than 30 years.
"I am responsible for Littleford brand's recognition in Latin America as the common name for high-efficiency mixers, dryers and reactors," he says. "We are the only company in our field with pilot equipment to run food and beverage tests in manufacturing plants. We are, by far, the company with more high-efficiency mixers for the food and beverage industry in Mexico."
San Martin oversees B&P Littleford's Latin America sales, including in Venezuela, Colombia, Brazil, Chile and Argentina. "Once Littleford Day was acquired by B&P Process Equipment, our equipment line for the food industry expanded beyond mixers, dryers and reactors," he says. "Our expansion into liquid separators, extruders and centrifuges allows us to offer a larger diversity of process equipment to the Latin America food market."
The Perfect Fit
The 2017 merger of B&P Process Equipment and Littleford Day was successful because the companies' cultures "were identical," says Slovin. "We were similar in that all of our employees got along, we had the same issues and more," he says. "Those similarities made the merger fun and not burdensome. We really worked together."
The merger also produced some of B&P Littleford's top talent, including San Martin and Hearn, who were both a part of Littleford Day's organization. "They both are happy to be with us and are an asset to this team," Slovin says. "I think we've done a good job. Although the hardest part was the merger, making the switch to one company and one culture was seamless and took about six months."
He adds that both Littleford Day and B&P Process equipment have many employees who have been with the companies for at least 20 years. "They love their company as much as B&P employees love their company," he says, noting that Littleford Day's employees were "shocked" the company was being acquired.
"It took time for them to see that the things B&P was saying were true," Slovin says. "They were afraid we were going to shut down their offices and run the business differently, which didn't happen. Eventually, they were able to see that we were a company who did exactly what we said we would do. Along with trust, that helped build the great culture we have today."
Looking Ahead
Slovin joined B&P Process Equipment as CEO and president 10 years ago. Slovin brings more than 40 years of experience as a chemical engineer to his role. He says that he is most proud of building a "strong organization" since he joined the company.
"This was a new experience for me," Slovin says. "I'm used to using the equipment, not making it. However, I came in with unique knowledge, which is why we are able to really focus the business on where the opportunity is in the marketplace."
As B&P Littleford moves forward, the company aims to capitalize on its expertise in the food and beverage industry. "Our expertise includes our employees and our ability to build quality machines for hygienic applications like food," Slovin explains. "We want to expand into other complementary products so that we can be more involved in supplying quality machines into the food and beverage market."
The company also manufactures machines that are used in the chemical and pharmaceutical industries. "We're looking to expand in some of that technology as well," Slovin concludes.