Brann's Steakhouse and Grille's famous steaks have helped the restaurant chain grow and multiply.
It started with a handshake and a smile. More than five decades later, Brann's Steakhouse and Grille boasts 10 locations throughout Michigan and a healthy revenue stream. The steakhouse chain is even toying with the idea of entering the franchise business – though it's still only a long-term goal.
"My dad started Brann's with a $5,000 loan and took a risk in the restaurant business," says Tom Brann, the company's president and owner. "He cared about his business and also raised five kids. When my dad died, the church was packed with former employees and customers who grew to love the man. He took an idea and created a small chain, one handshake and one sizzler at a time."
John Brann Sr. opened his first steakhouse in 1960 in Grand Rapids, Michigan. His endeavor became an instant success, contributed to by his signature "sizzling steak" that was selling 800 plates on a weekend night. His goal was to give families a "great meal at a great price."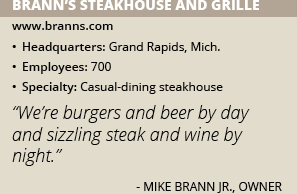 This steak helped place Brann's on the map. Even today, Brann's restaurants sell between 300 to 400 of their sizzling steaks on an average Saturday night. Served while still sizzling, the steak has become a famous culinary experience in the Michigan area.
"We have sold more than 25 million since the restaurant first opened," says Mike Brann Jr., owner and nephew to Tom Brann. "It's our No. 1 selling item."
At $11.99 for an 8-ounce sizzling steak, the price is still in agreement with his grandfather's goal of offering a great meal for a great price. Though the restaurant's concept has evolved, its core values – offering quality meals for reasonable prices – remain the same as they were in 1960.
Brann's menu boasts a large selection of unique flavors while staying true to its roots and the sizzling steak that made it famous. Other popular menu items include an assortment of hamburgers – like its pretzel burger with hickory smoked bacon – and a buffet of "handhelds" which include a screaming buffalo chicken wrap, pastrami Reuben sandwich and a Michigan-smoked turkey on toasted sourdough bread. "We're burgers and beer by day and sizzling steak and wine by night," Mike Brann says.
Over the years, Brann's has reinvented itself and changed its concept a few times – though always sticking to its core values. It has been a fine-dining establishment, buffet and sports bar. It has evolved into a casual-dining establishment that focuses on families – though its sports theme is still visible.
Its restaurants have a number of HDTVs and projection screens that often broadcast sports events. A few years back, Detroit Lions wide receiver Calvin Johnson served as the chain's spokesman.
"But our target customer is the family," Mike Brann says. "But we want to reach millennials as well. We want the younger generation because we know that they will continue to dine with us for years to come."
One way to attract millennials is through technology. Brann's is working on increasing its online orders and looking at installing kiosks at its tables. The kiosks would allow customers to pay at their tables with a credit card. In addition, the chain uses a POS system from Great Lakes Data Systems that helps manage its business more efficiently.
"We've worked with Great Lakes many years and we've always felt that they are second to none," Mike Brann says, adding that the POS system allows for a unique feature where employees "can use their thumbprint to log into the system. Before that they had to use cards."
Mike Brann Jr. shares ownership of the chain with his father, Mike Brann Sr., his uncles, Tom Brann and John Brann Sr., as well as his cousin, Johnny Brann Jr.