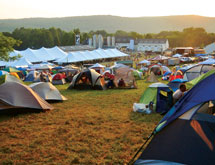 Expanding a business into new markets while keeping a close eye on product quality can be a tricky proposition for many in the food industry. This is especially challenging for those who stake their reputation on having a product known among connoisseurs for its taste and high quality.
Brewery Ommegang is meeting the challenge of widening its reach and increasing its production without sacrificing any of the elements that make its craft Belgian-style beers unique.
"As we look at the potential of taking on new business, we're also conscious that we want to be special," says Simon Thorpe, president of the Cooperstown, N.Y.-based craft brewery. "We don't want to be ubiquitous or have our beer everywhere – every decision here is about how can we maintain the elite quality of our beers."
Established in 1997, Brewery Ommegang specializes in Belgian-style ales with an American twist. The company has six regular brands:
• BPA, a Belgian-style pale ale with notes of citrus and tropical fruits;
• Witte, a traditional-style wheat ale;
• Rare Vos, a mellow, fruity and spicy amber ale;
• Hennepin Farmhouse Saison, a rustic blonde ale with spices;
• Abbey Ale, a spice dubbel ale; and
• Three Philosophers, a quadruple ale blended with aged cherry kriek.
In addition, the brewery produces seasonal and limited-release beers. "Part of what we want to do here is have the most perfect examples of brewers' art and experiment with new ideas," he adds.
Since 2002, the company has been fully owned by parent company Duvel-Moortgat, a fourth-generation Belgian brewery established in 1871. Duvel-Moortgat's ownership of Ommegang greatly added to its importing capabilities of its own brands, which include Duvel Ale, a 8.5 percent alcohol by volume-strong Belgian golden ale, recognized around the world as the benchmark for the style. Duvel and Ommegang recently collaborated on Duvel Rustica, a farmhouse version of Duvel Ale. The new beer launched in November 2012.
Quality Over Volume
Brewery Ommegang has more than tripled its size since Thorpe took the helm in 2009, which he attributes to the rising interest in craft and specialty beer among wholesalers and consumers.
To meet this demand, the company recently placed market managers into 12 key U.S. markets and invested heavily in marketing efforts in order to increase their brands' penetration.
Other recent investments include expanding its brewery operations. This includes adding packaging capabilities and a warm storage cellar and expanding its quality lab. Roughly $14 million has been invested within the last two years, Thorpe notes.
The company emphasizes quality throughout its process and is in no rush when it comes to new products.
"We typically take three years to develop a new beer – it's a slow, painstaking process," he adds. "We're not interested in volume, we're much more interested in making sure we retain our position at the top of the quality pyramid."
'A Great Visit'
One recent internal investment reflects Brewery Ommegang's desire to put its best foot forward in another way – as a host to more than 35,000 tourists and visitors annually.
Café Ommegang, located on the company's brewery site, offers a casual, "old world" communal dining experience to visitors in the true Belgian bistro style. The company's beers are paired with food to create an experience similar to that of wines traditionally paired with food, Thorpe says.
The brewery hosts an annual competition, "Hop Chef," that spotlights such pairings. The inaugural competition was in April 2012.
Brewery Ommegang each summer is also home to "Belgium Comes to Cooperstown," a premier Belgian-style beer festival. Other special events hosted at Brewery Ommegang include a summer concert series, which in 2012 featured artists such as Lyle Lovett and Wilco, the latter of whom recorded a live album there.
"We've developed a reputation as a great place for artists to play and for people to visit," Thorpe adds.