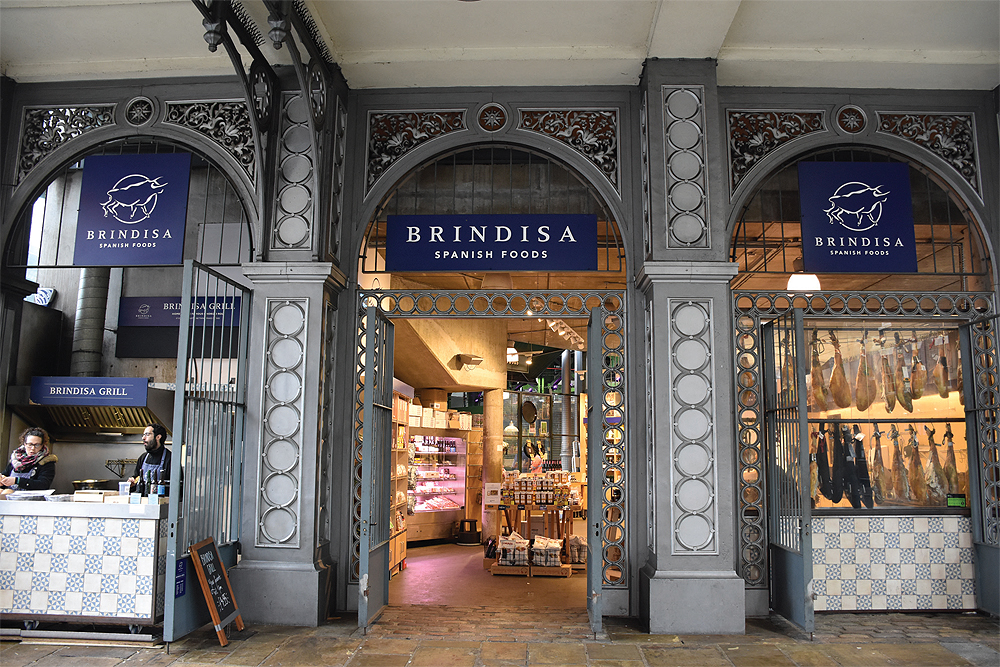 The temple of Spanish deli
Its name originating from the Spanish expression for raising one's glass in a toast, Brindisa has been celebrating the colourful blend of cultures and foods of the southern country for the last 30 years
Spanish food has gained in popularity across the UK in the past few decades and the role Brindisa has played in the process is not to be underestimated. The company was founded in 1988 by
Monika Linton who set out to bring the best of Spanish gastronomy to Britain, driven by her conviction that the foods she loved in the Iberian country deserved to be exposed to a wider audience.
Over time, Brindisa has become known particularly for its selection of cured and semi-preserved foods, including cheeses, cured meats, olives, and tinned fish, but in recent years, the business has added a number of other ingredients to its portfolio, such as rice, legumes, and spices. Monika adds: "We have the privilege of working with some small Spanish producers who regard quality as paramount and whose attention to detail guarantees the excellent taste of products. Thanks to the variety we can offer, we have managed to achieve an economy of scale and maintain a strong business model."
She goes on to discuss the strong internal practices Brindisa has initiated, in order to ensure the consistently high level of its logistics operations. "We benefit from the close collaboration between our supplier base and our inbound logistics suppliers who consolidate goods twice a week in Barcelona. As food safety is key, all goods are checked in and quality-controlled before their despatching to the UK.
"Once in London, our warehouse here holds a BCR AA certificate, applying rigorous checks on inbound goods and providing full traceability. We have worked closely with lean specialists to review and streamline our warehouse workflow and processes, and invested in automation with the introduction of a mobile ordering app for trade customers, as well as a delivery management system. We also enjoy vehicle route planning and tracking for our own fleet and use approved third-party transport companies to deliver nationwide. It needs to be mentioned that, in addition to goods sent from our warehouse, we offer chilled and ambient direct deliveries from Spain for volume customers, too," explains Heath Blackford, MD at Brindisa Wholesale.
Dedicated to quality
Among the most important milestones reached by Brindisa was the opening of its first tapas bar in Borough Market in 2004. While the restaurant business is a separate entity operating under the name of Brindisa Kitchens, it works closely with the distribution company, giving the Brindisa brand real visibility in some of London's liveliest areas.
"The tapas restaurant in Borough was the first of its kind with a no booking policy and it proved so immensely popular, that we opened four new sites across the capital in the years that followed," Monika reveals. "We have stuck to our principle of selecting quality food with flavour and integrity, and this has played a big part in our growth and the respect our market has for what we do. As our restaurants purchase from the original Brindisa, this product integrity is extended right through to the table."
While chorizo is and has always been the most sought-after product in Brindisa's range, Monika brings to our attention the fact that Spanish rice and legumes have demonstrated noticeable growth in demand as of late. "Traditional dishes from every region of the country make extensive use of pasta, rice, and pulses, and there is no doubt that these made or grown in Spain are of the highest quality," she insists.
"It seems to me that the patterns in consumer behaviour have certainly changed. Consumers today are much more knowledgeable about food than they were 30 years ago and they are now looking
for very specific profiles of certain foods – be it locally-grown, organic, or biodynamic. This is an emerging demand we are winning on, because we place such a strong emphasis on the excellence of our products," Monika opens up on some of the ongoing trends within the food industry.
"There also seems to be a growing café, brunch, and coffee bar culture characterised by the serving of delicious food with less or no alcohol at all. This comes to show that people have shifted their preferences to healthier options. The heavy city lunches seem to be a thing of the past and the quality of food that is offered in pubs has improved enormously," she continues.
'Ham' school
Another hot topic for almost every business in the UK concerns the issue of packaging, and Brindisa is taking a proactive approach to tackle this challenge. "Companies are under growing pressure from consumers who demand that we find solutions to the overuse of plastic packaging. As a result, we are now partnering with our suppliers to create more sustainable packaging concepts that include the deployment of bio-degradable materials and recyclable containers.
"It will also be important to keep an eye on the changing weather patterns on the Iberian Peninsula, which may cause traditional agricultural cycles to change in ways whose consequences we cannot predict. For example, if the suitability of the 'dehesas' (multifunctional, agrosilvopastoral systems) in the southwest of Spain for the growth of oak trees diminishes due to droughts, this will create major problems for the Ibérico ham industry. Obviously, this is not something of which there can be any certainty, but we need to consider the potential outcome of such changes," Monika concludes her overview of the major market-determining factors that are either already present or might materialise in the future.
In one of its freshest initiatives, Brindisa has set up what the company calls 'ham schools' where it teaches consumers the differences between Spanish ham types and the best wine and sherry pairings for each of these. Monika details: "As with all our initiatives, the main objective is to drive more sales, directly or indirectly, for the products that we bring into the country. By teaching consumers about ham, we can benefit from those same people growing to love our products. They really enjoy the detailed information we provide, as well as the challenges of learning to carve and managing the equipment."
Not long ago, Brindisa recruited two Regional Sales Managers to cover Scotland and the North of England and raise the company's profile outside of the South East. By doing this, the distributor made a strong statement of intent that it is aiming at further geographical expansion. Monika echoes this suggestion in her conclusive remarks: "We are hoping that in five years' time, our name will be known nationwide. To this end, we intend to broaden our range with recipes for classic dishes such as gazpacho. Finally, I want to reiterate that in the years to come, Brindisa and Brindisa Kitchens will remain devoted to quality ingredients and the joys of Spanish cured foods."