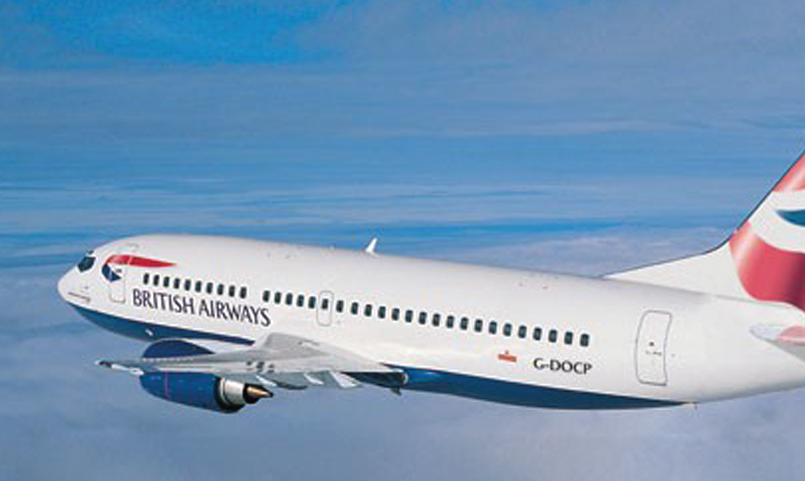 Flying tonight
Comfort and convenience are key to competitive advantages to British Airways. The logistics of providing them are the responsibility of Peter Hough
Premium class passengers flying across the Atlantic on British Airways on the 'red-eye' or overnight, have a duvet, a fulllength bed, large pillow and a mattress to make the flight less tiring. It will probably be the last thing on your mind as you snuggle down for a relaxing sleep, but getting those creature comforts and a multitude of others to the right place, at the right time, involves a whole division of the airline – BA Cabin Logistics.
"Whilst our caterers supply the actual meals and deliver product to the aircraft we provide the trolleys, plates, napkins, cutlery, toiletries, drinks and assorted equipment to serve them, as well as the mattresses, duvets, pillows and blankets," said Peter Hough, general manager of BA Cabin Logistics. "We have to ensure that the right items are loaded via our catering and cleaning operators, and removed correctly either at the outstation or on the aircraft's return to London. Space is at a premium, there simply isn't room to load equipment that isn't needed. Weight is also a critical factor, with a clear correlation between every kilo carried and the amount of fuel burnt".
The balance between Premium and economy customers is critical to the level of service provided. A short-haul flight to Nice, say, leaving in the middle of the day, poses the question: what sort of meals and refreshment should be served? "Do we offer lunch or a snack? How do you differentiate between a business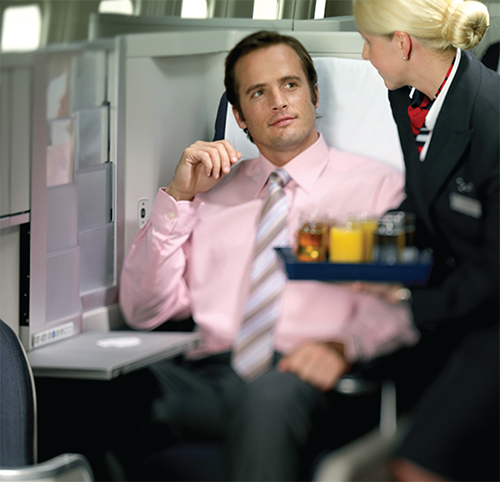 customer and an economy customer in what we offer? Product on short flights is round tripped from London. So our challenge is: to what extent do we anticipate the demand on the return sector, without risking excessive waste, or falling short of providing all customers with suitable refreshments/meals business customers are less predictable: plans change at the last minute, a passenger may take an earlier or later flight than originally booked. The demands on BA Cabin Logistics have been steadily accumulating and a lot of it is to do with competition. How intense it is depends on the route, the distance and the destination.
"On the Transatlantic routes the main competition is American carriers, who tend to be driven by cost," he said. "The greater comfort and convenience BA offers means that the majority of transatlantic passengers tend to want to fly with BA: Our cabin service is an effective and attractive differentiator. Other routes are tougher. The biggest growth areas are China and India. Our flights to both countries have increased significantly over the past 18 months. Our main competitors to the east are Cathay Pacific, Qantas, and Singapore Airline who all put an emphasis on service and comfort, so the bar's being raised and, along with it, the complexities. Providing mattresses duvet for people flying to New York is quite straightforward; providing them for flights coming back from India, China, Australia and the Far East is more of challenge," said Peter. But it's a challenge BA is rising to. It has restructured and streamlined its management and processes. Two hundred catering manuals – defined by route time of day and aircraft type – have been cut to 80, and the previous 800 drawer standards, which covered contents and layout, have been reduced to just 200. A simpler loading plan means more consistency and accuracy.
BA is reworking its in-cabin offerings, with new china, new soft furnishings, new menus, additional in-flight meal offers, and changes to cabin layout that will provide an extra 500 Business Class seats across the fleet by late 2007.
"At the premium end, its about how we provide more individual, exclusive service. Consider meal times: conventionally, everyone is woken up at the same time and is given breakfast, for example. In First and Club, we've already introduced more flexibility, choice and control," said Peter. "At the other end of the spectrum, if you're spending a limited amount on an Economy ticket to LA, you will get a safe airline, which is reliable, has a qualified and professional crew and we will look after you. While the extent of service isn't the same across the whole aircraft it is being extended.
"We've recently improved our in-flight retail service on long haul, with a wider range of product and an associated brochure with much more editorial and product detail. In addition the introduction of chip and pin technology has already greatly reduced fraud," he said. It was a lengthy approval process to convince the banks that processing chip and pin off-line was secure at 30,000 feet. "We were able to go live with chip-and-pin in October after resolving security issues with the banks." Having a reliable payment method means that the Inflight retail offer can be extended.
"Whilst we tend not to put very expensive or bulky items on board, we are now offering a premier range of items, including, jewellery, watches and other gifts. Passengers can order from the brochure, pay in-flight and we deliver, anywhere in the world." said Peter. It's just one more reason why BA won the in-Flight Retailer of the Year Award – for the second year in succession – in 2006.