Brooklyn Brewery focuses on maintaining its core markets and developing closer distributor relationships in the chaotic craft beer industry.
Brooklyn Brewery has become a staple in the craft beer industry since it began in 1988 because of its diverse collection and ability to harmonize the flavors in every brew. "We are known for making very balanced beers," CEO Eric Ottaway says. "We are quite creative, but under the leadership of our brewmaster, Garret Oliver, author and James Beard Award winner, his signature is very well-balanced beers with nicely harmonized flavors."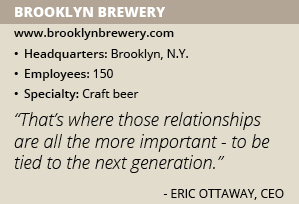 Steve Hindy and Tom Potter founded the Brooklyn-based brewery to pay homage to the rich history of their beloved borough. The pair met with legendary graphic designer Milton Glaser and piqued his interest with their backgrounds instead of just pitching the business. Glaser was persuaded to join the company, creating a logo that gave Brooklyn Brewery an instant identity. Glaser continues to design every label for the brewery. "We just rolled out this past summer a big packaging refresh and overhauled our six-packs and cartons," Ottaway says.
Hindy was introduced to homebrewing during his days as the Middle East Correspondent for the Associated Press covering wars and assassinations in Iran, Iraq, Lebanon, Syria, Egypt and Sudan. Islamic law prohibits alcoholic beverages, so diplomats would brew at home and share their creations with Hindy. When he returned home in 1984 to edit foreign news for Newsday, Hindy started brewing at home and enlisted Potter, his neighbor, to help establish Brooklyn Brewery.
Brooklyn Brewery has a strong following not only in the United States, but also internationally. Ottaway says he thinks the company's biggest differentiator is its focus on international markets. "Steve got introduced to homebrewed beer in the Middle East, my brother and I are sons of a foreign correspondent and Garrett got his introduction to beer with flavor while he managed bands in the U.K. after college," he adds. "All of us have pretty unique international backgrounds and exploring the world with craft beer came naturally to us."
Brews from the Borough
Since the debut of its flagship Brooklyn Lager, Brooklyn Brewery has expanded its portfolio to include a wide range of beers using traditional brewing techniques. Brooklyn Quarterly Experiment is the company's experimental line where it develops new barrel-aged products. The draft-only Brewmaster Reserve line allows its brewers to play around and develop limited edition brews, such as Bel Air Sour.
"Bel Air Sour is a sour ale that was quite successful, which when that happens can sometimes lead to the launch of a product," Ottaway explains. "We are always looking at beers that excite us personally and are taking influences from all over the globe. That's part of the craft beer world – experimentation and innovation is essential to the job."
Bel Air Sour will re-launch in December as a limited release in 12-ounce bottles. American Ale, a golden pale ale that also started out as a limited edition in a can-only format, will re-launch around Memorial Day 2017 in bottles. "It's a very easy drinking, everyday beer," Ottaway describes. "These are two new innovations that we will focus more on moving forward. We will make a big push starting with Memorial Day; it's the perfect opportunity to get product out through the summer months and beyond."
Brooklyn Brewery last year launched Defender IPA, which Ottaway says has been a huge success for the company. "It's West Coast-style, very hoppy and juicy IPA," he describes. "While every brewery has an IPA – or several – we have an interesting tie-in for this IPA with New York Comic Con. The design on our label is a character designed by different comic book artists every year. It's a lot of fun and has been very well received in the marketplace."
Stability in the 'Mess'
The two biggest changes in the craft beer industry are the proliferation of players in the market and the continuing pressure from big brewing companies as they buy up independents to have more play in the space, Ottaway says. "Those two things have created a competitive dynamic force in the industry that is forcing everyone to up their game to stay competitive," he adds. "That means we are not a small family run business anymore – we are running a real company with lots of employees and that comes with the need for better structure, execution and quality across the board."
To ensure its marketshare and relationships are solid, Brooklyn Brewery remains in constant communication with its distributors. Distribution is changing rapidly right along with the craft beer industry because the next generation is moving into leadership positions with new ideas and different approaches. "We meet with our distributors once per year socially with no strict agenda to it," Ottaway says. "We informally exchange ideas and talk about what's happening out there.
"Craft brewers are going through dynamic changes and so is the distribution side in a parallel way," he continues. "That's where those relationships are all the more important – to be tied into the next generation."
Because the craft beer industry is going through what Ottaway calls a "messy phase" of still sorting itself out, Brooklyn Brewery maintains stability in its current market. "There has been a dramatic explosion in the industry in terms of entrance, and both retail and distribution are trying to wrap their heads around the number of players out there and how to handle it all," he explains. "It's a good time for us to focus on our existing markets while things sort themselves out rather than rushing into new markets."