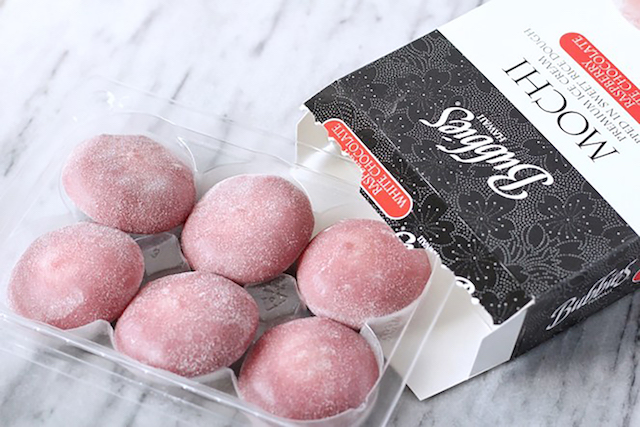 Bubbies Ice Cream opens a second manufacturing plant to keep up with demand for its famous mochi ice cream.
It originated in Japan. But it was perfected in Hawaii. That's what the folks at Bubbies Ice Cream will tell you.
The small, round confection consisting of a soft but pounded sticky rice dumpling (called mochi) formed around an ice cream filling is taking the world by storm. People are going mad for mochi – at least Bubbies' version of it.
In fact, the Hawaii-based ice cream maker opened up its second manufacturing facility in Phoenix this year to keep up with the growing demand for its signature dessert.
"Our plant in Hawaii was over capacity," says Katie Cline, Bubbies' vice president of marketing. "We had a waiting list of customers and we couldn't keep up with the demand. Since we opened our new facility, our volume has grown tremendously."
The new state-of-the-art facility will help Bubbies meet a growing consumer demand and support its rapidly expanding distribution network of specialty, independent and national grocery chains.
"We needed a place on the mainland to support our rapidly growing distribution and we chose Phoenix based on the location, great labor market and transportation access," Cline says.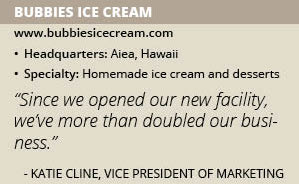 Bubbies' distribution network includes national chains such as Whole Foods Market, Kroger and Safeway. Although the company's mochi ice cream has been distributed at some Whole Foods stores in the past, Bubbies was awarded a national distribution deal with the retail giant this year that will further expand its distribution channel.
"In 2017, we were being distributed in over 100 Whole Foods stores," Cline says. "Now we are in all of their mochi self-serve cases and freezer aisles. They have more than 450 stores throughout the United States."
Bubbies plans to expand its distribution network even further next year. This includes strengthening partnerships with its current retailers throughout the United States as well as acquiring new ones. "We've also been expanding internationally," Cline adds. "Bubbies is sold in high-end restaurants, resorts and retailers all over the world. As sales continue to grow, there's the potential of opening up another facility."
Premium Ingredients
What makes Bubbies Mochi Ice Cream so special? Embracing the spirit of Aloha, the company believes that one of the secrets to its success comes down to the basics – using only the finest natural ingredients and following a quality recipe.
"We have a higher butter fat and lower overrun than our competitors," Cline says. "That's the amount of air in the ice cream. The lower the overrun, the more creamy the ice cream."
In addition, Bubbies only uses premium ingredients such as Madagascar vanilla, which comes from bourbon vanilla beans with flavor and aromatic qualities that make Madagascar vanilla beans the most popular and sought after in the vanilla variety. "Madagascar vanilla is significantly more than the cost of regular vanilla," Cline adds. In addition, Bubbies mochi ice cream is non-GMO, gluten free certified and comes from kosher dairy products. It is made of real fruit puree and contains cane sugar instead of corn syrup and no artificial flavors.
"We also have the highest number of flavors among all the mochi brands out there," Cline says. "We have over 28 flavors right now."
Flavor Profiles
Bubbies is consistently adding to its robust flavor portfolio and coming up with new and innovative products. Next year, the company will launch new flavors along with a new product line.
"Also, next year, we are launching a flavor chosen directly by our fans," Cline adds. "We launched a social media campaign called Make My Bubbies where we asked our fans to submit flavor ideas. After receiving thousands of submissions, we picked the top five and our fans voted on the winner."
Bubbies is also known for its seasonal mochi flavors. This fall, it launched peppermint candy, ginger bread, pumpkin and chocolate eggnog. Classic Bubbies flavors include green tea, strawberry, mango, vanilla and triple chocolate. Some of its unique flavors include blood orange and red velvet.
Founded in 1985 by Keith Robbins, Bubbies stated as a premium ice cream maker in Hawaii. In the early 2000s, the company shifted its focus to mochi ice cream, but still sells scoopable ice cream at its Honolulu store.