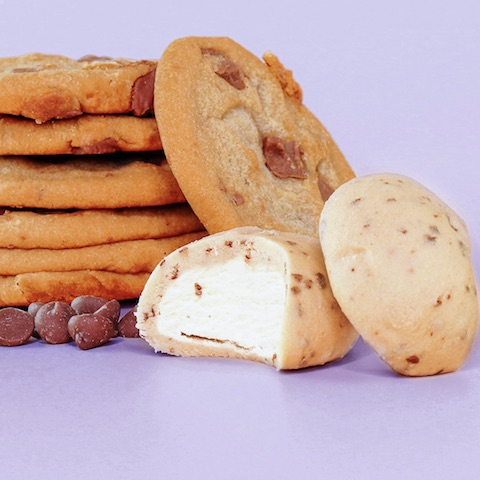 Bubbies Ice Cream launches Cookie Dough Ice Cream Bites and a new vegan line for its famous mochi ice cream.
It's an irresistible combination of premium ice cream wrapped in edible cookie dough. Gluten-free, non-GMO and made only with ingredients that are 100 percent safe in "unbaked" form, it's the newest creation from Bubbies Ice Cream and is making its way to major retailers far and wide.   
Famous for its mochi ice cream, Phoenix, Ariz.-based Bubbies first introduced its Cookie Dough Ice Cream Bites to the world in March at Expo West in Anaheim, Calif. Bubbies believes that its new ice cream bites are innovative and unlike anything else on the market.
"We're opening a new world of innovative snacking possibilities," CEO Rick Schaffer says. "To me, innovation is to introduce products that are not on the market today. We don't just take products, tweak them and call it innovation."
What's so special about this newest addition to Bubbies' product portfolio? Bubbies has combined two favorite desserts in a unique way that gives fans a new way to experience ice cream.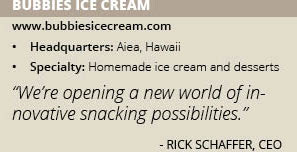 For cookie dough ice cream fans, that means no more digging for the dough. Bubbies is giving its customers cookie dough in every bite.
Cookie Dough Ice Cream Bites are available in four tempting varieties: Chocolate Chip (with vanilla chocolate chip ice cream inside), Brownie Batter (peanut butter ice cream), Sugar Cookie (strawberry ice cream) and Birthday Cake (vanilla ice cream).
Bubbies Cookie Dough Ice Cream Bites launched at select retailers this summer. "We anticipate broadening the availability of our Cookie Dough Ice Cream Bites over the next few months with plans to have national distribution in 2020,"  Schaffer says. "We think it will be a tremendous success and a great complement to our rapidly growing mochi ice cream portfolio."
Although the cookie dough bites are expected to be a sweet success, Bubbies Mochi Ice Cream is still its most popular product.
The small, round confection consists of cooked, sweetened rice flour (called "mochi") that is formed around an ice cream filling. It is made from only the finest natural ingredients and following a quality recipe.
"We have a very unique, premium proprietary ice cream recipe," Schaffer says. "That's what makes the ice cream taste so good."
Bubbies also has a lower overrun than most ice cream brands on the market. That's the amount of air in the ice cream. The lower the overrun, the more creamy the ice cream.
Vegan Friendly
To accommodate healthier food trends, Bubbies introduced a new Vegan Mochi frozen dessert this year. Just like its regular mochi, the vegan option is kosher, gluten-free, non-GMO and uses real fruit puree. It's made with a proprietary coconut milk base that provides a creamy texture reminiscent of traditional ice cream.
Bubbies Vegan Mochi is currently available in two flavors: strawberry and chocolate. "We see dairy-free alternatives gaining popularity in the ice cream category," Schaffer says. "We will continue to innovate in this space to give more consumers opportunities to experience our frozen desserts."
For its regular line of mochi, Bubbies also introduced two new flavors this year: salted caramel and piña colada.
Premium Ingredients
In line with its dedication to quality, Bubbies uses only premium ingredients such as Madagascar vanilla, which comes from bourbon vanilla beans with flavor and aromatic qualities that make Madagascar vanilla beans the most popular and sought after in the vanilla variety.
In addition, Bubbies focuses on using real, natural ingredients with nothing artificial.
Last year, the ice cream maker opened up its second manufacturing facility in Phoenix, and Bubbies continues to expand its distribution capabilities in order to keep up with growing demand.
"Bubbies is currently available in specialty, independent and national grocery chains across the United States," Schaffer says. "Visit www.bubbiesicecream.com to find a retailer near you."