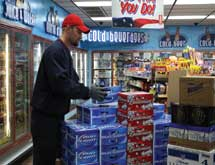 Acquiring distributors can produce economies of scale, but in the distribution of alcoholic beverages, it can create complications from the differing regulations in states, counties and even municipalities. But this variety did not keep Budweiser of Clarksville, Cookeville, Chattanooga, Hopkinsville and Owensboro (BOCCCHO) from acquiring three distributors in Kentucky and Tennessee from 2006 to 2009.
"Our company is unique because we are multistate, so we deal with various regulations," acknowledges president and COO J.R. Hand, who represents the third generation of family ownership of BOCCCHO. "We have to modify our business to fit that. That's an area where people have been uncomfortable to expand, but we flourish in that environment. At the end of the day, the general business approach is still the same. Actually, we view this expertise as a competitive advantage as we look to future opportunities."
The regulation of alcohol is radically different between the two states in which Hand's company operates. "Kentucky is a very largely dry area, with about 80 percent of the land mass dry counties," Hand estimates. "So alcohol purchasing venues are limited. As far as Tennessee goes, it's mostly wet, but beer and alcohol stores must be separate. Vendors are not allowed to have beer and hard alcohol in the same store."
Approximately 80 percent of the company's business is in Tennessee and 20 percent is in Kentucky. "The part of Kentucky we have is more rural than our Tennessee area," Hand notes. "Like anything else, we adjust to our demographics, but we're going to have a diverse customer base regardless."
He sees the job of distributors as providing product to back up the manufacturers' marketing. "I always tell everybody it's kind of a push-pull mentality," he says. "The brewers create the pull – they pay for the TV, mass media and marketing outlets. Our execution on the back side is to make sure the product is available and well-merchandised and displayed with adequate shelf space. The pull is to come to the store and look for the product. The push is the variety and availability that we have ready for people when they come here."
Expanding into Energy
Although Hand concedes that alcoholic beverages are the majority of BOCCCHO's business, he has been expanding into distribution of energy drinks. "We do extremely well with them and are happy to have them in the fold," he notes. The company also distributes bottled water and relaxation and dessert beverages.
Hand is investigating distribution of wine and spirits and sees growth in boutique brands of whiskey, bourbon, vodka and tequila. "A lot of brands are already tied up with distributors," he points out. "We're in a brand search currently. Our level of service with the beer typically is better than wine and spirits. We can have it all on the same truck, which also provides a cost advantage from eliminating redundant, non-value-added activities."
Craft Beers
Although BOCCCHO distributes many craft beers, which is a growing category, it does not indicate a lack of confidence in the company's main beer brand – Budweiser.
"There are some consumers in our area that want niche products," Hand observes. "We have the opportunity to pick those up. I always tell people there are many fine beers in this country, whether we sell them or not. I prefer they buy ours."
He points out that brewing is an industry that has a low barrier to entry. "People can get into brewing with relatively low capital requirements," he emphasizes. "The hard part is making a brew somebody would want to drink."
He compares brewing to painting. "Anybody can paint, but only certain people can paint well," he stresses. Even the ones who paint well have to find ways to effectively sell their work.
Because of the different markets and areas in which it distributes products, BOCCCHO has a variety of competitors. "We all work the same customers, fighting every day for space and placements and anything else to try to promote our brand a little better than theirs," he asserts.