BUNN helps the world enjoy a great cup of coffee every time because of its relentless dedication and continuous product innovation.
BUNN is celebrating 175 years of entrepreneurship and innovation with a new logo that represents its relentless pursuit of quality in the cup and new product launches. "It's an exciting time to be at BUNN," says Brian Wisniewski, senior vice president and general manager, international division. "What sets us apart is what's in the cup and that's where BUNN has its success. It's all about quality."
The Springfield, Ill.-based company's new brand slogan, Quality Since 1840, is centered in its logo and wrapped by a modified version of BUNN's traditional red line below its name. BUNN prides itself on being a heritage brand built on a long tradition of quality that started well before the beverage division was founded in the late 1950s.
The evolution of Bunn-O-Matic Corp. can trace its foundation back 175 years ago when Jacob Bunn opened his grocery store in a developing Springfield, Ill., and a young Abe Lincoln was one of his first customers. That business grew into Bunn Capitol Wholesale Grocery Co. and was later managed by George R. Bunn who founded the beverage equipment division. Bunn-O-Matic was officially incorporated as a separate entity in 1963 and since then has been at the forefront of dispensed beverage equipment manufacturers.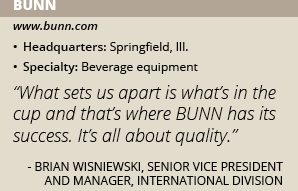 "The Bunn family is still in Springfield and BUNN remains a privately held company," Wisniewski says. "They got into the coffee business in the 1950s when George Bunn created a flat bottom paper coffee filter that led to the first coffee brewers back in the 1950s and the first commercial iced tea brewer to use real leaves versus instant mix in the 1960s. Over the last 50 or so years, we have been manufacturing and innovating around coffee brewers, slushy machines, precision hot water machines, grinders and powder equipment that would make cappuccinos and hot chocolate."
Arthur "Hy" Bunn has been the president and CEO since 1988, assuming overall management and leadership of the worldwide beverage equipment company. The BUNN portfolio has evolved from a coffee focus to include dispensed beverage equipment for espresso, tea, juice, granita, filtered water and other specialty beverages. "We are a company of innovation around beverage equipment and the only area we don't play in is carbonated soft drinks," Wisniewski adds.
BUNN's customer base is diverse, covering nearly every foodservice channel, including restaurants, convenience stores and fast-food chains. "We don't sell coffee or tea products," Wisniewski explains. "We focus on how the equipment can bring out the best of those products on a consistent basis while also ensuring profitability for the operator."
Quality Innovation
BUNN may not be the least expensive in the marketplace, but its equipment is chosen by those who want reliability and the best quality in a cup. Rigorous quality testing is performed in Springfield on products before they launch. "We have facilities where all they do is run cycles and we have never had a piece of equipment tested more than our Espress Sure Tamp® machine," Wisniewski says. "We ran half-a-million cycles on it because it's complex and put us on the map in the espresso market."
Sure Tamp has been on the market for nearly two years, but the company continues to innovate with that equipment. Later this year, BUNN will be launching Crescendo™, a bean-to-cup espresso machine, in its international markets. The machine grinds coffee beans to make one cup of coffee and boasts two large hoppers for on-demand flavors and a third one for an additional flavor.
"This is made for the international market and the reason for that is the size of the cup," Wisniewski explains. "The cup size will be eight to 12 ounces. If you look at how Americans drink coffee, a 12-ounce drink would be a minimum size."
Sure Immersion™ is the second piece of equipment BUNN will be launching this year and its target is the United States. The bean-to-cup machine also brews fresh, premium coffee one cup at a time. The coffee is filtered through a unique vacuum/air infusion extraction control that produces a clean, balanced cup with a smooth finish. Sure Immersion has programmable portion sizes from eight to 24 ounces and a 64-ounce thermal carafe option.
Strong Forecasting
BUNN manufactures about 50 to 60 SKUs in one year, but a lot of that is customization. "For example, we may have a current model, but a customer may want a hot water faucet on the machine to use for tea or oatmeal," Wisniewski says. "Maybe they want it on the left or the right side, so we come out with that number of products every year because of our ability and willingness to provide a customized solution to customer requests. It's one of our unique selling points."
In terms of pure innovation, BUNN launches a couple of new products every year. "We look at trends around the world and try to stay close with our customers in terms of learning about what they are working on and the latest trends," Wisniewski says. "BUNN prides itself on being the partner of choice for our customers. That's very important for us."
Trends today include single-cup brewing and an emphasis on freshness. "Lately there has been a backlash on prepackaged coffee cartridges in terms of sustainability and how old the coffee could be," Wisniewski explains. "It all comes back to nothing being better than brewing a pot of coffee and smelling it brew. With the single cup coffee cartridges, you don't get the aroma of the fresh ground coffee brewing."
BUNN does sell equipment that supports those cartridges, but has seen significant growth in its fresh ground bean to single cup machines. In addition to working closely with its customers to spot the latest trends, BUNN is also a member of more than 30 trade associations around the world.
International Growth
Wisniewski's focus has been on growing the company's international business since he joined the company nearly six years ago. BUNN has seen significant international growth with offices now in Mexico, Brazil, Dubai, the United Kingdom, Germany and China.
BUNN employs sales, technical and service people at each of its offices around the world to meet its customers' needs. BUNN's global team of employees teach distributors' service teams how to support its products. The company operates in a distributor model and does not give any one company exclusivity to its products.
"It's not enough to sell our products; they have to sell the equipment, service it and offer preventative maintenance," Wisniewski explains. "Things happen. On the international side, the quality of water varies considerably. There may also be power surges because the power is not very clean in certain developing markets."
The company started manufacturing in China last summer its most popular products in the region. BUNN is working on localizing its equipment in its international markets. For example, a machine's LCD screen that comes in English should accommodate simple Chinese or Korean to make it easier for those operating and servicing the equipment.
Brand Power
BUNN launched its new brand internally in November 2015 and made it public in the first of the year. The company decided to rebrand in celebration of its 175th anniversary and in anticipation of its new product launches this year. "We felt it was time for an update to our brand identity that better reflects who we are today, without forgetting what we are founded upon," the company says.
Because a relentless pursuit of quality in the cup is at the heart of BUNN, its logo evokes that by including a circular icon that represents the cup. The round shape of the cup also symbolizes its connection to the world. Additionally, transforming water is an integral part of what the company does which is why the new icon features Blue Pantone 300 in the triangular alchemic symbol for water. Blue also symbolizes dependability, strength and trust.
"The evolution of our brand identity is completed by replacing the former font that represents the BUNN brand name with the new modern feel of the Clonoid font, showing our commitment to the needs of our customers today and anticipating the trends of tomorrow," the company says.
Continuous Education
Education is one of the ways BUNN approaches business in its international markets. As the middle class continues to grow in emerging markets, their drinking expectations change and they want a good cup of coffee, Senior Vice President and General Manager, International Division Brian Wisniewski says. "The international opportunity is tremendous and we are strategically positioned," he adds. "It's an exciting time to be at BUNN."
Brazil is the largest coffee-growing country in the world and many of its residents today make coffee in percolators. "They boil the coffee for one to two hours and it's extremely strong and bitter so they add three sugars and combine that with a third of milk," Wisniewski says. "That's how they have drank it for decades, but we can introduce how to brew it to the recognized standards of our industry partners such as the Brazil Coffee Association. They will realize if you get proper extraction you don't necessarily have to add sugar and milk – you can drink it black. As people learn more about the versatility of coffee, this is where we feel BUNN is strategically positioned to offer our equipment to brew great beverages."