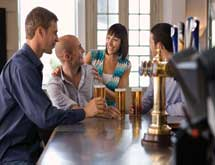 Although beer is the beverage of choice for many, even the brewski industry is facing tough times because of the economic conditions, says Scott Adams, director of the sales/beer division for Burke Distributing. The Randolph, Mass.-based firm distributes products from more than 50 suppliers, including MillerCoors, Boston Beer Co., Red Bull and a niche spirits business focusing on high-end brands.
The company provides distribution services in a 660-square-mile radius of the metro Boston area for its beer division, and its Red Bull division covers all of eastern Massachusetts, as well as the northern border of New Hampshire to the tip of Cape Cod.
Expanding its Client Base
Drinking occasions and consumer behavior are some of the changes the company has seen since the recession hit. For example, there is a concentration of drinking on Thursdays to Sundays, Adams says. "It makes it very difficult to commit the appropriate resources against a constantly changing business model," Adams says. "People continue to drink but are making different decisions.
"That has brought about the re-emergence of the economy category, which is a larger percentage of the overall beer business now, especially for us considering at one point in time 95 percent of our business was coming from the premium category and above," he notes.
"In addition, craft beer is considered an affordable luxury," he adds. "So between that trend, along with movement toward less expensive brands, the traditional mainstream products are being squeezed."
Customers are concerned about the price of the product and the occasion on which they are being purchased. "We're reacting to the consumer and evolving the way we go to the market," he says. "We're going with the way the consumers are reacting. Burke's business managers are now segregated by category and not by brewer, bringing even sharper focus on the consumer than before."
Even when the economy improves, Adams doesn't expect customers to go back to their old ways. "Personally, I think it will take some time after the recovery for people to return to their old buying habits," he notes.
Retailers are adjusting to this shift in several ways, including redesigning storefronts to attract other types of consumers. Typically, beer drinkers are men between the ages of 21 and 28. "One important [change] is the lighting atmosphere to make it attractive to females," he says. "It is a larger demographic. It is has become more important to retailers to attract all customers."
The Lean Process
Last year, Burke Distributing received a $123,000 grant from the state of Massachusetts to begin a training program and implement lean processes into its facilities. So far, the company has focused on driving savings from its operations but it will soon expand lean processes and initiatives into all aspects of its business.
"It will help us get rid of excess fat and streamline processes more effectively," General Manager of Red Bull Division Tim Burke says. "We're going to focus heavily on lean and how we go about it."
"It empowers our employees to make changes so they also have ownership in what they do on a day-to-day basis," President Bill Burke adds. "It's not just upper management; employees now have the power to make changes as well."
Although it is too early to tell, the company expects lean to bring many benefits to the firm. "The lean process gets everyone involved through a series of kaizens, or group meetings, consisting of five to seven members from all areas of the business," Tim Burke adds. "I guess you could call it a super focus on certain procedures and policies to find areas of opportunities. This is more bottom-up than top-down. That's what is so great about it."
On the Map
Burke Distributing was founded 75 years ago by Burke's grandfather Walter, who was a meat deliverer in 1935. "He was in a bar and someone told him if he were to deliver beer that they would buy it from him," Tim Burke says. "He thought that was a pretty good idea so he started down that avenue. I happen to agree with him."
The company became a Miller Brewing Co. distributor in 1954, and by 1983, was the second largest Miller distributor in the country with just under 10 million cases per year, he says. Due to union issues on both sides, Burke sold Miller to another distributor in 1994, and bought it back in 2000. Three years later, it acquired Coors Brewing, Guinness Imports and INBEV from United Liquors, which was a direct competitor of Burke's.
Growth has always been a focus of the firm. In 1994, it distributed 800,000 cases and grew to 2.5 million cases by 2000, before its acquisition of Miller. It is expected to sell more than 6.8 million cases in 2010.
Family Focus
Besides its growth, another aspect that sets Burke Distributing apart is the family ownership and environment. Along with brothers Bill and Tim Burke, the company is also owned and run by their cousins Austin, Alina and Anissa Burke. This third generation took over the company and its operations in 1994.
"Because of the family history and heritage, and with the owners directly involved in the day-to-day business, it has allowed the organization to maintain a family culture," Tim Burke says.
"That ties into lean," Adams adds. "It allows employees to make decisions. That's unique because it's a family business and employees can impact it."
The family environment also helps the company maintain its goal of servicing the customer. "Not all of us were born and raised here, but we have a good understanding of who the customers are and what they want," he says. "We're building the organization from the bottom-up and trying to evolve the organization around the customer. After all, they are part of our business family as well."
Bright Future
After 75 years in the business, Burke Distributing is still focused on growth, as well as longevity. "We are growing our company for the long term," Tim Burke says. "We want to be here for another 75 years."
"Our vision would be to continue to grow through innovation," Bill Burke says.
The family's dedication to the company is expected to continue in the future. "We have no plans to sell," Tim Burke adds. "The family is very dedicated to keeping this going. We'll always be looking to explore different avenues. We also have a great working relationship with our union [Teamsters Local 653]. We just signed a five-year contract, so on that front, we're happy."