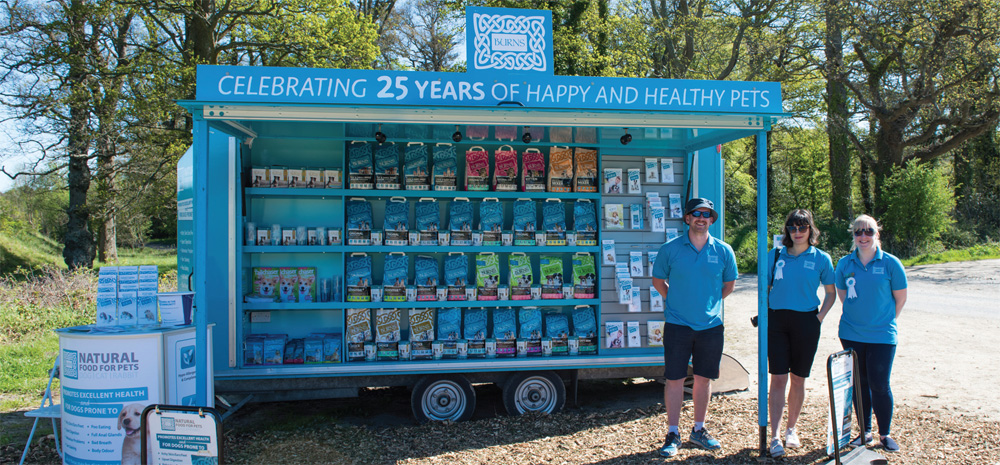 Healthy, happy pets
Burns Pet Nutrition has remodelled the way in which owners approach their pets' diet, developing wholesome products to manage animals' health problems and ensure their continuous wellbeing
Revolutionary in its origin, Burns Pet Nutrition emerged as a disruptive force in the pet food industry in the mid-1990s, challenging and changing then-popular doctrines of how domestic animals
should be fed. Masterminded by its affable founder and CEO, John Burns, who spearheaded the development of a healthy, wholegrain-based, home-cooked diet, the company first rose to national prominence in 1994, one year after it was founded. "The first milestone for us came when Dogs Today published an article on my foods, which attracted significant interest that allowed us to make the transition from a local West Wales company to a truly national business," John remembers.
With a background as a veterinary surgeon and a trained acupuncturist, he had been consulting pet owners on how to feed animals with health problems for almost 15 years before setting up Burns. "I was advising my clients not to give commercial pet food to their animals when they were not well. Instead, I was recommending a diet, which involved home-cooked rice, vegetables, and a little bit of meat. That gave some wonderful results in treating and preventing chronic health problems, allowing the body to function naturally and to maintain and repair itself. Alas, most pet owners did not want to apply this diet, so I had to start thinking about packaging it in a convenient commercial form," John goes back to the early days of the business.
"In my opinion, what gave us a foothold in the market and really helped us grow, was the emphasis on managing health problems, which was actually the underlying reason why I started the company. I really wanted to offer simple, wholesome food – high in wholegrains and low in protein and fats, which, when served in the right amount, enables the body to detoxify and function in a normal way. Once this happens, health problems just automatically disappear," he points out. "It merits adding that while our foods are suitable for dogs with pre-existing health problems, such as sensitive skin or digestion, they also contribute to a dog's mental health. In this sense, it is encouraging to see that the modern medical world is beginning to realise that there is no real distinction between pet's physical and mental health."
Having gathered speed once, Burns has grown rapidly over a number of years, although, as John admits, the business environment is getting ever more trying, with new hurdles popping up on the track all the time. "The market has grown more challenging with the decline of bricks and mortar stores and the rise of digital. We are also facing a lot more competition; on the other, a lot of fake news (or lies, as I call it) about the principles I stand for and believe in, are populating the public sphere. I am an adamant proponent of the idea that wholegrains are an excellent way of feeding pets. Unfortunately, this claim has been challenged a lot in recent times, with calls for the development of more grain-free foods gaining traction, at the moment. At first I resisted that, because I think it is hard to formulate a healthy diet without using grains. Nevertheless, this year we launched our own grain-free product, whose base ingredient is buckwheat, which, despite its name, is a fruit seed that has not been used in pet food in the UK before, as far as I am aware," he discusses.
Company growth
When John opened the company, he only had two products in his portfolio – one food specifically for adult dogs – which has remained the mainstay of the business to this day – and one for puppies. "Both are based on brown rice and chicken and this has remained our best-selling line. Naturally, we have expanded our range over time, adding brown rice and lamb, and brown rice and fish," Burns' founder explains. "Because not every dog is suited to every ingredient, we have also released an alternative to our Original range, in the shape of the maize-based Choice range. In addition, we offer our Sensitive+ range, which comes in pork and potato and duck and rice variations. Last but not least, another sought-after product is the aforementioned Free From range, which contains easily digestible duck and potato, as well as buckwheat, which is widely regarded as a superfood."
Just in time for Burns' 25th anniversary in 2018 came the announcement that the company has been included in The Sunday Times Fast Track Profit 100 League table, which ranks the private UK businesses achieving fastest-growing profits. "We were placed at number 60, along with only two other Welsh companies. It was a great surprise to make it into the list and our inclusion has certainly stirred a bit of interest from the rest of the business world," John comments.
Driven purely by altruistic sentiments, Burns has set an inspirational example for many other companies with its charitable activities. Recently, the company donated an astonishing 25 per cent of its profits to its own charity, the Burns Pet Nutrition Foundation, thus advancing a number of schemes undertaken by the organisation. John clarifies: "We have always given support to a mix of charities and local sports clubs, but in 2007, we set up our own charity to formalise these activities a little bit. In fact, for most of the time since, we continued to donate to other organisations, but about three years ago, we decided to change the nature of our charitable activities and do something ourselves, so we transformed the foundation into a community-interest company (CIO).
"I made a decision that we should spend less of our revenue on marketing and advertising activities, directing more of it towards community activities, instead. We now often provide support to disadvantaged people or people with learning difficulties, while another programme we are exceptionally proud of is called 'Burns By Your Side'," he enthuses. "Under this scheme, we use trained volunteers and companion dogs to help children in schools improve their literacy, communication, and confidence skills. We have already got about 40 volunteers and even though we are satisfied with how well-established it has become in West Wales, we are also keen on branching it out to other parts of the UK."
Community activities
To further aid the development of the foundation, John has also put some money aside to buy a dedicated centre where all community-oriented activities can take place. He reports that he is currently looking for a suitable site, which can be used as the foundation's headquarters, but cautiously remarks that the active continuation of Burns' community work depends a lot on the future success of the company and the generation of enough revenue that can subsequently be reinvested in the foundation.
"When I am being asked about the plans for the business, I always answer with 'More of the same'. We just want to extend our reach across the country and in Ireland, but the novelty is that we have recently appointed an Export Manager to develop our markets outside of the UK," John concludes by projecting what is in store for Burns in the foreseeable future.