High-quality food made to diners' specifications is driving growth for Burtons Grill & Bar.
Meeting the needs of diners with significant food allergies and dietary restrictions can be a challenge for restaurants. There's more to ensuring a positive experience for these diners than removing a bun from a burger or leaving nuts out of a salad.
Diners at a Burtons Grill & Bar need not fear that a potentially dangerous food item will make its way into their meal. The restaurant brand offers gluten-free alternatives for more than 70 percent of its menu items including burger buns, dinner rolls and pasta. Burtons restaurants also include designated equipment and preparation areas for allergy-free foods. "Taking care of guests who have special needs or diets just feels right to us," CEO Kevin Harron says. "We are delighted to accommodate our guests."
Not only does Burtons Grill & Bar offer alternatives and ensure its food is prepared in the safest manner possible, it works to meet all possible customer requests.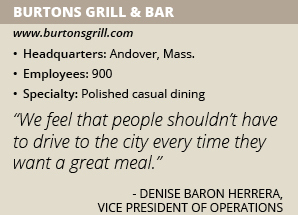 "We concentrate on the customization of the dining experience – people here can tell us what they want or don't want in a dish," says Denise Baron Herrera, vice president of operations for the Andover, Mass.-based brand. "Whether the change is related to allergies or just not having something they dislike in a meal, we can accommodate the majority of those requests.
"The most important piece of this customization for us is helping people with dietary restrictions or allergies make choices that won't make them sick."
The company's commitment to serving diners with dietary restrictions earned it recognition from AllergyEats, a guide to allergy friendly restaurants. Burtons Grill & Bar for the past two years has been named to the top five of AllergyEats' list of the Top 10 Most Allergy-Friendly Restaurant Chains in the United States. Restaurants on the list hold the highest ratings from the AllergyEats app and website according to feedback from the food allergy community. Ratings are based on restaurants' ability to accommodate food-allergic diners.
"The moment an employee is hired we share our allergy commitment with them. Throughout training they learn our allergy steps of service to ensure a safe dining experience for our guests," Baron Herrera says. "In food preparation we use everything from color coded cooking utensils to,specific plates for allergy-free dishes, to the manager delivering the allergy free plate to the guest. Burtons Grill watches over every detail.
"Our staff is trained on menu knowledge so they can make suggestions and help guide any guest through their menu to ensure a delicious and safe experience," she adds. "Every employee understands that this is a non negotiable step of service, no exceptions, they know we take this seriously."
Commitment to Excellence
Burtons Grill & Bar's commitment to serving food-allergic customers is just one way the brand fulfills its goal to delight every guest, one person at a time. "What sets us apart is our commitment to excellence and consistency in our product – people always know what they're going to be getting with us," Baron Herrera says.
Founded in 2005, Burtons Grill & Bar today operates 11 locations in Massachusetts, Connecticut, New Hampshire, Virginia and South Carolina. The company targets the upper casual dining segment, which it refers to as "polished casual." The brand's owners also own and operate Red Heat Tavern, a casual dining concept with locations in Wilmington and Bedford, Mass.
"We have a price point below fine dining but above casual, and that reflects in our products, service and ambience as well," Baron Herrera says. "At the time we started, we felt that the polished casual segment was underserved."
Burtons Grill & Bar locations offer an ambience typically associated with urban environments to suburban locations. "We bring an urban feel," she adds. "We feel that people shouldn't have to drive to the city every time they want a great meal."
All of the brand's locations operate a scratch kitchen. "We are proud of the product we serve, so we wanted to have a scratch kitchen which allows us the flexibility to customize guests orders," Herrera says. "Our business model is about being best in class – we want to outperform everyone we are competing with in our segment, consistently."
The restaurants' chefs are also given license to be creative in their offerings. "We give each location the chef at each location the ability to create 'whim food' for their region," she adds. "We want chefs to have autonomy within their four walls, and want them to run their own location as if they own it."
Creating a Culture
Burtons Grill reinforces its food preparation and service philosophies through an extensive training program. In addition to the training provided to wait staff and hourly employees, all managers undergo a 10-week training that "brings them from the back to the front of the house," Baron Herrera says.
Managerial training covers administrative functions as well as the responsibilities of every hourly position. Wait staff mirror experienced staff members and also do trial runs where they serve managers.
The majority of the company's managers are promoted from within. "We believe in creating a strong culture of people, which we feel is important to our success and will be extremely important to our future growth. Delighted employees equals delighted guests," she adds.
Links in The Chain
During training, the company emphasizes what it refers to as its "seven links to quality": sourcing, receiving, storing, handling, executing, expediting and validating. "These links are something we talk about daily," Baron Herrera says. "If something doesn't look or taste right, we want to be able to go back to the chain and look at what went wrong."
The company's vendors play a role in ensuring it can provide a high quality of food and service. Several of Burtons vendors have worked the company for the majority of its existence. "To us, our vendors are as important as our employees are," she adds. "In order to continue delighting our employees, we want to build strong vendor relationships with providers who understand our expectations for quality and can deliver on that."
Burtons' Grill & Bar's business partners also help in marketing efforts. The company works with Green Banana SEO, a SEO optimization firm, to ensure it remains on the top of Google searches. With a growing number of options for the consumer, Burtons Grill & Bar understands the importance of staying top of mind and relevant when potential guests search for their next dining location, the company says.
'Nothing to Hide'
Burtons Grill & Bar continues to expand. The company in March opened its 11th location in Alexandria, Va. "Our growth strategy is to improve our presence on the Eastern Seaboard and enter the Washington, D.C., market," Baron Herrera says, adding that the company will open a location in Sterling, Va., in August. "We're excited about entering that market."
The 6,200-square-foot Alexandria location features an open floor plan offering views of the kitchen from every one of the restaurant's 200 seats. Neimitz Design Group designed the space. "We wanted guests to see the magic that a lot of people are hiding behind walls," Baron Herrera says. "The majority of our kitchens are semi-open, but we really wanted to open it up to guests' view so they know we have nothing to hide.
"Our kitchens are very clean and very professional, and we wanted our guests to be able to smell and see the food as its being cooked," she adds. "We wanted our guests to be able to use more of their senses in addition to just having a plate delivered to them."
The Alexandria location will serve as a prototype for future locations. "We want to double our size in the next few years while continuing to innovate our offerings," Baron Herrera says.
Close Connections
Each Burtons Grill & Bar maintains close connections with the communities in which they are located. Each location's general manager is involved in coordinating charity and volunteer efforts including donating to food banks.
Burtons locations also work with organizations including the Boys and Girls Club of America and Visiting Nurses Association as well as local business groups. "We believe we need to be a part of these organization so we can support each other," Vice President of Operations Denise Baron Herrera says.