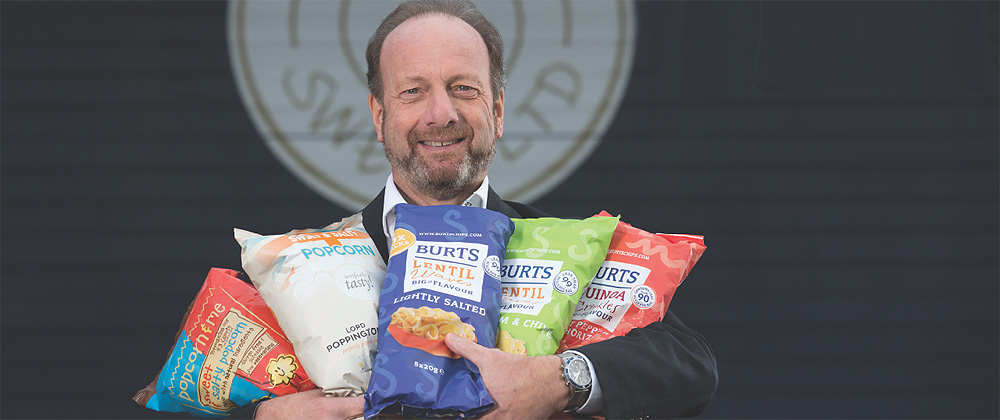 Hand-cooked to perfection
Hand-cooked in Devon, Burts Chips' thick cut British potato chips, as well as its range of snacks, are gaining an ever-growing reputation for delivering real taste, proper crunch and unrivalled quality
When retired delicatessen owner Thomas Burt and his wife Linda moved to Devon it was a chance conversation with a publican about the lack of quality crisps in the area that led to the creation of
Burts Chips (Burts) in 1995. From their kitchen, the pair's mission was to create the perfect hand-cooked crisp and their dedication and commitment helped to create a successful snack business now based out of Plymouth.
Ten years after it was founded, Burts was a blossoming business turning over around £1 million with plans to expand beyond its home market. It was at that time that David Nairn, after 32 years in the City, and banker to Europa Foods, took a career change and with a role reversal, Jitu Patel supported David in a 'funded search'. After taking a small investment over the next four or five year and further cash injectionss and years of steady growth, David encouraged Jitu Patel in 2014, owner of Empire Bespoke Foods, to buyout all the other shareholders in a development that allowed David to build his management team and invest for growth whilst remaining a family owned British enterprise.
"It was at this time that I dropped into my present-day role of Managing Director as we began to accelerate our investment in capacity," David begins. "We recognised a growing demand within the hand-cooked crisps market and we moved to meet this through the purchase of new kit, including fryers, for our factory in order to increase capacity from 100 tonnes per week of output to 200 tonnes. At the same time, we introduced a range of 'Better for You' snacks and expanded our unique licensed range of products including our award-winning Guinness crisps and the recently launched Jim Beam Original BBQ Chips. This has helped us to become extremely competitive and has led to a 25 per cent increase in turnover for each of the last three years."
Personal touch
The company's thicker cut British potato chips are hand-cooked by a dedicated team of Master Fryers and come from only the best Red Tractor Assured potatoes, before being seasoned with the best, locally sourced flavours from the South West. Today, Burts Potato Chips can be found in a number of independent café's, delis and farm shops, as well as selected Tesco, Morrisons, Asda and Coop stores across the South West, while several of its snacks such as its Lentil Waves appear on the shelves of Waitrose stores nationwide. In addition, all of the company's products can be purchased via its website shop and regularly exports to over 30 countries, including the US, China and Singapore.
"Burts' products have been independently praised for their great taste, outstanding quality and innovative flavours," David enthuses. "In other external customer testing and blind hand-cooked
taste tests, the quality of our crisps beats that of our major competition, and unlike other larger snack brands we strive to deliver a personal touch, with the name of the individual fryer who hand-cooked each pack displayed on its back. Our Operations Director, John Joseph, oversees production, including the manual checking of our crisps to ensure they meet our exceptional standards and conducting regular quality reassurance spot checks. Approximately one in seven of the people employed by Burts is involved in some way in quality testing, and this emphasises the high standards that we operate to and set ourselves on a daily basis."
Recognising that crisps are, for the most part, considered an indulgence, the company has made considerable progress in developing its 'Better for You' range of products, which includes the aforementioned Lentil Waves and its Quinoa Crinkles. "This range has performed exceptionally well, achieving double digit growth as it meets the needs of consumers looking for a healthier option that doesn't compromise on great taste and fits into their day-to-day lifestyles," David explains. "We continue to invest in NPD across our client base in order to ensure that we are ahead of trends and our competitors, and we look forward to bringing several new products to market in the next six-to-12 months."
Portfolio diversification
Burts' efforts in the field of NPD have also extended to its recent acquisition of Savoury & Sweet (S&S), one of the UK's leading producers of popcorn and healthy snacks. "This acquisition will enable us to diversify our product portfolio to include a wider range of healthy snacking products, as well as popcorn," David states. "It will also allow us to utilise the frying, baking and popping expertise of S&S to grow our 'Better for You' range."
The purchase of S&S also allows taking over the entire 150,000-square foot facility in Leicester. Twice the size of Burts Plymouth-based factory, which itself is now close to filling its capacity capabilities, it gives the company the opportunity to expand into the Midlands and has already benefitted from considerable investment, having already installed compression popping and commenced a project to deliver 75 tonnes of additional potato frying capacity by the end of 2018.
Focused ambitions
The above detailed investment is playing a vital role in taking Burts towards its goal of achieving a turnover of £100 million by 2022. "I believe that there is a clear driver for premium quality products in our marketplace, and as such we will continue to challenge ourselves and stay true to our core principles as we strive to realise our ambition of becoming the premium snack supplier/brand in the UK," David adds. "In order to progress towards this goal, it is important that we stay focused, continue to deliver and extend brand awareness nationally, invest in bringing more technology and expertise in-house, and, most importantly, continue to innovate and champion the premium, hand-cooked sector."