A taste for quality
Remaining independent and truly British, Burts Snacks continues on its mission to deliver quality snack products with exceptional taste and flavour
For regular readers of FoodChain, Burts Chips will be a familiar name, with the Devon-based manufacturer of award-winning premium snacks having graced these pages several times in recent years. Now under the moniker of Burts Snacks, we caught up with Managing Director Dave McNulty in early November 2021 to learn of how the business has found itself on a rapid growth trajectory that is reflected across its entire product portfolio.
"Our Burts branded business is currently enjoying a period of very strong growth of some 18 percent year-on-year," Dave begins. "The eight-strong range of products that we produce boast a 31 percent share of the hand cooked market in the South West of England, and on the back of a seven-figure summer marketing drive are performing particularly well.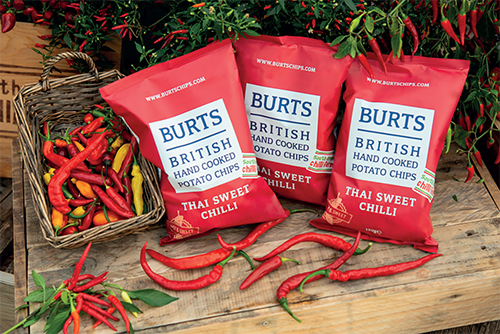 "In addition to this, our private label contracts are also going from strength-to-strength, not just in our crisps business, but across our 'Better for You' and popcorn ranges too. This has undoubtedly been helped by the boom in 'at home' consumption throughout the pandemic, and shows few signs of slowing down now we are returning to a more normal world. Lastly, our co-manufacturing business has also enjoyed some stellar growth and we have built our capability further to enable this."
As alluded to earlier, when we last spoke with Dave the business was known as Burts Chips, and he is now able to enlighten us as to the inspiration behind the change in name to Burts Snacks. "Post the acquisition of Savoury and Sweet in 2018, Burts has become so much more than just a potato chip company," he declares. "Our capability stretches from the finest popcorn and compression popped products to 'better for you' snacks and other pellet-based items. We have also extended our capability into extruded snacks, further enhancing our production abilities and adding another string to our bow. Since 2017, we have invested more than £17 million into production assets to allow us to span the entire snacking aisle, so it follows that we reflect this in our name and our vision to be Britain's leading independent snack company."
In its bid to achieve the above, the company has continued to introduce new products to market. This has included the launch of limited-edition Maple Glazed Pigs in Blankets Potato Chips (40g), available in Costa Coffee stores nationwide as part of its ongoing partnership with the chain. "Tapping into consumer demand for innovative flavours with a strong British heritage, this launch provides the ultimate snack to enjoy alongside a coffee or on-the-go, and marks an exciting introduction for the festive period," Dave enthuses. "We worked closely with Costa Coffee to select a flavour its customers would love and created a crinkle cut potato chip combining smokey sausage and bacon flavours with a sweet maple glaze."
Essential in creating the snacks that Burts Snacks' customers love are its two manufacturing sites, one in Plymouth and the other in Leicester, which the company continues to channel investment towards heavily to drive both growth and efficiency. "In Leicester, over the last four years we have invested in a chip frying facility, an extruded plant, and very recently a flash frying facility. This has helped give the site broader capability, enabling us to utilize it for new product development initiatives,"
Dave states. "In Plymouth, where the focus has mainly been on chip frying, we have also invested in two flash frying facilities to broaden our capability. At the same time however, it is critical to ensure that we drive our overall effectiveness to maximize our output from each plant. We place a huge premium on our staff development and capability, as well as strengthening areas such as engineering, which has been key to the continued good performance of our plants."
Sustainable measures
In tandem with the investment it has made in its facilities, the company is also continuing to pioneer sustainability efforts across its estate. "Since our early days, Burts has had environmental considerations close to its heart and is proud to be a zero to landfill business," Dave adds. "We all have to take responsibility for a better planet and we have been on a journey for some time now to take effective measures to lower our impact. As part of sending zero waste to landfill, all our food waste is given to local livestock, and our cooking oil recycled into sustainable biodiesel fuel. We continually look to improve and over recent years we have introduced a number of sustainable measures in the form of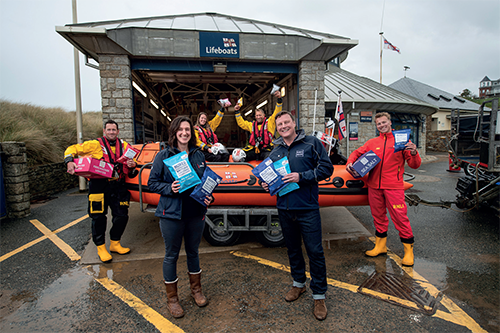 control systems that ensure only a minimal amount of energy is used whilst reducing waste, helping to improve our environmental performance and reduce the carbon footprint of the business.
"In the coming years, we will be introducing several initiatives at Burts, internally and externally, to reduce our carbon footprint and we aim to become B Corp certified. We're delighted by the huge progress we have already made in this area, with our annual CO2 output decreasing by 17 percent last year, despite the introduction of new products and increased volume. Our aim is to continue reducing CO2 emissions year-on-year, as well as identifying other areas that we can improve to minimise our impact on the environment."
As a family-owned South West brand, for Burts, sustainability goes beyond ingredients, packaging and production. "We're passionate about supporting the local community and playing an active role in the area," Dave continues. "As a brand that was founded in the coastal city of Plymouth, we love the outdoors and it's ingrained in our company ethos. So, it felt like the perfect fit this summer when we announced a strategic partnership with the Royal National Lifeboat Institution (RNLI)."
Growth prospects
The partnership between Burts and the RNLI, which will last for two years from June 2021, has seen RNLI branding introduced on Burts' Sea Salt and Sea Salt & Malt Vinegar 150g and 40g crisp packs. The new packaging also features the charity's key 'Float To Live' messaging and a QR code which directs shoppers to a new RNLI section of the Burts website where they can find out more about the charity and leave a charitable donation. The RNLI branded products are available in 100s of outlets nationwide including Costa Coffee, as well as Morrisons, Coop, Asda, Tesco and RNLI shops in the South West.
As has been the case with every business, Burts has faced considerable challenges in the last 18 months or more as a result of the Covid-19 pandemic and subsequent logistics/supply chain problems. In the case of the pandemic, the changes that the company made from its onset were critical to keep its employees safe. "This meant adapting to new working patterns across our manufacturing and head office facilities, isolating different shifts, enforcing social distancing parameters, facilitating home working, and ensuring complete adherence to public health guidelines," Dave notes. "I am hugely proud that despite all of these changes, we were able to run smoothly and get through Covid-19 with minimal disruption.
"Meanwhile, although there is no doubt that the recent supply chain challenges have been disruptive, we have been fortunate to work alongside excellent logistics providers who have helped us to navigate the best route forward. For instance, we recently partnered with Menzies Distribution to provide our transport services, and they have been excellent in helping us to maintain our service."
Heading into 2022, the company has a number of exciting plans afoot, with several new initiatives planned for its Burts Snacks branded portfolio. "We intend to maintain our growth momentum with further investments in capital equipment and in efficiency driving technologies," Dave details. "Through our recent investments and our focus on leading the snack market, both in terms of quality and service, we have an aim to grow to £90 million by 2023.
"Our prospects for growth continue to excite us, and I see no reason why we shouldn't set our stall out to grasp the opportunities a changing consumer provides. 'Better for You' snacks will undoubtedly continue to grow and we are well placed to capitalise on this in the coming years. Great taste is something that we've seen time and again comes first with consumers, and we're increasingly expanding our skill set in marrying 'Better for You' products with seriously great taste credentials."
www.burtssnacks.com