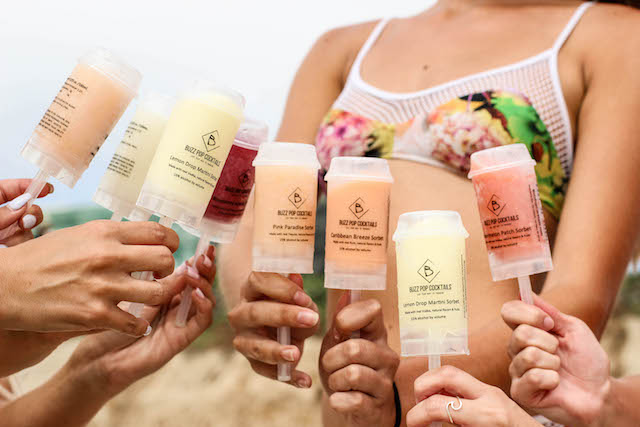 Buzz Pop Cocktails is taking the food and beverage industry by storm with refreshing adult push-pops made 15 percent ABV with premium liquors.
On a hot summer day in Las Vegas two years ago, inspiration for Buzz Pop Cocktails struck executive chef Jason Isaacs. "Me and a couple of friends were sitting around the table one day eating ice cream and one buddy asked if I wanted a cocktail," he remembers. "I said, 'It would be cool if this [push-pop] was a cocktail' and we went to the drawing boards."
Through its patent pending process, Buzz Pop Cocktails turns signature cocktails into five-star restaurant quality Italian sorbets. The chef-inspired company produces a fresh and invigorating twist on two summer staples: sorbets and premium liquors. "There's nothing out there like this in the clean label category," Isaacs says. "Our push-pops are a minimum of 15 percent alcohol by volume compared to spirit ice creams out there that are three or five percent max, which is equivalent to a low-end beer."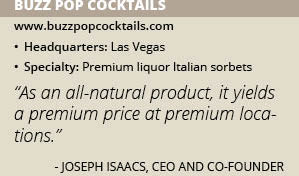 Buzz Pop Cocktails is unique in that it starts with the cocktail and turns it into a high-quality Italian sorbet. Its no mess, retro-style, see through push-pops allow customers to enjoy Buzz Pops as a frozen dessert or let it melt and drink as a smooth, flavorful non-diluted shot.
Isaacs co-founded Buzz Pop Cocktails with his father, Joseph Isaacs who is the company CEO. The father-son team built a manufacturing facility in Las Vegas and began producing Buzz Pop Cocktails in June 2017. Buzz Pops are the only adult push-pops in the world and contain no artificial flavors, colors or high fructose corn syrup, and are fat-free, gluten-free and vegan friendly, Joseph Isaacs says.
Enticingly Exclusive
Today, Buzz Pop Cocktails features 75 different flavors on a seasonal rotation throughout the year and offers a bespoke, signature series of flavors for unique events and clients. "Our distribution channels in Las Vegas and throughout the USA are to the hotels (for banquets), pool bars, stadiums and food and beverage directors," Joseph Isaacs says. "It's a very unique marketing program and a market where we have zero competition, which enables us to blow that market up with huge numbers."
The all-natural, gourmet sorbet Buzz Pops are made exclusively with fresh fruits or cold pressed juices and premium liquors. "As an all-natural product, it yields a premium price at premium locations," Isaacs adds. "At the Cosmopolitan Las Vegas, their signature drink is a cosmopolitan and they give us their recipe to turn it into a Buzz Pop. We co-brand it and they sell it out by the pool. They don't have to worry about people running across the street to the liquor store to find it, which speaks to the exclusivity of our product."
Buzz Pops recently partnered with Minneapolis-based Drake's Organic Spirits, the largest and only alcohol manufacturer of USDA Organic, Non-GMO Project Verified, gluten-free, vegan and kosher certified ultra premium vodka and rum. "In the U.S., most of the sugar produced is derived from sugar beets, which are genetically modified. Our quest to source the purest organic cane sugar not genetically modified led us to the organic cane fields of South America, which are fed by the purest water that flows down from the Andes Mountains to feed the fertile Cauca Valley," Drake's Organic Spirits founder Mark Anderson says. "Our ultra premium vodka is distilled 12 times and is full of nature's flavors with a smooth, clean taste that only cane alcohol can provide."
Buzz Pop Cocktails and Drake's launched a mango passion-fruit flavor Drake's Organic Buzz Pop featuring the organic rum and a Moscow mule flavored Drake's Organic Buzz Pop with its organic vodka. "We came across Buzz Pop Cocktails in California at a trade show and at the time were looking for additional ways to promote our organic spirit line," Anderson remembers. "We liked the quality of the sorbet Jason was manufacturing and saw an opportunity to promote and expand our brand."
Broadening its Reach
Buzz Pop Cocktails anticipated millennials to be its target audience, but the company has been pleasantly surprised that everyone from 21 to 70 years old enjoys its refreshing treat. "Buzz Pops are liked across the board," Joseph Isaacs says. "Anyone who is of age to consume alcohol is enjoying Buzz Pops and it's a great way to chill and enjoy anything that's going on in a hot environment."
Because of its instant success, Buzz Pop Cocktails plans to continue selectively expanding to venues throughout the United States. "We are expanding in areas that we see there is a demand for health and wellness and people still want to have a cocktail, but focus on things that are healthier for them," Isaacs explains. "California is the next market we are launching in. California has the sixth-largest economy and a high tendency to focus on health, wellness and certifications."
Buzz Pop Cocktails also plans to launch in Texas and New York, as well as looking at international licensing deals. "This is not strictly a United States market product," Isaacs says. "We will do well in South America, Mexico, Spain, the U.K., and other places. Our next big play is selling our product overseas. It's fun and exciting to see our products explode in the market and have people outside the country want to bring it to their venue, too."