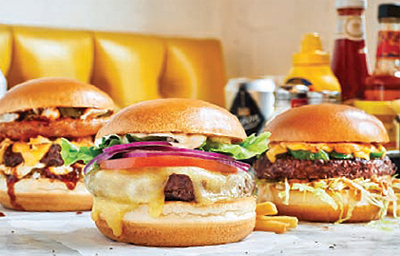 Hamburger heaven
Inspired by its founders love affair with the staple food of the great American diner, Byron Hamburgers has spent the last ten years introducing millions of British customers to the simple joys of the hamburger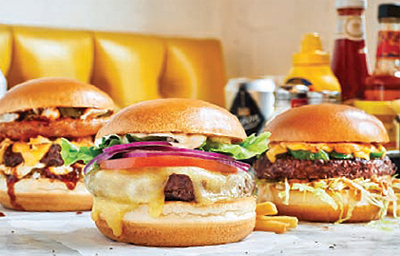 By founder Tom Byng's own admission, the story behind the creation of Byron Hamburgers is unorthodox to say the least. Born out of what Tom calls the misspent nights of his youth spent in America and his unquestioned love of the humble hamburger, adorned with the classic staples of lettuce, tomato, red onion and a slice of cheese or bacon, it was Tom's return to London in 2007 that set in motion the formation of the company.
Reminiscing about those late-night visits to his favourite diner, The Silver Top in Providence, Rhode Island, it quickly became clear to Tom that what the UK lacked was a chain of restaurants offering hamburgers like those served across the pond, the ultimate comfort food that is so satisfying in its simplicity. With that realisation, Byron Hamburgers came to be, opening its first restaurant on Kensington High Street in 2017 with a simple mission, to serve proper hamburgers and make them the way they should be, fresh from properlysourced British beef and with the best ingredients possible. Ten years, and millions of hamburgers, later and the company has recently opened its 71st restaurant in Norwich, Norfolk.
"As you can imagine, we have spent, and continue to spend, a lot of time perfecting our hamburgers," explains Paul Coppin, Marketing Director of Byron Hamburgers, "and the most important ingredient is, of course, the beef. We use a mixture of chuck, skirt and brisket in our restaurants, which gives our hamburgers an unbeatable combination of texture and flavour."
The biggest selling item on the menu is the always popular cheeseburger, while the signature Byron burger is a classic combination of beef, melted cheddar cheese and dry-cured bacon, complete with a dollop of the infamous Byron sauce. Other favourites include the Chilli burger, adorned with green chillies, American cheese and chipotle mayonnaise, the Smokey, the B-Rex and the Double Bacon Cheese, an option for those with a healthy appetite which boasts two six ounce hamburgers, cheese, bacon, pickles, ketchup and American mustard.
It goes without saying that guaranteeing the continued quality of ones' ingredients is at the very heart of the success of any restaurant chain, a fact not lost on Paul. "We spend a lot of time working directly with our partners and suppliers in order to ensure a strong farm to fork process, which enables us to cook the best quality, pink and juicy, hamburgers. Of course, this process requires a constant commitment between ourselves and our suppliers, which we work on closely, and this is what allows us to deliver fresh beef and buns to our restaurants on a daily basis. This is just one of the ways in which Byron Hamburgers differentiates itself from other restaurants in what is a hugely competitive marketplace."
Innovation and service
Not only is this indeed a fierce market in which to exist, it is also one that is ever-evolving and uncompromising on those chains or brands that are not prepared, or able, to adapt to changing trends and needs. A decade of consistent growth suggests this is not an area of its business that Byron Hamburgers lacks expertise in.
"Innovation and service are two of the pillars upon which the brand's success rests," Paul states. "By taking the time to engage with our customers we have been able to identify that one of the biggest things they are looking for is continual innovation in our menu, providing new dishes that surprise and allows for them to treat themselves."
This desire to innovate and capture the imagination of its diners is encapsulated in the way that Byron Hamburgers strives to add new specials to its menu every two months. The brand sees this as
just one way of rewarding its loyal customers. "Our in-house food development team, led by Fred Smith, seeks out inspiration from a wide variety of sources," Paul continues. "One example of the rich diversity of the team's creations can be seen in the form of our new Korean special, the Kimcheese, which comes complete with Korean BBQ glaze, bacon, cheese, crispy onions, kimchi cucumbers, Ssamjang mayonnaise and Gochuchang sauce to give the hamburger that authentic sweet and spicy flavour."
Outstanding staff
From a service standpoint, Byron Hamburgers places a great deal of emphasis on recruiting and training a highly talented group of employees, whose primary aim is to give its customers a friendly, authentic welcome when visiting its restaurants. As Paul is keen to emphasise, the brand consistently receives feedback from its customers complimenting its employees and naming them as one of its big differentiators and a core component in making a visit to a Byron Hamburgers restaurant a fun and memorable occasion.
Hamburgers like the Bryon and the Kimcheese may be the brand's calling cards, but it has also built up an enviable reputation for its additional offerings, namely its range of craft beers and its much soughtafter milkshakes. "We are continually looking to evolve our drinks range and our in-house team takes great pride in looking to identify and work with new brands to improve our craft beer, soft drinks and wine offering," Paul says. "We were one of the first casual dining brands to innovate in this area and we've been very fortunate to work with highly rated brands such as Camden Brewery for a number of years. Our recently launched craft beer range includes names such as Beavertown, Moor, Vocation and Brewdog, and feedback to this range has been very positive."
All of the Byron Hamburgers' milkshakes, favourites among whichinclude its Oreo Cookie and Reese's Peanut Butter Cup varieties, are made fresh in restaurant from its own inhouse recipes, which specify no less than four scoops of its own recipe ice cream.
"Looking ahead," Paul concludes, "our ambition is to continue to launch Byron in new cities and towns across the country with a further eight sites planned over the next year. We will achieve this growth by doing what we do best and that is serve the best hamburgers, made from quality ingredients, while delivering an amazing customer experience to every single one of our diners."