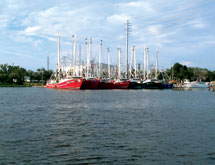 Based in D'Iberville, Miss., C.F. Gollott & Son Seafood Inc. has been a player in the domestic shrimp market since 1932. The company's goal is to bring the best and freshest wild-caught domestic shrimp to its plant and customers.
Founded by C.F. Gollott, who passed away in 1986, the company remains a family business. As it has evolved from selling crabs and oysters to shrimp, four generations of the Gollott family have been part of this resilient company. C.F.'s son, Arnie Gollott Sr., is the patriarch of the company and celebrated his 80th birthday in November. His five sons – Brian, Arny Jr., Dale, Nicky and Ben – represent the third generation. The fourth generation includes Armond III, Dale, Shawn and Todd.
A seafood processing business, C.F. Gollott & Son also has a sister company, D'Iberville Cold Storage, which was launched in the 1990s for blast-freezing shrimp and storing of product.
The company has between 70 to 85 employees, depending on the season, and processes 12 million to 15 million pounds of product a year. The majority of the product – about 90 to 95 percent – comes from the Gulf Coast.
"We operate about 10 months per year, running from May to February," Armond Gollott III says. "The rest of the year is used for maintenance and upgrades."
Approximately 20 percent of the company's product stays within the Gulf Coast region and a sizeable portion goes to lower Atlantic seaboard states. The company has a nice footprint in big markets such as Chicago and Boston, and in the Pacific Northwest, too.
Swings of the Seasons
Mother Nature is the company's boss. Shrimp is a seasonal product, so the product makeup and quantity vary every year. Even so, the company tries to serve customer needs.
"The catch fluctuates, as it isn't a consistent catch as far as its makeup goes," Gollott says. "It helps us to have a broad customer base."
Mother Nature has also forced the company to rebuild four times. Hurri¬canes in 1947, 1965, 1969 and 2005 decimated the company. Other challenges have come from the recent economic downturn and the BP oil spill in 2010. But perseverance is a Gollott tradition.
As for internal investments, the company focuses on vertical integration. It has a cold storage facility and is investing in a new unloading facility. It has one in Mississippi. Another is in the works in Louisiana.
"Having our own unloading facilities helps control processes," Gollott says.
Other changes have focused on offering different product lines. The company has traditional five-pound block packs of shrimp, but it also has seen a lot of growth with individually quick-frozen (IQF) products. "IQF is a growing section for us, and we're updating packing to include a growing IQF product line," Gollott says.
Educating the Market
One of the major challenges for companies like C.F. Gollott & Sons is foreign competition. Domestic shrimp makes up only 5 to 7 percent of the shrimp consumed in the United States every year.
"To maintain our market foothold, we have to show that our products are different and better," Gollott says.
Gollott says education is the key to the company's long-term expansion opportunities. Regulations are often more stringent on domestically, and that means customers can depend on a quality, safe U.S. product.
One opportunity in the market is the growing consumer interest in natural, wild caught seafood. That growing interest is happening on a domestic and international level.
The domestic market will remain the company's focus, however. Gollott is confident the company has a good team in place to chart a course for the next 80 years.
"Most of our managers and supervisors have been here for 20 or 30 years," Gollott says. "Most challenges are external, like overcoming hurricanes, but those are part of being in business on the Gulf Coast. We have learned to adapt."