C. Mondavi & Family grows more sophisticated in connecting with wine consumers both digitally and in person.
C. Mondavi & Family is among the largest U.S. vintners but size is not something C. Mondavi pays much attention to. "It's an organic growth sort of company," President and CEO Judd Wallenbrock explains. "We are still family owned while most are not. We don't have the same sort of pressure on quarterly earnings."
Cesare Mondavi bought the Charles Krug Winery – founded in 1861 – in 1943 and formed C. Mondavi & Family. The company is now in its fourth generation of family ownership.
Today, the company produces 1.4 million cases a year of CK Mondavi wines – its "everyday" wine – as well as 70,000 cases of Charles Krug, its luxury brand and 12,000 cases of Purple Heart, which raises funds for the Purple Heart Foundation.
Flat Top Hills, a lifestyle brand targeting female millennials that costs $12 to $16 a bottle was launched recently. C. Mondavi has produced 20,000 cases in its test phase and plans to increase that to 50,000 cases soon.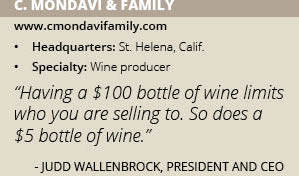 The vast majority of C. Mondavi wines are sold in the United States but international expansion is on the radar. "Only now are we starting to address that," Wallenbrock says. The company has started selling wine in parts of Canada and sells small amounts in China, Puerto Rico and Vietnam.
Wine Analysis
The wine industry is always changing. During Wallenbrock's close to 40 years in the industry, he has seen three waves of craft beer and three waves of distilled spirits come and go.
In contrast, wine consumption in the United States during that same time period has gradually increased from 1.6 to 3 gallons per capita. "There have been little ups and downs but no wild gyrations," Wallenbrock says. "That is encouraging."
Helping it to weather those little ups and downs, C. Mondavi differs from other winemakers not only in its family ownership and long history but also in its vertical integration. "Others do not have our sourcing or production facilities," Wallenbrock says. "They are more farmers than producers of wine. We control every factor of our wine, from grapes on up. It lends itself to quality."
One challenge for winemakers is how to persuade each new generation to try wine. "Right now, it is how do we talk to millennials?" Wallenbrock says. "Twenty years ago, it was how do we talk to the gen Xers. Every generation goes through an exploratory phase."
Another challenge is the sheer number of wines to choose among, which can be confusing for consumers. There are about 70,000 labels in the United States. C. Mondavi wants to appeal to a wide ranges of consumers but doesn't want to confuse them. "Having a $100 bottle of wine limits who you are selling to," Wallenbrock says. "So does a $5 bottle of wine. We are looking to fill some gaps. Some companies will just throw labels out there. We don't do that. Our money goes into our land. We have to be calculating in our next steps."
Over the years, C. Mondavi has grown more sophisticated in figuring out which wines to sell at what price points and where. After Flat Top Hills has been in the market a while, C. Mondavi will analyze about two years of sales data – using big data and heat maps of demographics – to figure out where people are buying. "It allows us to be more focused on our efforts and less shotgun blast," Wallenbrock says.
C. Mondavi has also become more savvy in its use of social and digital media and engages in public relations and other activities that drive press and traffic.
More directly, C. Mondavi has been successful in developing activities that encourage people to visit the Charles Krug winery in St. Helena, Calif. The winery now averages 30,000 visitors per year. "It is a historical, beautiful winery and the oldest in Napa Valley," Wallenbrock says. "We want to return the winery to the cultural hub of Napa Valley and reacquaint people with the stories of Krug and Mondavi's. That's a big effort for us."
Lifestyle Choice
Finding talented people to work in the wine business in Napa Valley is challenging due to the cost of living there. "It's hard to find people at $20 an hour to work in a tasting room with what that [pay] will do for you to get a home in the area," Wallenbrock says.
C. Mondavi attracts talent by staying on top of the local cost of living and offering a total compensation package – including bonuses, 401(k) and health insurance – instead of only salary. "It's a lifestyle choice," Wallenbrock says.
What people outside the industry don't know about it is the sheer time and cost involved in producing wine. "You pick grapes in September or October," Wallenbrock explains. "You put them in a barrel that holds 60 gallons and keep it in that barrel for two years and then put it in a bottle before selling it. Time is money. That is expensive."
Since Wallenbrock became president and CEO two years ago, the company has examined its assets and looked at other ways to bring in revenue. C. Mondavi, for example, has land it is not using and that it can lease long term to other grape growers, allowing the company to bring in passive revenue. The company is also considering expanding into private label wines.