Cacique Inc. has grown to become the largest Hispanic cheesemaker in the United States since it was founded in 1973. "It was started by my parents, Gilbert and Jennie, with very, very humble beginnings," COO Gilbert de Cardenas explains. "My dad was the cheesemaker and he taught my mom how to do it. He went store-to-store and sold cheese out of a cooler in a teal green Pontiac."
Cardenas the elder sold cheese products one at a time until sales accounts grew to two, four and then increased from there. At that time, high-quality Mexican cheese – known as "queso fresco" – was unavailable in the Los Angeles area. Now, 40 years later, the company is the largest in its sector.
How did it do this? "We have a very talented team," de Cardenas explains. "That is the most important thing. Our team is exceptional."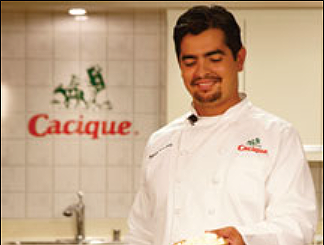 The company is a family business run in a professional manner. It combines the dedication and hard work of a family business with professional management processes and controls typical in modern business.
But it was the hard-working drive of the founders that first made the business possible, and it's the quality of the product that allows for Cacique's continued success, he says. "Quality is not a word; it is our way of doing everything," de Cardenas says. "At the end of the day, it will be the quality of our product that convinces people to buy it again. It is all about quality – quality products and our quality people."
Record Volume
Demand for Hispanic cheese is strong, which allowed Cacique to achieve record volume last year, and it is on pace to do even better in 2014. "Business is good," de Cardenas observes. "We see nothing but upside for our category and us in particular."
Meanwhile, one of its biggest challenges is the cost of milk, which has been at an all-time high for several years. It is difficult for Cacique to increase prices as its customers tend to be lower-income. The Hispanic-American demographic tends to have greater unemployment rates than the national workforce as a whole.
Cacique aims to increase its marketshare of English-speaking consumers. This involves marketing and explaining its products to shoppers who aren't familiar with Hispanic cheeses. It has partnered with Food Network Chef Aaron Sanchez, who recently appeared on "The Today Show" and demonstrated to host Matt Lauer how to use Cacique cheese to prepare enchiladas.
The celebrity chef has also hit the road for Cacique, visiting cities across the nation in a food truck to explain the product. Cacique's partnership with Sanchez and The Food Network has not only helped educate English speakers about the taste of Mexican cheese, but it also has helped benefit a good cause by raising funds for the Hispanic Scholarship Foundation (HSF), which has administered more than $430 million in scholarships. "HSF is grateful to Cacique for their commitment and support of Hispanic higher education," Fidel A. Vargas, HSF president and CEO said in a statement. "Cacique's donations are an important investment towards the goal of placing a college degree in every Latino household."
Among its other efforts to reach new consumers, Cacique has added a QR code to its packaging so customers can scan products and instantly receive recipes and information on their smartphones. The Cacique website has also been upgraded with added information as well as cheese giveaways and a cheese club with coupons.
These efforts are intended to "educate the consumer, making them aware of the product and how to use it – beyond our core group," de Cardenas says, adding that the company remains loyal to its core customers who have been responsible for its success.
Cacique's products are available at leading national retailers such as Kroger, Safeway, WalMart and HEB, and at Hispanic and specialty retailers such as Fiesta, Food 4 Less, Northgate, Mi Pueblo, Pete's Fine Foods, Sedanos, Superior Warehouse and Vallarta.
In addition to cheese, Cacique also offers other specialty foods including creams, meats, yogurts and beverages. It intends to introduce more new products in the years to come. The COO notes it started its new yogurt line just three months ago to rave reviews.
The company is also investing in technology, adding new sanitary processing technology, especially. Manufacturing efficiencies have also been improved at Cacique, which uses key performance indicators to manage the workforce, says de Cardenas, who is in his fifth year in his current role.
The word "Cacique" is itself a title for ancient tribal leaders in the Americas. It is a fitting name for the company as it becomes a household name across the United States.