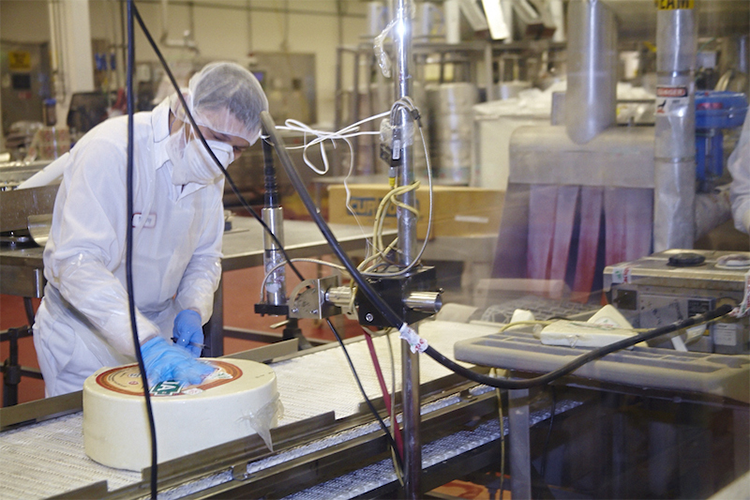 Cacique brings its popular Mexican cheeses and cremas to non-traditional grocer retailers.
The dinner table is about family. It's a place for parents and children to come together to talk about their day and share in their excitement for tomorrow over a good meal. As a 45-year-old family owned company, Cacique understands those traditions and infuses its own family values into the making of its Mexican cheeses.
Vice President of Marketing Chris Hannigan says "Cacique treats its 400 employees like they are all members of one household. Events are held throughout the year and employees are encouraged to bring their spouses and families. The company also understands the complexity life brings and is flexible in assisting any employee as situations arise. There is tremendous value of work/life balance and the meaning of family."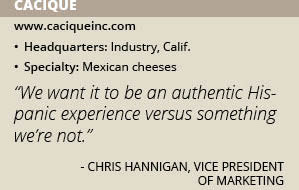 Cacique can afford to have a close-knit, employee-friendly culture because after 45 years it is still family owned. "We have the ability to be quick and agile due to our ownership structure, thus allowing us to operate more cohesively internally and externally with partners," Hannigan said. "It's a benefit we pass on to the marketplace through our operational efficiency and consumer programs."
Expanding Presence
Gilbert and Jennie de Cardenas founded Cacique in 1973 shortly after immigrating to the United States from Cuba. Armed with a small investment, the couple started making Mexican-style cheeses such as queso fresco, based on their cheese making knowledge from back home. "Gilbert always felt he could make higher quality cheeses than those already in the market, it is a value the company still practices to this day," Hannigan says.
De Cardenas soon proved himself right. Cacique's presence quickly spread from Los Angeles to the rest of southern California and eventually to the rest of the country. Today, the company is the category leader in Mexican-style cheeses, creams and chorizo and one of the top cheese producers in the United States, distributing to 25,000 retailers in all 50 states.
It's an impressive footprint but the company is looking to expand its presence even further. Traditionally, Cacique has distributed primarily to grocery stores. However, the retail environment has changed in recent years and more people are picking up groceries at various types of stores and online. Cacique wants to be in the places where its customers shop, so the company is expanding its distribution. "We're looking to make our products available in all channels consumers seek Mexican style foods," Hannigan says.
"Wherever there is a retail opportunity, we want consumers to be able to find Cacique there," he continues.
In the past, Cacique reached retailers through a combination of distributors and direct store delivery (DSD) programs, but over the course of the last seven years, it has evolved its distribution channels. "We've grown as the popularity of Mexican food has grown and there were efficiencies in evolving our logistics," Hannigan states. "It allows us to better service more customers across the country and engage more consumers."
Freeing up its distribution resources has helped Cacique focus more on its products. The company is best known for its queso fresco, but it also has a popular line of cremas, a Mexican-style line of creams that can be used as ingredients, toppings or dressings.
Last summer, Cacique expanded on its cremas by introducing flavored sour creams that come in squeezable bottles, making them easier to use as a topping. The first three flavors are spicy jalapeño, chipotle and cilantro lime. "These three flavored sour creams are unique in the marketplace because there aren't any flavored sour creams out there right now," Hannigan explains. "They provide the consumer with authentic flavors and built-in convenience."
Making good, quality food is only half the challenge. Manufacturers must also reach consumers. Cacique changed its marketing strategies to better appeal to younger consumers who are less likely to listen to traditional radio or watch local television. The company is centering its efforts more on social media and broader advertising channels such as Bravo and the Food Network. "Historically, we've been a very Hispanic consumer-targeted company," Hannigan says. "With the growth of millennials and bi-cultural millennials, we are now focusing on getting millennials into our franchise early so they can become part of our consumer base in their 20s and grow with us as they get older."
Product Development
When coming up with new products, Cacique takes inspiration from the dinner table. "I think the consumer insight that went into an idea like flavored sour creams was very helpful in developing the products," Hannigan says. For the squeeze bottles, Cacique noticed people were doctoring up their sour creams at home with ingredients such as hot sauce and it realized it could offer something for that market.
There are lots of similar ideas out there, but not every one is the right fit for Cacique. The company wants to make sure anything it puts out will appeal to Mexican food enthusiasts – introducing Asian sauces or grill rubs would only compromise the brand. "We try to stay true to our values," Hannigan says. "We want it to be an authentic Hispanic experience versus something we're not."
Cacique is developing those traditional Mexican flavors while being mindful of the trend toward more wholesome and natural foods. "We challenge ourselves to produce products that deliver an authentic food experience and are as clean label as possible," Hannigan says. The company has removed ingredients such as artificial colors, high fructose corn syrup and preservatives from many of its newer items.
New product development can be complex and time consuming when introducing innovation to the market. As an added challenge, every retailer has its own category review date windows for considering new products, so Cacique's development must line up with those time periods to avoid delays in getting onto store shelves.
Knowing how to coordinate these variables is the marketing team's responsibility. "The process is very collaborative and involves cross functional teams lead by the Marketing & Innovation groups," Hannigan notes. "They work diligently to set targets and metrics for the items and test to gauge consumer acceptance. The fruits of their labor are realized when consumers begin to try the new products and communicate that back through our social media channels."
Once it has a product, Cacique must put it into production. Its production process is already well defined, so the company looks for ways to improve its infrastructure and internal tools. Sales and marketing can always use more information as they work with retailers, which is why Cacique is continuously investing in technology and information resources to better analyze its business.
With strong consumer demand for Hispanic foods, there's ample room for Cacique to expand its portfolio. "We think the Cacique brand can continue to grow and through expanded distribution and innovation we are looking forward to providing more and more authentic food experiences for many more years to come," Hannigan notes.