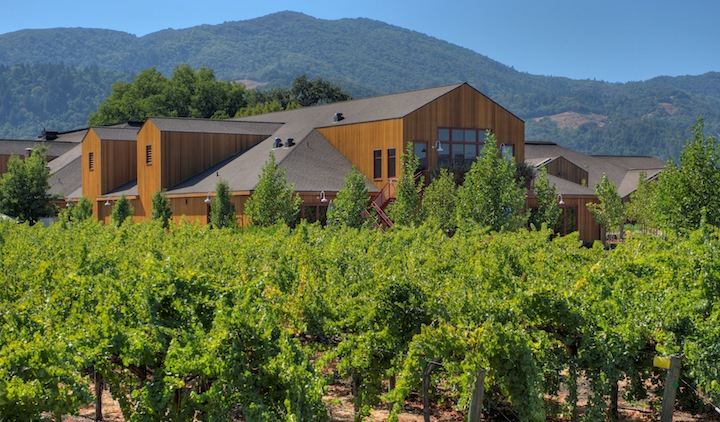 Cakebread Cellars invests in its estate vineyards and winery to enhance the visitor experience while continuing to deliver exceptional wines its consumers know and love.
California's Napa Valley is home to more than 400 wineries today that produce some of the best wines in the world. The valley is a wine drinker's paradise and has become notorious for all things luxury, but that resurgence only began about 55 to 60 years ago.
Settler George Yount was the first to plant grapes in Napa Valley in 1839 and many commercial wineries that are still in operation today began popping up over the next 20 years. The area was also used for grazing and its claim to fame in the 1860s was the largest tannery west of the Mississippi River. However, the root louse phylloxera hit Napa Valley in the 1890s, killing 80 percent of the grapevines and the wine industry took almost 100 years to recover.
While shooting photographs for Nathan Chroman's "Treasury of American Wines," Jack and Dolores Cakebread casually offered to buy the Sturdivant Ranch in Rutherford where the owners – who were family friends – were growing grapes and walnuts. The Cakebreads purchased the 20-acre ranch in 1973 and started Cakebread Cellars, releasing its first wine – a 1973 chardonnay – and produced 157 cases total.
"The valley didn't rebound until the 1960s and we were one of the early wineries that helped with the resurgence of Napa," says Bruce Cakebread, co-owner. "Cakebread Cellars is located on Highway 29, the central artery of Napa Valley and also known as St. Helena Highway. We were just very fortunate to start in a great location, right here in the middle of the valley."
Today, with 45 harvests under its belt and the second generation of winemaking Cakebreads, brothers Dennis and Bruce, now running the winery, the family winery has become one of the most successful and respected wineries in America. It is renowned for its world-class vineyards, wines and hospitality. "It is our commitment to quality, and our history, that we feel truly blessed to share our wines," the Cakebreads say.
The Evolution of Wine Consumers
In 1973, consumers were just learning about wine and it was something new on their table. They were trying to figure out how to drink it and understand it with food, which Cakebread says is why the winery's culinary program is so important. "Brian Streeter has been our culinary director for 32 years and our program helps people understand wine and food, what works and doesn't work," he says. "Today there's an evolution of foods and cuisines coming together, it is fun to see how those flavors pair with the wines we are producing today."
Cakebread Cellars has evolved with the industry over the past four decades. "Our kids grew up watching us have a bottle of wine with dinner, so wine wasn't a novel concept to them," Cakebread says. "The consumer today is very different from 45 years ago; they have traveled around the world and experienced different cultures and cuisines. That's what is exciting about wine and food today is that evolution that we have grown up seeing over the past 45 years of winemaking and enjoying it with good food."
In the early days, Cakebread Cellars wine tastings provided guests with simple foods to taste with its Sauvignon Blanc and Chardonnay, and they would give it a plus if the pairing was pleasing to them, a zero if they had no preference and minus if they didn't like it. "What we tried to do is not tell them what foods to pair with what wine but for them to map their own palate out so they can understand their own preferences," Cakebread says. "Wine and food pairings today are a fun learning experience so people can discover for themselves what wines they may like with different foods. The consumer is much more knowledgeable today of what cuisines they like and how it will go with the wine choices they have open to them."
Cakebread Cellars offers winery guests cooking classes to further educate themselves on how to prepare foods and enjoy it with Cakebread Cellars wine. "The same type of food may have more success with one wine over another depending upon how it was prepared, the idea is the consumer is able to explore for themselves new flavors and tastes they never would have thought of before the class," Cakebread explains. "For example, next time they are making pesto maybe they use walnuts and kale than basil and pine nuts to bring out a flavor in the wine."
Exploring the Wines
Most consumers are introduced to Cakebread Cellars with its Sauvignon Blanc or Chardonnay. "Our white wines are nicely balanced and refreshing to the palate with oak subtly in the background whether you age it or not," Cakebread describes. "You can drink it 20 minutes after you buy it or lay it down for five to 10 years for a special occasion."
Cakebread Cellars has been producing Cabernet since 1974 and introduced Pinot Noirs in the mid-2000s. "The Pinot Noir is an elegant style and shows a nice balance, as well," Cakebread says. "Guests can try our wines and bounce between the two red wines depending upon what they are having for that meal."
The winery also offers some fun red wine blends like Rubaiyat and Guajolote, a dry Rose, Vin De Porche as well as Merlot, Syrah, Vaca Red Blend and its special single vineyard Dancing Bear Ranch. Cakebread Cellars today has accumulated 580 acres of vineyards in the valley and has been working with some of the same vineyards for more than 30 plus years. "We have a Chardonnay vineyard we have been working with since 1988. We have replanted the vineyard once but still the nice clean apple and citrus character comes out in each vintage," Cakebread says. "We have consistency with the same vineyards and growers, which means customers and restaurateurs can rely on our wines year in and year out and know what they are going to get with our wines."
Expanding the Estate
In 2017, Cakebread Cellars added Suscol Mountain Vineyard to its estate vineyards, which sits on about 75 acres. "We owned 100 acres next to it and liked what we produced with our Merlot, Syrah and Cabernet there," Cakebread explains. "It's a very volcanic, rocky site on the southern edge of the Vaca Range on the east side of the valley, which gives the wine good concentration and a nice structure and acidity. This area is a really interesting place to grow grapes in Napa Valley."
Cakebread Cellars expects its first wine from Suscol Mountain Vineyards to debut in 2020. The grapes produced include Cabernet Sauvignon, Cabernet Franc, Grenache, Merlot, Petit Verdot, Sauvignon Blanc, Viognier and Syrah.
In addition to the Suscol vineyards, Cakebread Cellars' estate includes Tinsley Ranch Vineyard, Winery Home Ranch, Milton Road Vineyard, Anderson Valley Vineyards, Cuttings Wharf Road, Dancing Bear Ranch, Doggwood Vineyard, Foster Road Vineyard, Hill Ranch Vineyard and Maple Lane Vineyard.
Cakebread Cellars is also investing in its winery facility, keeping pace as it acquires new vineyards. The north addition features a new bottling hall so the company has enough space to upgrade its bottling line and add automation. The addition also includes a new inventory room, offices and a new visitor center to provide a whole new tasting experience.
"When you come to visit the winery, you are able to learn about winemaking and see the cellars, but in a nicer area," Cakebread says. "When you visit a wine cellar, it can be cold, wet and noisy. We created pods where people can be in the cellar, but warm and dry, so they can enjoy the wine and see it being made. We think this is important so they have that education and a deeper appreciation for the wines when they enjoy at home."
Sustainable Efforts
Cakebread Cellars is a green-certified winery. Its vineyards are also green-certified and either farmed organically or sustainably. "We became green-certified in 2008 and have been working with the wine community to educate and learn from other people's efforts," Cakebread notes. "We are recycling over 90% of our total wastes and looking for ways to reduce energy and save water." The winery plans to create a pilot project using worms to digest wastewater later this year after its addition is complete.
To help adapt to climate change, Cakebread Cellars uses a dual irrigation system when it plants a new vineyard, using misters in the vine canopy to adjust the climate of the canopy to mitigate the low humidity days during summer season. As Cakebread replants its vineyards they also change the row direction to get more uniform sunlight in the fruit zone area of the vine.
In 2014, Cakebread Cellars created a green parking lot with permeable pavers to capture storm water from the parking lot into a drainage system below the parking area and recharges the ground water. The winery planted 60 oak trees in the parking area to add some biodiversity back to the valley and added an almond orchard to pay homage to their grandfather's trade of raising almonds. "Climate change is not something that will happen 10 years from now; we are living it now and that's the big deal, awareness of the impacts to climate change is so important and then acting to make changes," Cakebread says.
Cakebread Cellars draws a lot of inspiration from UC Davis' footprint neutral winery that is working on developing the state-of-the-art best practices in vineyard development. "It's exciting to see this progress, there is a lot of the innovation is going into vineyard development," Cakebread notes. "The self-driving vehicles and aerial technology should transfer into agriculture very easily and quickly."
Moving forward, the second generation of Cakebreads will continue to educate and prepare the third generation. "We have been fortunate to pass the winery from our parents, the first generation, to myself and my brother over the past 16 years. The next step is for the second generation to do the same. This process is exciting because the next generation brings a whole new different perspective to our business which will be very helpful as we meet the future challenges coming up in our business," Cakebread says. "We need to be able to adapt while still living by our values and principles because that's what got us here and keeps us moving forward. Quality, authenticity and sustainability will continue to get us through thick and thin, and having that consistency in quality and wine style is one of our time-tested strengths."