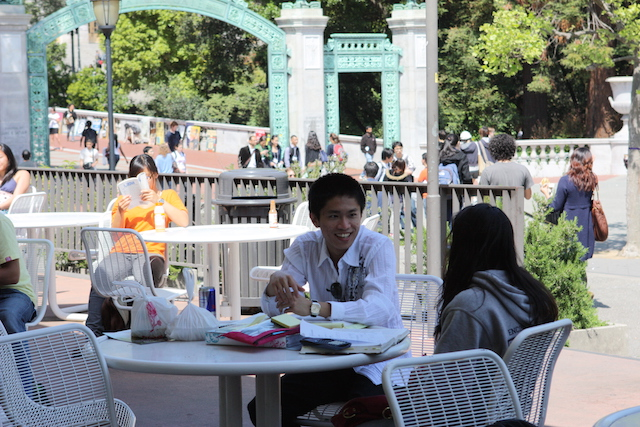 University of California, Berkeley's Cal Dining program is committed to spreading the word about sustainability across campus.
When Shawn LaPean arrived at the University of California, Berkeley to lead its food service program in 2003, the university's dining halls did not have a positive reputation. Several publications and websites ranked the program among the worst in the country based on surveys, and rumors of low-quality meat and other substandard practices were rampant among students.
The program at the time operated four dining halls serving 12,000 meals a day (roughly 2.4 million meals a year), four small retail locations that were in the red financially, and a small event catering business that typically grossed $200,000 annually. "We had to change not only our brand, but our financial model, our foodservice quality and overall management philosophy," says LaPean, the program's executive director. "We needed to re-brand the program from the ground up."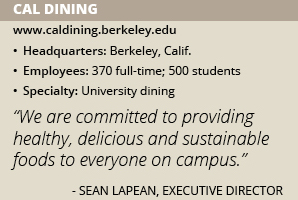 Today, the program – known as Cal Dining – ranks among the top 50 food programs in the country according to several surveys. Cal Dining still operates four main all-you-can-eat university dining halls, though the number of meals it serves has greatly increased to 32,000 meals a day, or 5.5 million meals a year. In addition, the program today operates 10 retail locations that range in format from fast-casual dining to grab-and-go eateries and convenience stores that serve students living in residential areas near the campus.
The program's catering business has also grown over the past decade to approximately $5 million in annual revenue. The program in 2011 was awarded a contract to manage stadium concessions, catering and sports team training tables for the university's athletics department. "We had been building our catering business for years, but once we got the venues at the stadium – which are large event venues with great views – we've gone into a whole new realm," LaPean says, noting the catering business has grown from one wedding a year at the time of his arrival to 20 weddings annually. The department also caters events such as summer conferences, a business that generates $7 million annually.
Cal Dining is a 100 percent financially self-supporting entity that employs 310 full-time cashiers, cooks and maintenance staff, 60 management and administrative personnel and 500 part-time student workers. The program contracts with temporary staffing services for large events such as football games, which are staffed by as many as 600 people.
The dining program provides roughly 60 percent of the food consumed on the campus. University of California, Berkeley has a total campus population of roughly 55,000 people, including enrolled students, instructors and other staff.
Revenue generated by Cal Dining goes toward enhancing the foodservice program as well as supporting other campus activities. The program's increase in revenue in recent years has been particularly well timed for the university, as University of California, Berkeley has seen a decline in state funding during the same time period. "We reinvest back into the campus and help make up for the loss of state funding," LaPean notes.
Sustainability First
Although students several years ago had expressed concern about the quality of food offered by Cal Dining, the program's patrons today have few doubts when it comes to what's on their plates. The program is considered one of the "greenest," or most sustainable, in the country.
"We've gained a reputation of being a good steward of what we purchase, as well as of the environment," LaPean says. "Our consumers see that as a positive, and that's what draws people into our program. We are committed to providing healthy, delicious and sustainable foods to everyone on campus."
Cal Dining believes in full transparency when it comes to the source of the food it serves. One of the program's recent concepts, Brown's Café, offers a menu of foods exclusively sourced from within 250 miles of the Berkeley campus. "We've always worked on providing organic and sustainable food, but now we're focusing even more on transparency and traceability when it comes to telling people where their food is coming from," LaPean says.
The first Brown's Café opened in August. The concept has already proven so popular that Cal Dining is receiving requests to open more locations on campus. "Who knows – we might have our own chain someday," he adds. Cal Dining in August also revamped Café 3, one of its dining halls, to offer kosher, halal, vegetarian and vegan meals.
Many of Cal Dining's sustainability philosophies and practices are derived from its participation in three initiatives. Cal Dining is a member of the University of California System's Global Food Initiative, which addresses "how to sustainably and nutritiously feed a world population expected to reach 8 billion by 2025," according to the initiative.
Cal Dining is also a member of the Menus of Change University Research Collaborative and the Teaching Kitchens Collaborative, both of which are spearheaded by the Culinary Institute of America. The Menus of Change initiative is focused on transparency and local sourcing as well as "putting vegetable and fruits on the center of the plate as opposed to just making them available in a salad bar," LaPean says.
The Teaching Kitchen Collaborative is dedicated to "making sure communities and groups can learn how to buy, cook and eat food in a better manner," he adds.
Expansion Opportunities
Cal Dining's participation in sustainability initiatives is the starting point for the program's overall growth efforts. "We're trying to expand in the right manner," LaPean says. "We're taking what we're doing through our ongoing initiatives to move the ball toward the goal line."
The program is teaming with other campus organizations to open teaching kitchens. In addition, Cal Dining is participating in programs meant to address the issue of food insecurity on campus. "There are a lot of student that may not be able to afford a meal plan," he adds. "We are working to provide pantries for students and also helping students who are lacking food get the financial aid they need."
Cal Dining continues to seek opportunities to expand its offerings to ensure not only that students are fed, but also that the university can continue to fulfill its educational mission.
"My job is to make sure that our food and service are so good, that students want to come together to eat with us, which ultimately encourages learning outside of the classroom," LaPean says.