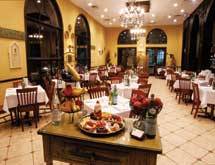 Calandra Enterprises is a firm with its fingers in several pies, co-owner Anthony Calandra says. "The best way of describing our business is a diverse family company," he says, explaining that the Newark, N.J.-based firm operates bakeries, restaurants and hotels, and invests in real estate.
Calandra's father, Luciano Calandra Sr., founded the company after coming to the United States from Italy in 1958. "My father is a classic American success story," the younger Calandra says. "He started in the bakery industry and he opened up our place in north New Jersey.
"Little by little, we grew from there," he continues, adding that the company eventually moved into real estate holdings and the hotel industry. "Obviously, our hotels have food and beverages. [With that connection], we started going into that aspect of it."
Today, Calandra Enterprises operates three bakeries, three restaurants and four hotels. In addition, Calandra shares ownership of the company with his brother, Luciano Calandra Jr.
The family management, Anthony Calandra notes, allows the company to operate more efficiently than some competitors. "It's easy to make quick decisions [here]," he says. "It's not like [each one] has to be brought in front of a board."
Additionally, "Some of my key people are relatives of mine," he says. "There's a trust factor in that."
Getting the Best
After all these years, Calandra Enterprises has stayed successful by giving customers the best possible products at competitive prices, Calandra says. For instance, "We're very well known for our breads," he says.
He notes that the company's bakeries sell such products as French and Italian breads, as well as dinner rolls. In addition, many publications have recognized its products as the best bread in the state, including New Jersey Monthly magazine.
The company has achieved this status by producing all of its breads by hand, Calandra says. He notes that machines require the use of dough conditioners, which can weaken the product's quality.
In addition, "The more you knead the dough, you produce more carbon dioxide in the bread, which makes it rise," he says. "We raise our dough naturally in our mixing bowls."
He adds that machines can even overwork the dough. "[If you do it] by hand, it's more delicate," he says. "The dough is almost like a newborn; you have to be very delicate with it to get the best out of it."
Calandra Enterprises takes great care with its other foods, Calandra says. For instance, "In the restaurants, all our pastas are made in house, [with fresh eggs]," he says. "Very few places use fresh eggs anymore, because it's expensive."
Each eatery is also family friendly. Calandra notes that children are able to go to a pizza stand in its restaurants where they can personalize their meals. "The pizza chef entertains them," Calandra says, adding that the chefs often help the children arrange their toppings in the shape of a funny face.
"We're also very well known for giving [guests] bread at the start of dinner," Calandra says, noting that the breads are served with olive oil from orchards in Italy. "The irony is, everybody says that they get filled up on bread before they start dinner."
Carrying the Torch
Anthony Calandra says he started at his family's business at the age of 13, and still enjoys the work today. "It's nice to be your own boss," he says, adding that his children plan to take it over someday.
"They're going to carry the torch," he says, noting that his son Thomas and his daughter Kristin work at the company's restaurants or bakeries one night every weekend. "On those nights where most kids go out, my kids have chosen to work."
Additionally, his brother's daughters, Adriana and Tessa, work in the company's businesses. "I'm actually very proud of our kids," Anthony Calandra says. "They've taken up the family tradition."
In addition, "We [may] be opening additional businesses as we grow," Calandra says, but notes that the company does not plan to add many more businesses that require a 24-seven commitment.
"There's only so much we can do ourselves," he concludes.