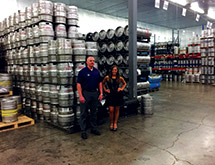 For many years, Oklahoma's beer market was dominated by 3.2 beers, or beers that contained no more than 3.2 percent alcohol by weight. Over the last several years, however, the emergence of the craft beer market and imported brands has helped to drive the share growth that "full-strength" beers have in the Oklahoma market. One of the leaders in helping to drive this growth has been Oklahoma City-based Capital Distributing LLC and their affiliates Oklahoma Beer Imports and 6 Point Beverages, and CEO Gordon Green says this growth is only the beginning.
Capital Distributing has been serving much of Oklahoma since 2001. In 2005, the company entered into a relationship with 6 Point Beverages, a Class B wholesaler also based in Oklahoma, and this partnership added more than 200 brands of full-strength beer and about 900 SKUs to Capital Distributing's portfolio.
Today, Capital Distributing represents a mix of alcoholic and non-alcoholic beverage suppliers, including major brands such as MillerCoors, Corona, Sparkling Ice and NesQuik. Green says the addition of non-alcoholic beverages to its portfolio has helped Capital Distributing open new doors. "As part of our strategic planning, we have positioned ourselves to maximize the drop size and profitability per customer delivery," he says. "To be more specific, by adding national non-alcoholic brands, instead of just delivering to a convenience store that has four doors of beer, we now are servicing products in an additional three to five doors where the rest of the carbonated soft drinks, waters, teas and juices are sold."
As consumers become more knowledgeable about beer, Green says Capital Distributing has positioned itself to take advantage of the growth in full-strength beers. Through a concentration on training and technology, Capital Distributing has solidified its position as a leader.
Market Leadership
For decades, 3.2 beer made up the vast majority of beer sales in Oklahoma because of laws and a lack of supplier agreements with wholesalers and assigned territorial distribution rights for stronger beer products, Green explains. However, over the last few years, full-strength beer has grown from 6 percent of the state's volume in 2006 to more than 13 percent in 2014. "Capital Distributing has been involved heavily in the growth and transformation of the brand offerings in the state as well as the growth change that consumers are demanding," Green says. "By expanding our presence in full-strength beer offerings, we become more of a partner with our on-premise bars and restaurants by offering the most diverse portfolio to the retailers and meeting the needs of their customers on the 'journey flow' a consumer goes through as their beer palate becomes more sophisticated.
"Today's consumers are far more educated and knowledgeable about beer styles and craft brewers both locally and from around the country," Green adds. "Social media has played a vital part in bringing information to them, and we continuously partner with our retailers and local craft brewers to sponsor and participate in craft beer festivals, beer-pairing dinners and other educational opportunities, all of which enhance the consumer's awareness and experience with beer."
Continuous Growth
Even before the rise of the craft beer movement, Capital Distributing has been growing, and Green says the company has responded to this growth by investing in its facilities and people. "We have had an incredible growth spurt over the last 12 years, doubling our volume and revenue and increasing our market share to 46 percent," Green says.
With that growth has come the need to increase capacity, and Capital Distributing has made numerous improvements to its facilities, people and technology. "Our ownership group has been very supportive of our efforts to become the industry leader by providing us with the capital resources we have needed to expand and meet the needs of our retail customers and our valued suppliers," Green says.
This year, the company is building $8 million worth of expansions, adding another 102,000 square feet and doubling the size of its keg cooler to 14,000 square feet.
Capital Distributing also has improved efficiency, data collection and productivity. Green says the company's sales team utilizes CPG Data to collect retail display data to target new opportunities as well as SignTrak to order point of sale material directly from their smartphones in the field. "This streamlines the process for batching sign requests and allows the sign shop to more effectively use the printing equipment to print like jobs all at once," Green says.
Capital Distributing is looking forward to more years of continuous growth in the future. "We are very excited about the next chapter of our growth," he says.