After surviving setbacks, Capital Seaboard edges closer to opening its new facility.
There are many distributors of seafood and produce, but Capital Seaboard sets itself apart with its level of expertise, and by offering both commodities, along with a full line of dairy and herb products. "We have a number of salespeople who are chefs themselves," President Larry Quinn says.
This background allows them to give cooking advice to whomever they sell to. "That's an added benefit," he asserts. "These people aren't just selling widgets. They're selling products they know."
Based in Jessup, Md., Capital Seaboard was started by Bernard Goeller started in 1956 as an all-seafood operation. His son, Troy Goeller, took over in 1992, and is currently one of the three principal owners of the company and focuses on the foodservice side of the business.
In 2004, the company joined operations with G. Cefalu & Bro. Inc., which allowed Capital Seaboard to grow tenfold. Today, "We do wholesale retail and foodservice," Quinn says, noting that it serves more than 2,700 customers with fresh seafood and produce items.
Weathering the Storm
This winter, Capital Seaboard will move into a new, larger processing facility, a move that Quinn says was long overdue. "In December of '15, we signed a long-term lease on a building we were having built," he recalls.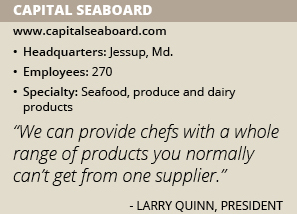 One month later, the city of Jessup experienced a massive snowstorm, which led to the roof of Capital Seaboard's older facility being compromised and eventually condemned. "We had to scramble to find a new location," Quinn recalls.
Fortunately, Capital Seaboard found a facility that once housed a grocery store distribution center. It also featured the freezer and refrigerator capacity that the company needed.
Capital Seaboard's operations were down for two weeks, but its staff quickly got them running. Since then, "We've been battling to get back some of the customers that had to go to other suppliers, but we're almost fully back to where we were a year ago," he says.
"It has been a challenging year," Quinn says, admitting that the temporary space the company used is less than ideal. "Everyone is looking forward to getting into the new space, but unfortunately, we've had construction delays as well."
But the company has coped, thanks to a staff that committed itself to tasks such as quickly moving Capital Seaboard into its temporary space and setting up its IT systems. "These guys and gals have really been troopers," Quinn says.
They also stayed loyal to Capital Seaboard. During the transition, "We didn't lose anybody, which is amazing," he adds. "Our people have certainly weathered the storm."
Moving Up
Capital Seaboard is adjusting to a changing client base, Quinn says. Thanks to the availability of information on the Internet, "Buyers are more sophisticated," he says. "They can get pricing from four different suppliers at their fingertips."
Not only does Capital Seaboard have to compete on price, but it also has to "be better at service and provide better quality," Quinn says. Its new, 160,000-square-foot facility will allow it to do that.
"Once we move in, we'll take some of the customers in the facility," he says, noting that it will show them how Capital Seaboard has grown. "For instance, our fish-cutting room is four times larger than what we had before."
The location also will feature a 45,000-square-foot refrigerated area dedicated to seafood, with a 15,000 square foot seafood freezer. "We've also added more trucks so we can have better on-time delivery," he says.
Ready to Grow
Quinn joined Capital Seaboard in August 2016. "I was a practicing attorney and outside counsel to the company for the last 10 years," he recalls, noting that he worked on the separation agreement for his predecessor.
"I asked him who was taking over and he didn't know," Quinn recalls. "I had the throwaway line, 'I could do that job,' and a week later, they asked, 'Would you like to do it?'"
He credits Capital Seaboard's success to its product mix. "We can provide more, especially in the foodservice side," Quinn says. "We can provide chefs with a whole range of products you normally can't get from one supplier." He also praises the company's work environment, which has nurtured loyal employees, including directors of seafood sales Brent Lessman and Sean Dunworth. "The rank and file have done the most difficult jobs," Quinn says. "They deserve this building we're going to get into."
Once Capital Seaboard moves into the new facility, "We'll be able to get back any business we lost," he predicts, noting that the location's features will help it expand its customer base and market share. "As consumers go more towards fish, being able to provide fresh fish and fresh filleted fish for the chef is a bonus.
"We'll also have more capacity for storage of product," he says, noting that this will enable Capital Seaboard to obtain large chain accounts. "We can provide services for their needs."
Top Technology
The company also has focused on its fleet, which consists of 75 trucks and trailers. "[Our] real-time GPS tracking technology allows our company to monitor and locate our drivers and respond to the needs of our customers quickly," Capital Seaboard says. "Our customer care staff is able to pinpoint the location of any truck with a few clicks of a mouse and respond to delivery status inquiries quickly and accurately."
Capital Seaboard utilizes intelligent routing software to allow it to "carefully plan routes to accurately target required delivery windows while maintaining maximum efficiency on the road," it says. "This technology also allows us to track, augment or split routes when necessary."