Building brands and relationships are the keys to success for Capitol-Husting Co. "Relationships with each other and with customers is the biggest factor between success and failure," owner Jamie Alevizos says. "Relationships are the most important part of the business."
The Milwaukee-based company is a full-service wine and spirits wholesale distributor covering the entire state of Wisconsin and servicing more than 10,000 customers. The company has been passed down to the second and third generations of the Alevizos family, which has owned and operated the company since 1973.
Capitol-Husting's roots date back to 1877 when German immigrant E.L. Husting established a factory to produce soda water. "We strive to be the best company for our employees, our suppliers and our customers," Vice President of Sales Jerry Zavorka says. "We take pride in being a family owned business offering a wonderful work environment, providing superior service for our customers and growing the business for our suppliers with excellent execution."
Selling Strong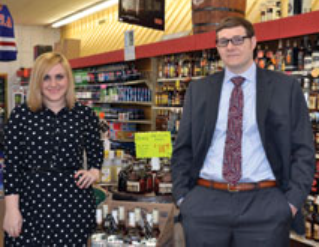 The sales team at Capitol-Husting plays a vital role in customer satisfaction and brand growth, so finding the right person for the job is essential to the company's success. "To me, the most important part is hiring great people," Alevizos says. "If we can attract, hire and retain people who are smart and competitive, we will continue to be a successful company for another 50 years."
The company's sales team is split into on- and off-premise teams and then again into three divisions: Highlander, Crown and Vintage. Salespeople on the Highlander team are masters in spirits, the Crown team specializes in Diageo-only spirits and the salespeople on the Vintage team are connoisseurs of the wine portfolio. "This allows us to provide better service for our customers," Zavorka says. "It allows us to sell deeper into our suppliers' portfolios by having that separation."
Key on- and off-premise Capitol-Husting customers are paired with three different sales representatives – one from each division. Each representative in an account gets a finite amount of time with the buyer each week to present products from their line of expertise. "Instead of having 15 objectives they may only have five," Alevizos adds. "Originally, some of our customers didn't want three people in their store from the same company, but we gave them reasons to embrace the structure. We sought out the very best representatives in the state and found selling deeper gave all three representatives the ability to spend more time servicing those accounts."
Capitol-Husting implemented this structure 10 years ago and has found that it provides the highest level of service for the customer because the sales people are in their stores multiple times per week, Alevizos says. "They show up when the customer expects to see them and the customer is happy to see them," he adds.
Because retailers are short on time and see a number of different salespeople and brands, Capitol-Husting's representatives have to quickly relay bullet points on each product. The sales team is educated on each product by the company's suppliers and then sent out to sell the brand, Zavorka explains.
"We aren't dictators and we know people on our sales team have different ways to sell and different personalities so we allow them to be creative and let their way of selling shine through," he adds.
Market Knowledge
One of the most significant changes for the sales department has been the explosion of chain stores such as Meijer, which is opening stores in 2015, and Walgreens, Target and Walmart that sell liquor to be consumed off-premise. There is typically one buyer for all the stores in the area so the pressure is on Capitol-Husting's chain manager to nail the presentation the first time. "With chain buyers you get one shot to get them to understand the value of the brand programs, services you provide and your history within the marketplace," Zavorka explains. "Chain selling can be less personal sometimes and that can be a challenge."
Chain store customers may also not be familiar with local market trends, which requires the sales team to be knowledgeable on all emerging products. Whiskey and bourbon are more popular this year so Capitol-Husting has been actively pursuing new brands – with current suppliers and new ones – to present to its customers. "It can be difficult to stay ahead of trends," Zavorka adds. "We look not just internally at the alcohol business, but try to stay in tune with what's happening globally to find those brands that fit certain niches."
Investing in the Future
Capitol-Husting focuses strongly on brand development and growing its marketshare with its existing suppliers. In addition, the company is always looking to attract new brands, but is selective in order to attract the right supplier.
According to its suppliers, Capitol-Husting is one of the top-10 brand developers in the nation, Alevizos claims. "We look at every opportunity with new brands," he explains. "We look at our current brand commitments to determine how this will fit into our portfolio and we look to see if we can provide the right tools so sales reps and their customers will stand behind the brand. We don't want to throw things against the wall to see what sticks. We don't want a convoluted portfolio of similar brands."
To be a strong brand developer and keep up with customer demand, Capitol-Husting is increasing its sales force in Green Bay, Madison and Eau Claire, Wis. It is also equipping its sales team with iPads, updated notebooks and in-field printers to make them more efficient and effective, Zavorka notes. "Our sales team needs more sophistication when they call on accounts so we invested in technology and will continue to do that," he adds. "The vision of the future is growing brands and we have the team in place to do that."