Captain D's stands out in its markets through high-quality food, diverse menus and a commitment to the best possible guest experience.
Founded in Nashville in 1969, Captain D's has expanded to 515 restaurants and 23 states by understanding what its customers want. Known for its batter-dipped seafood, Captain D's is on a mission to grow by expanding locations and diversifying its menu without going away from what has always made it successful.
"We hand-batter and bread seafood in our restaurants every day, and we make our own coleslaw and hush puppies in each restaurant," Vice President of Purchasing and Quality Assurance Janet Duckham says. "As we've evolved, we've added grilled options now and adding high-quality seafood products that are not processed. There is a lot of dedication and passion in our corporate and franchised locations, and our people and culture are our backbone."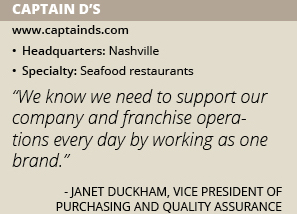 What People Want
With a significant footprint, Captain D's has built a diverse customer base that touches every demographic that one can imagine. To ensure it is reaching as many people as possible, it has created menu offerings such as a popular $4.99 full meal deal, enhanced options for kids and brought more healthy choices to the table.
"As a result, we have had positive same-store sales growth for six straight years," Duckham says. "We've been conservative with price increases, and our marketing team done has done a great job of driving increased traffic."
Of the company's 515 locations, 275 are company owned and 240 franchised. In the next five years, Captain D's plans to add more than 200 restaurants, most of which will be franchised.
"Our development, real estate and construction team is doing a fantastic job of getting franchisees interested in us," Duckham says. "There are a lot of other segments and concepts out there, and seafood allows franchisees to diversify their portfolios. We will open around 12 to 14 stores this year and 30 next year, and we will target current markets where we have room for growth while we expand into other markets."
Developing strong vendor relationships and continuously working on improving the quality of food and ensuring consistency across its footprint are all important initiatives for Captain D's. Although it offers items like chicken and beef products, it is mainly in the seafood business. The seafood industry is a global market, and there are a lot of dynamics based on where products are caught and processed. It can take more than a year for a supplier to be approved to be a Captain D's vendor, so the company has to take a long view of whether it needs to diversify its portfolio to mitigate risk in safety, sanitation, quality, availability and/or pricing.
"It takes a long time because we vet suppliers thoroughly," Duckham says. "We start out with ensuring that they understand our expectations, and we don't negotiate on safety, sanitation or quality. Those are givens, and we are clear with suppliers about that. We are direct with communication, and we operate by moving forward after vetting our options as best as we can. That is why we feel we have best-in-class vendors that are proud to do business with us. Our strong sales growth is helping vendors to succeed as well."
Pursuing Growth
Although the company looks to grow over the next few years, it will not forget about its current footprint. It has been engaged in a multi-year remodeling effort, and all of the current Captain D's locations will have been remodeled by 2018.
"When we started a few years ago, we had to look at more than 500 restaurants, and we will have completed the work on more than 60 percent of our locations by the end of this year," Duckham says. "The work includes improving the dining area and where orders are placed, as well as making improvements to outside areas and bringing in new equipment that we're testing to help with operational efficiency. Today, our customers are eating on real plateware and silverware to heighten the guest experience. About 38 percent of our sales is dine-in, and we are more in the fast-casual arena because we make fresh-to-order food even though we do have fast service elements to our business."
Captain D's believes that its future success hinges on its ability to continue to satisfy guests and execute on its business plan. Menu items such as its signature $4.99 full meal deal and increases to grilled product offerings should help it continue to stand out as a leading seafood option in its markets.
"Our product development and marketing teams are focused on capturing marketshare," Duckham says. "We know we need to support our company and franchise operations every day by working as one brand. Our people in the field are phenomenal. We know that trends come and go, and we have to focus on what we can control and that is the quality of the guest experience."
As it looks to open around 200 stores in the next five years, Captain D's believes the quality of its staff and its methodical and process-driven approach will support growth. The company knows growth presents challenges, but it is ready to face them head on.
"We are set up for success," Duckham says. "We know we have to refresh the menu from time to time and make sure it resonates with guests. It is all about bringing in new guests without alienating the long-term guests that love what we've always done."