Captain D's focus on the core components of the restaurant business enables it to provide quality seafood at fair prices.
Janet Duckam has never had to face down a 300-pound offensive linemen or defend a speedy wide receiver, but she still follows five-time Super Bowl winning coach Bill Belichick's mantra: "Do your job."
As the chief supply chain officer for Captain D's, one of the country's largest fast-casual seafood restaurant chains, Duckam understands that consistency breeds success. "It's your ability to execute the details of the business," she says. "Everybody has those challenges, but you have to stay focused on the discipline of the business."
Captain D's has been perfecting that focus for nearly 50 years. The company's first restaurant opened in 1969 as Mr. D's Seafood and Hamburgers in Donelson, Tenn. The company's commitment to delivering quality seafood at affordable prices made it a favorite of local diners and the concept quickly grew throughout the southeastern United States. Today, Captain D's has 535 restaurants operating in 21 states, generating more than a half-billion dollars in sales annually.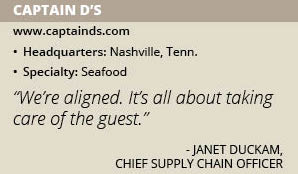 Much of that growth has occurred in the seven years since Captain D's introduced its signature $4.99 deal, which offers guests an entree and a choice of two side dishes and hush puppies. The combination of good food and generous portions for less than $5 has fueled profits – Captain D's has experienced seven consecutive years of positive same-store sales. "There are not a lot of people in the industry that have done that, and we have not increased our prices," Duckam says.
The $4.99 deal coincided with the implementation of a new leadership team in 2012 and was part of a renewed focus on the foundations of the business: operations, training, marketing and finance. "We're aligned," Duckam states. "It's all about taking care of the guest."
Taking care of the guest means constantly evolving the restaurant. Customers today expect restaurants to cater to their busy lifestyles. That can mean more flexibility in the dining experience and more engagement between the brand and customer outside of the restaurant. Captain D's is making progress on both fronts. The company is testing a delivery program at many locations in Kentucky, Tennessee and Georgia and is experimenting with online ordering in certain markets.
While it works to make Captain D's a more convenient meal, it's also looking for ways to be more interactive with its customers. After very successful testing , the company will roll out a fantastic loyalty program designed to reward frequent eaters.
At the same time, the restaurants themselves are changing. Captain D's is in the midst of a remodel that will give all of its locations a more inviting, seaside-inspired look. By the end of 2018, 80 percent of the restaurants will be remodeled and the rest are expected to complete the upgrade in 2019. "The industry changes daily and you have to keep up with what the guests are looking for," Duckam says.
Engaged Suppliers
As rising food prices affect menus across the country, changing the makeup of dollar menus and value meals, Captain D's has been able to keep its $4.99 deal intact. The ability to control cost stems from how Captain D's works with its suppliers.
The company seeks out disciplined, no-nonsense suppliers that want to form two-way partnerships. "You're going to earn your business at Captain D's," Duckam says. "It's important that we push people to the limits to become better. If you're not improving you're being left behind."
Food safety, quality and the consistency of product are the most important factors when choosing which suppliers to do business with, but Captain D's also wants its vendors to be environmentally conscious and employ sustainable practices. Seafood is a highly regulated global product. Government agencies around the world dictate how much fish suppliers are allowed to catch to avoid overfishing and ensure a sustainable supply of seafood for generations to come.
Captain D's suppliers must adhere to those requirements. The company enforces 100 percent traceability, meaning that every piece of seafood can be tracked back to the boat it was caught on, the location and even the time of day it was pulled out of the water. "The industry is changing," Duckam says. "What used to be acceptable two years ago is no longer acceptable."
Those sustainability efforts have also helped to inform Captain D's menu. "We have selected a great product for our battered fish dish, pollock," Duckam explains. "It is the most sustainable and plentiful fish in the world."
Vendors that can meet Captain D's high standards are rewarded with the company's loyalty and an opportunity to grow alongside the restaurant chain. With 200 more locations planned by 2021, suppliers stand to benefit from increased food orders – but they'll still have to prove themselves to earn that business. "You can't just fill the PO [product order]," Duckam says. "You have to fill the whole package."
Growth Goals
Adding another 200 restaurants in the next five years will significantly increase the size of the company. Fortunately, Captain D's has already scaled up its operations in anticipation of the growth and has partnered with a national distributor to supply each of its restaurants.
Internally, the company has a robust franchising team filled with salespeople, real estate experts and construction professionals. "We've got the infrastructure to 100 percent to support our exciting future growth," Duckam says.
Some of those new restaurants will be company-owned, but the majority will come from franchise sales, which have seen rising interest in recent years. Steady same-store sales growth was already drawing the attention of would-be franchisees when QSR Magazine last summer named Captain D's one of the nine best franchise deals in the quick-service market, further bolstering the company's expansion efforts. "The support our new franchise partners receive when they sign up with us is phenomenal, from training to operations to purchasing to marketing," Duckam says.
That's a strong pitch for established franchisees looking to diversify their businesses. Many of the franchisees signing up with Captain D's are multi-unit operators who want to bring their business skills to the fast-casual seafood sector. "We're appealing to franchisees that have chicken, burgers and pizza and are looking to expand their portfolio," Duckam says.
Many companies operate with a wall between the franchisees and corporate administration, but with 60 percent of its restaurants corporate-owned, Captain D's is directly invested in the success of its individual locations. "We operate as one brand here as we have a 'best-in-class' operations team," Duckam claims.
She describes Captain D's culture as hard driving and collaborative. "We collaborate very well," she says. "Everybody has their own responsibilities, but there is a lot of collaboration going on."
That collaborative culture is best demonstrated in how Captain D's develops and launches new products, which involves nearly every level of the company. The process begins by collecting consumer insights to get a sense of what kind of dishes Captain D's should serve. The company listens to what its guests tell it they want. The culinary team then uses that information to inspire the creation of new meals and food items, which then pass through several stages of quality assurance, including guest taste tests, and prove their financial viability before they are added to the menu.
"One product has to go through a lot of people who will weigh in on it," Duckham says. "If the guest doesn't like it, we don't do it or we reformulate it."