Captain Ken's Foods, Inc.
Captain Ken Freiberg was always one to help. As a career firefighter in St. Paul, Minn., saving lives was part of his life, and so was keeping his fellow firefighters well fed. His firehouse specialty – oven-baked beans with bacon – was a favorite at Firehouse Station No. 14 located in the heart of St. Paul, Minn. The recipe soon became a favorite in the surrounding neighborhood.
In 1964, Freiberg sold his signature baked beans from a food stand at the Minnesota State Fair. A few years later in 1967, after 25 years of service at the St. Paul Fire Department, Freiberg took early retirement to start a new career in food manufacturing. In 1999, brothers John Traxler, CEO and president, and Mike Traxler, chairman, who grew up in St. Paul not far from Firehouse No. 14, bought the business.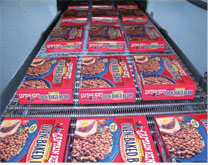 "John and I knew of Captain Ken's Foods and its famous oven-baked beans, and John had previously worked on a project at the company, getting a chance to work with and get to know Ken Freiberg," Mike Traxler says.
Ken Freiberg has since passed away in 2005, but his legacy of great-tasting food continues. Since the Traxler brother's purchase of Captain Ken's Foods, the company's focus has been to expand distribution and add new products.
"In the late 1990s, we had a handful of products that made up the bulk of the business," Traxler says. "Today, new products represent over one-half of our business. New products being launched this spring include Spanish rice, a macaroni and cheese (made with Monterrey Jack cheese, jalapeño peppers and red peppers), and Chicken Chow Mein.
Captain Ken's Foods is a family owned and operated business.  It caters to the foodservice and grocery retail market segments. Products are pre-cooked then flash frozen to lock in freshness and nutritional excellence with many made from scratch. Just heat-and-serve. All products are manufactured at the company's St. Paul facility, which is a USDA- and FDA-inspected and certified plant. Products range from side dishes such as chili (nine different varieties) and its signature line of oven-baked beans to center-of-the plate entrées such as chicken pot pie filling and tater tot casserole.
Traxler says many of Captain Ken's Foods' products play a vital role in providing operators with a quality food option for its customers.
Here to Support
"Operators do an incredible job to source and prepare the best center-of-the-plate entrée possible," Traxler explains. "But some may not focus as much on side dishes, which are as important to the whole dining experience as the center-of-the-plate entrée. After all, the whole dining experience is what entices customers to come back; and it's the repeat business that is crucial to any restaurant's long-term success. And that's where Captain Ken's quality side dishes can add value. Operators include restaurants, schools, cafeterias, resorts, casinos, caterers, convenience stores, delis, healthcare and more."
Besides providing operators with quality pre-made side dishes, Captain Ken's also offers product consistency. Traxler explains that multi-unit operators that make their recipes in-house can find it challenging to maintain consistent quality from location-to-location and even shift-to-shift, especially when they are growing from thirty stores to thirty-dozen stores.
"But if you want a pre-made, heat-and-serve product with consistent quality, that's where Captain Ken's products offer value," Traxler says. "Not having to worry about preparing selected recipes allows operators to focus on managing other areas of their business such as new menu items, marketing, branding, customer service, social media and more. "
The Value of Convenience
It just so happens that the convenience factor that attracts restaurant operators is the same factor that attracts many grocery store shoppers.
"Most families are busy and on-the-go," he explains. "Some are single-parent households; in others, both parents work. For these families, not much time is left at the end of the day to prepare home meals, so when they are at the grocery store shopping for dinner they look for something quick and convenient, something good. That is where Captain Ken's products offer meal solutions. Besides quick and convenient, our products offer homemade taste, style and appearance with nutritional value. These are the criteria we strive to follow throughout our product line."  Following these criteria has helped Captain Ken's Foods expand into new markets, including convenience stores. Popular Captain Ken's products used by convenience stores include taco meat, chili and BBQ sauce with smoked pulled pork.
Entering New Markets
The Midwest-based food manufacturer also is branching out geographically. "We continue to add broadliner distribution east and south," Traxler says. "Besides the Midwest, we have select distribution through Pennsylvania, Virginia, Carolinas, Georgia and elsewhere and are working to increase density of that distribution."
Traxler explains that changing demographics have led to changes in select product formulations, such as added spices and heat. All Captain Ken's products provide flavor profiles that appeal to a broad spectrum of the public. And Captain Ken's in-house test kitchen and experienced personnel can help operators and commissaries develop and source recipes to their spec. In other disciplines, the rising focus on health and wellness has led Captain Ken's Foods to place more emphasis on many of its products that are gluten-free, which is a trend likely to continue. Its offering of vegan product recipes is also on the rise.
"We don't focus on making every product for every need, but the products we do make offer quality, consistency and value," Traxler notes. "Our employees take pride in making great-tasting food products, just like Captain Ken Freiberg did."