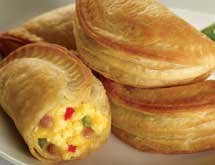 Comfort food is a little different for everyone, but when looking for a comforting meal, most people want food they grew up with, a dish that their mother made for them or a traditional offering from the region of the world during which they spent many fond years. Vincent and Jeanette HoSang understood this desire well, and when they migrated to the United States from Jamaica in the late 1970s, they believed it necessary to introduce the tastes of Jamaica to their new home in New York.
With a desire to bring traditional Jamaican patties to America, the HoSangs opened Royal Caribbean Food Delights in 1978, as well as its sister company, Royal Caribbean Bakery. Not only did the HoSangs' creations bring the comforts of home to other Jamaicans who had moved to New York, but they also introduced the flavorful tastes of the islands to Americans who never experienced the unique blends of spices and traditional Jamaican dishes before. With a dedication to authentic, quality offerings, Caribbean Food Delights has become one of the premier manufacturers of Jamaican frozen food products in North America.
"Over the years, we have found that people are loving our products more and more," COO Sabrina HoSang explains. "We've put so much back into improving our products – we do all we can to ensure our products are not less than perfect."
Caribbean Food Delights' products include Jamaican-style beef, chicken and vegetable patties – a crispy, moon-shaped pastry that is baked and filled with meat or vegetables – as well as whole jerk chicken and jerk chicken wings. Of course, out of its state-of-the-art facility in Tappan, N.Y., Caribbean Food Delights is continuously developing new products to entice the American and Jamaican palates, and these are continuing to fuel the company's reputation for quality, as well as its ongoing growth.
A Successful Spin
Caribbean Food Delights' newest products were launched in September 2012 under the name Sabrina's Delights. These products were created in-house and were named after one of the family members because it is a family company. Sabrina HoSang explains this new line of products – chicken, beef and turkey pot pies, as well as apple and cinnamon and western omelet fillings in a flaky pastry crust – were created to be more Americanized than the company's traditional Jamaican offerings.
"We came out with this type of product before under the Caribbean Food Delights label, but they didn't do as well," she says. "We launched them under the Sabrina's Delights name in Walmarts in Florida and Georgia, and they are doing very well. We tested them for about a month before we rolled them out to more locations. In the first week that the product hit the shelves, they all sold out without any marketing. We keep having customers comment on our Facebook page, saying that they want to try the new products, but they are always sold out at the stores they visit."
HoSang says Caribbean Food Delights' most popular product overall is the spicy beef patty, but the Sabrina Delights items came as the result of working with its retail partners to create other popular goods. The company had offered a chicken pot pie before, but it didn't sell well; as a spin on a turnover, however, the Sabrina Delights items have sold extremely well.
With the success of the first Sabrina Delights products, the company plans to launch chicken Parmesan, sausage and peppers, loaded baked potato, broccoli and cheese, and spinach and cheese varieties. The Sabrina Delights brand also offers a plantain tart to its institutional customers.
"We've expanded these products to stores in South Carolina and North Carolina, and we're also selling them online through our web store," HoSang says. "We took them to a recent food show and got a great response – so many people said our product was the best at the entire show."
Safety and Efficiency
Understanding that quality products are the result of a quality operation, Caribbean Food Delights continuously works to ensure its 103,000-square-foot facility operates as well as possible. A couple of years ago, for example, the company received SQF certification Level 3, which is the highest level possible with SQF. This makes Caribbean Food Delights one of 10 USDA plants that are at level three and the only Jamaican-product plant certified to SQF standards in the world.
"We want our product created in a safe environment and in a safe way to ensure our customers are getting the highest quality," HoSang says. "At Caribbean Food Delights, we have high standards. We are the only Jamaican frozen food manufacturer that is Safe Quality Food (SQF) Level 3 certified in the world, which is the highest level attainable. Our customers will receive high-quality and safe products from our company."
By improving its operation and systems, Caribbean Food Delights has solved a few problems. "With the machines we have, we can produce 40,000 patties an hour," she says. "We have become so efficient that now we need more stores to supply."
Healthy Environment
Caribbean Food Delights believes the most important part of a quality operation is its employees, so it has been dedicated to ensuring it has a quality environment in which its associates spend their days. A few years ago, HoSang found herself in the hospital with pancreatitis and in an effort to get healthier, she trained in CPR and first aid. She also wanted to give the company's employees an opportunity to get healthier, so the HR manager also trained in CPR and first aid.
She created a gym for the workplace in 2012 and received a $7,000 grant to purchase equipment. The company sponsored lose-to-win and Biggest Loser weight-loss programs, and it started buying fruit every week for employees. This past year, Caribbean Food Delights created a walking path outside of its facility for employee use.
"No employees have come to me for first aid problems recently, and so many people have told me that by working out more and eating healthier, they are sleeping better, have fewer back problems and fewer headaches," she says. "This year we got $6,000 for more gym equipment and we've been adding water coolers and putting healthier options in our vending machines. My sister is our on-site nutritionist and we put healthy tips in our newsletter."
She adds that all of the Sabrina Delights products are trans-fat free and Caribbean Food Delights is working to develop an organic patty. This year is the company's 35th anniversary, and she notes that because of customers' loyalty to the Caribbean Food Delights' products, the company is doing all it can to give back.
One of the company's main areas of philanthropic giving is the annual Penn Relays event at the University of Pennsylvania in Philadelphia. This is the largest annual track and field meet in the United States and the largest annual relay meet in the world. Caribbean Food Delights feeds the Jamaican athletes, and this year, students from 33 Jamaican schools attended the event. HoSang notes the company fed Usain Bolt when he participated.
"We do a lot of philanthropy because of all the support we've received from customers over the years," HoSang says. "We're raising $5 million this year to buy two linear cancer machines that we will donate to hospitals in Montego Bay and Kingston, Jamaica. We also donate food and time every year to the Jamaican athletes who perform at the Penn Relays at the University of Pennsylvania – this will be our 19th year there. We can't do any of this without our customers and we continue to improve because we want to give our customers the best product available."