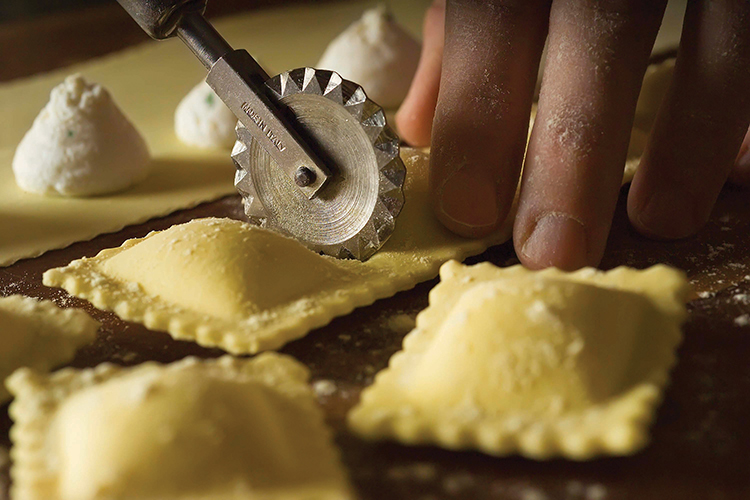 Carla's Pasta continues to build on its founder's legacy of respect and love of food.
Carla Squatrito learned the importance of food at a young age. As a child in Italy during World War II, she developed a love and respect for food, as it was often hard to come by.
In 1968, at age 27, Squatrito moved to the United States. At the time, she spoke little English, but knew the language of good food – especially pasta. Ten years later, she opened a small Italian specialty shop, offering fresh pasta.
Today, Squatrito's business has evolved to become one of the largest filled pasta and pesto companies in the United States. Regardless of its size, though, her company – Carla's Pasta – continues to reflect her love and respect for pasta.
Carla's Pasta remains owned by Squatrito and run by her and her family. "Rooted in family, Carla's passion and drive is instilled in her two sons, Sandro and Sergio, along with the 309 employees that work with her," the company says.
Quality Recognized
The company manufactures hundreds of different kinds of frozen filled pastas and pesto's that are sold regionally and nationally to retail and club stores, national restaurant chains, hospitals, schools, as well as the military.
Carla's Pasta's products are different from those of competitors in a number of ways, beginning with its pasta lamination process. The process replicates hand kneading, which produces thinner, better feeling dough than extrusion. The company uses high-quality, fresh and natural ingredients to make and fill its pastas. Pastas are then pre-cooked to perfection, giving customers hand-made quality pastas that are ready to serve within minutes.
Carla's Pasta products include traditional pastas like manicotti, stuffed shells and several varieties of ravioli as well as risottos; in addition to innovative culinary show-stoppers like "gocce." The company uses a proprietary steam bag technology that uses three atmospheres of pressure to create a mini pressure cooker in the bag.
Carla's Pasta regularly introduces new products and varieties. "Our research and development branch is always on the cutting edge, keeping innovation for trends in the marketplace top of mind," Carla Squatrito says.
The quality of the company's products has helped earn it recognition from a number of organizations and publications.
To name just a few, the company named the company in both 2016 and this year in 2018 was named one of the nation's top 500 fastest-growing businesses by Inc. In 2012, Squatrito was honored for her entrepreneurship by Premio Piemontese Nel Mondo, an organization that connects "exceptionally established people from her home region of Piedmont, Italy," the company says. Carla has also been a proud member of the National Women Business Owners Corporation since 2010.
Ready for the Future
Now in its 40th year in business, Carla's Pasta continues to grow. In the coming months, the company will have completed its third expansion in the past 15 years when it opens a new $50 million, 90,000-square-foot, state-of-the-art production facility in South Windsor, Conn., bringing the current facility to just short of 200,000 square feet. Thereafter, the facility would still have 115,000 additional square feet for potential future expansion.
"This is going to be a big enlargement of our ability to produce, store and ship. This new facility will continue the company's commitment to a safe, clean and energy efficient work and production environment," says Sergio Squatrito, Vice President of Operations. "The addition will allow the company to store frozen products for up to seven days and perform microbiological testing prior to their release and shipment."
The new facility is built with world-class food safety practices in mind. Production areas are separated into raw, cooked, frozen and bagged categories, separated only by conveyor belts. Enhancements to the facility include automated storage and a new production line.
The building also includes a fuel cell and clean technology, reflecting the company's commitment to environmentally friendly initiatives and green manufacturing practices.
"This latest addition forces us to reflect on the fact that we are no longer a quiet, little, under the radar artisanal pasta company," says Sandro Squatrito, vice president of business development. "With great effort over many, many years and the most amazing team anywhere, we have become a food vendor of record nationally and internationally."