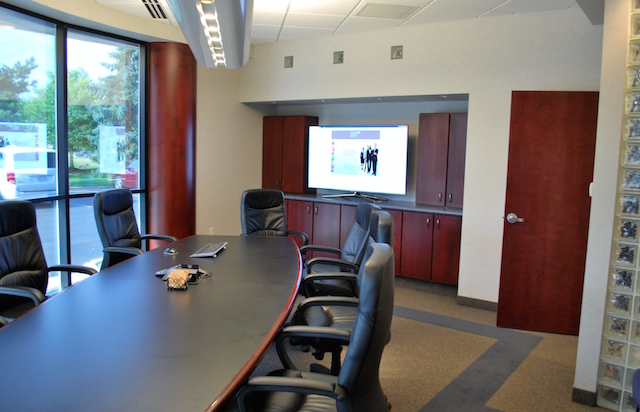 Carlin Group develops long-term relationships with manufacturers, retailers and distributors by expanding thier business to new heights.
For more than 50 years as a full-service brokerage firm, Carlin Group has built a solid reputation in the industry by developing a foundation based on trust and action. "I think what differentiates us or has helped fuel our success is our passion for the business and the deep partnerships we create over time," Vice President of Convenience/Confectionary Josh Alderson says. "In addition, as we continue to grow, our goal remains to add resources to our teams to provide the best environment for all our manufacturer partners."
The Grand Rapids, Mich.-based division began in 1999 as a confection and snack broker called Batson & Associates. Over the years, the company added a grocery division and offices in Cincinnati and Indianapolis before becoming a strategic equity partner with Chicago-based Carlin O'Brien in 2011.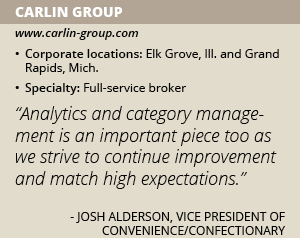 "The synergies we had as two companies allowed us to become a nine-state broker," Alderson says. "We recently changed our name to Carlin Group to simplify and deliver one consistent message and voice within the marketplace, using the same technology, data and analytics."
Today, Carlin Group represents manufacturers in Michigan, Illinois, Indiana, Ohio, Kentucky, Wisconsin, Minnesota, and North and South Dakota. "Carlin Group has never lost sight of the fact that it is local presence, ownership and accountability that deliver the goods," the company says.
The Next Level
Manufacturers are referred to Carlin Group by word of mouth and Alderson believes it is the company's history and reputation in the industry that provides it that opportunity. "This all equals long-term relationships with manufacturers, and retail and distributor partners," he adds.
When developing a new relationship with a manufacturer, Carlin Group will analyze how the company is performing in the marketplace, where it can achieve "quick wins," and utilize its distributor and retail relationships to push the manufacturer's business to the next level. "Our vertically integrated organization allows us to focus on not only the large retailers in our market, but also each individual independent convenience door," Alderson explains. "We leave no stone unturned."
Alderson says the industry is still a relationship-based business and a vital part of Carlin Group's operation. "However, the importance of data and analytics has become an additional currency that's spoken throughout our nine states and throughout the country," he explains. "Analytics and category management is an important piece as we strive to improve and push businesses to higher heights."
As the sales arm for its clients, Carlin Group uses the latest in technological advancements to provide its customers and retail representatives with the best tools. Its retail team uses an iPad application that acts as a mobile team management tool that allows the company the ability to collect real-time data in the field while tracking, responding and taking action on projects and requests.
Using this iPad application, Carlin Group's representatives can verify distribution and speed-to-shelf, identify out-of-stock items, verify code numbers, track point-of-sale displays and provide real-time validation. "That's technology we have been on the forefront with," Alderson notes.
The company also uses Nielson data, planogram software and data from specific retailers to identify category leaders and trends. "These tools give us an opportunity to be on the offensive side of trends that are going on in the marketplace to ensure that our retailer, distributor and manufacturer partners continue to win," Alderson adds.
Moving forward, Carlin Group plans to further invest in the business and stay a progressive company as it expands its reach. The company will also continue to passionately deliver revenue for its current customers as it looks for new partnerships.
"Our industry reputation and unparalleled passion provides us the opportunity to partner with the best in the industry, which we are very grateful for," Alderson says. "We have transparent collaboration among our business manager teams, which allows for execution and communication from the top down. Also, our diverse group of business managers, including local managing partners and owners, will continue to fuel our passion and success throughout the future. However, we would not reach our heights without the support from our manufacturer, retail, and distributor partners. Thank you for all who have assisted us throughout the years."