Carnivore Meat Co. helps pet owners feed their cats and dogs a natural, raw meat diet through its Vital Essentials brand.
In the wild, if a pack of wolves brings down a deer, they eat that deer. There are no berries or grains added to their meal. It's a natural diet, so why don't more pet owners try to replicate it at home?
That dietary model is the driving force behind Carnivore Meat Co., a pet food producer that manufactures products adhering to the Alpha Prey-Model Diet. Its food consists of raw meat, bone and vital organs from traditional prey animals such as chicken, rabbit and beef and is believed to be healthier for dogs and cats, promoting oral health, strong bones, firm muscle tone and glossy fur. This natural diet may even help prevent cancers in pets, according to research by Dr. Richard Patton, Ph.D, a world-renowned animal nutritionist with more than 40 years' experience who serves as the dietician for Carnivore Meat.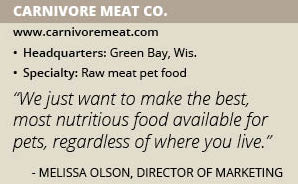 "When feeding Vital Essentials®, the company's flagship brand, your pet's life will be longer and healthier with lower probability of all diseases, including cancer," Patton states.
"We believe cats and dogs are carnivores and only eat other animals; there's no need to add fruits, vegetables or other fillers," Vice President of Sales and Marketing Kevin Malnor says. "All the food we make follows the Alpha Prey-Model Diet."
Carnivore Meat offers that diet through its Vital Essentials brand, which is available in more than 6,000 independent specialty pet retailers globally and online retailers such as Chewy and Amazon. In all, Carnivore Meat reaches customers in 14 countries.
In addition to its retail business, the company provides private label and co-packing services for other brands and retailers. Raw meat is also the primary focus in those private label products, although Carnivore Meat may substitute other proteins it doesn't use in the Vital Essentials brand, such as lamb or kangaroo. "We don't let them stray too much," Private Label Manager, Scott Jorgensen says. "We can only manufacture proteins with a sustainable source of supply to meet commercial demand, most of which is sourced through USDA harvesting facilities."
The high standards of those government-inspected processing plants lead to higher-quality foods for pets. Carnivore Meat maintains a USDA, EU and GFSI-FSSC 22000-certified manufacturing facility in Green Bay, Wis. Nearly everything it sources comes from USDA harvesting facilities – with the exception of rabbit, which is sourced from France where the meat is more readily available. "Essentially, we're getting our harvested materials from facilitates that are supplying ingredients for human consumption as well," Malnor says.
To create its freeze-dried treats, snacks and entrees, Carnivore Meat utilizes a 48-hour freeze-drying process. The meat is frozen and then placed on a rack in a vacuum environment, where it is subjected to temperatures between 70F and 90F – cooler than most other freeze-drying processes, which better retains nutrients as moisture is removed. The process results in nutritious products that please owners and pets alike. "We just want to make the best, most nutritious food available for pets globally, regardless of where you live," Director of Marketing, Melissa Olson says.
Fast Development
The Alpha Prey-Model dates back to 1968 when Gerry Nash pioneered the raw feeding concept. "It's the oldest raw pet food today in terms of its roots," Olson says. The pet food got its start in Texas and Nash's operations bounced around for a few years and survived several bankruptcies before finally settling in Green Bay.
It wasn't until 2009 when Lanny Viegut became involved in the business and launched the Vital Essentials brand of entrees and treats. Viegut purchased the company three years later and ushered in a new era of stability behind a strategy focused on frozen and freeze-dried pet food.
As a family-owned company, Carnivore Meat has several advantages over corporate organizations, particularly when it comes to speed. "It makes us much more nimble," Malnor says. "As we see an opportunity, we can take that to market much more quickly." Malnor worked at a larger company in the past and says it typically took six months to a year to launch a new product. By comparison, Carnivore Meat can develop and launch a new product in as little as 30 days, enabling it to introduce new items on an annual basis.
Carnivore Meat's smaller organizational structure allows it to react faster than its competitors, but it also has the advantage of the relationships Viegut has built up during his 25 years of experience in the meat packing industry. "He's able to source and find unique products that other people in the industry simply don't know exist or don't have access to," Olson explains.
The latest Vital Essentials innovation is its VE Raw Bar™, which includes freeze-dried snacks for dogs. The treats are made of raw animal parts such as duck heads, chicken necks, bully sticks, pig ears and salmon skins and are served as whole pieces. "Until we launched that, everything else in the market that was remotely close to that was cooked in some way," Malnor notes.
Rapid Growth
The Alpha Prey-Model not only has health benefits for the furriest family members but it's also a big driver in the growing pet food business. The global pet food market reached $78.7 billion in sales in 2017, according to consulting firm Mordor Intelligence, and Olson says the category with the biggest growth trajectory is raw meat. "That growth path looks like it will experience another 32 percent globally for 2018," she says. "When you look at other types of foods, they are just not growing as fast."
The explosive growth in the raw food sector has carried Carnivore Meat with it. The company has more than doubled its employee count in the past 12 months and it recently finished a 5,350-square-foot plant expansion that more than doubled its freeze-dried output. Those investments recently earned Carnivore Meat recognition as one of seven companies to be named Wisconsin Manufacturer of the Year by Wisconsin Manufacturers & Commerce. The company is also the recipient of the 2018 Wisconsin Governor's Export Award for international growth and economic development.
"We will finish the first half [of the year] with twice the capacity we had at the end of 2017," Malnor says. "We're going to double the business in 2018 for the third time in three years. I'm extremely proud of the team we have assembled and the results they are driving. I've never been in an environment where I've had such a tremendous growth opportunity and we're just getting started."