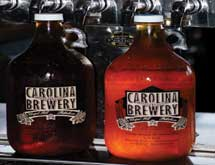 The majority of college assignments are often forgotten about once a grade has been assigned. But Robert Poitras has been living the business plan he developed during his days at the University of North Carolina. In February, Carolina Brewery, the microbrewery and restaurant concept Poitras devised as a student, celebrated its 15th anniversary.
Poitras was first inspired to become the owner and operator of his own microbrewery when he studied abroad in Europe during his sophomore year of college. He was quickly impressed by the rich traditions and extensive breweries on the other side of the pond. The following summer during a trip to California, Poitras realized microbreweries were becoming the latest trend right alongside certain coffee and ice cream brands. He also realized the concept would be a perfect fit back home.
"I realized Chapel Hill didn't have a lot of casual dinning options," Poitras says.
During its brief tenure, Carolina Brewery has drawn international attention for its handcrafted beers. Its award-winning signature beers include its Flagship India Pale Ale, which received a gold medal at the Great American Beer Festival; Copperline Amber Ale, a gold medal winner at the World Beer Championships; and Sky Blue Golden Ale, which garnered a silver medal at the World Beer Championships.
While it may be famous for its handcrafted beers, Carolina Brewery is equally dedicated to entrees. The menu includes burgers, soups, salads, pizzas, pastas and sandwiches plus seasonal menus featuring local ingredients. Both the beer and food contain natural ingredients and are made from scratch, Poitras notes.
New Growth
In 2007, Carolina Brewery opened its second location in Pittsboro, N.C. – 16 miles south of Chapel Hill. "People liked the [microbrewery] concept and we knew it was popular," Poitras says. "The demand for our beers forced us to seek a larger space for brewing operations and we felt a demand for our restaurant in Pittsboro."
While both locations brew beer regularly, Carolina Brewery Pittsboro is the hub for wholesale distribution to bars, restaurants and grocery stores throughout central North Carolina and the northern Outer Banks of North Carolina. Fans of the handcrafted beer can even bring their favorite brew home in kegs and growlers – old-fashioned half gallon glass jugs.
The Pittsboro location also is home to The Hopshop, a place to get coffee, food and beer on the run. Located adjacent to Carolina Brewery's Pittsboro location, The Hopshop serves counter-culture coffee, homemade baked goods, grab-and-go food, growlers, lattes, espressos, snacks, bottles of wine and merchandise.
Customer Satisfaction
Like other eateries, Carolina Brewery has not been immune to the national trend of consumers cutting back on going out to eat during the country's recent economic recession. Poitras says customers seek value during a time when price of goods needed to operate the business continue to go up. In addition, customers do not come back as frequently to the restaurant.
Meeting the customer's desire for inexpensive menu items with the escalating cost of running a business "is tough to balance," Poitras says.
Carolina Brewery has sought to build up its customer base by promoting Brew Crew – a free customer loyalty program. Members earn Brew Crew reward points for every dollar spent at Carolina Brewery. In addition, members receive a monthly newsletter, invitations to free beer tastings throughout the year and access to tickets for brewery events before the general public.
Once a month, Carolina Brewery offers free brewery tours at its Pittsboro location. Poitras says the tours are meant to help educate customers about how their favorite beers are brewed.
Growing Profession
Customers are not the only ones to get educated about the handcrafted beers. New employees at Carolina Brewery learn about the brew process from start to finish. Servers spend time with the brewers to gain a better understanding of the product to pass along to customers. In addition, all employees participate in quarterly staff meetings which serve as a refresher.
"Restaurants are the only industry where you can go from the dish room to the board room," Poitras says. "We like to keep up with staff after they leave and consider them alumni."