Casper's Ice Cream continues to upgrade its facilities and update its product line.
The basic ingredients of Casper's Ice Cream's flagship product, the FatBoy ice cream sandwich, have changed very little since company founder Casper Merrill started making them in 1925. He started by creating the original Casco Nut Sundae on a stick, using milk and cream from family cows. Today, Casper's Ice Cream is run by his grandson Paul Merrill, and produces 700,000 ice cream bars and sandwiches each day.
Though the basic ingredients haven't changed, the need to continuously upgrade its facilities and modernize its capabilities to meet demand is always a key focus of the company's leadership. Keith Lawes, vice president and corporate secretary, oversees both the sales and finance departments and has been with the company since 2005. "One of the things that started with Casper Merrill is that each generation has built a new facility," Lawes says. "That has continued with our present leadership, as Paul Merrill has taken over and we have recently completed our third facility."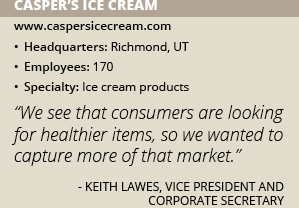 As with most outdated facilities, the issue came down to limited space that put a brake on expansion. The new 79,000 square foot facility includes a new Freezer and production room. Phase one included a production room that allowed Casper's to add a tube filling machine as well a small bulk ice cream filler. In Phase two Casper's added to the main production room two new high speed lines for sandwiches and stick products, as well as expanded its resources for co-packing.
Lawes says the expansion was done in stages. Phases one and two were completed over the last three years. Phase three is in the planning stages with plans to begin early next year. "We broke our expansion project up into three phases," he explains. "Working closely with our building partner, Lundahl Building, and drawing on their extensive knowledge and experience with food manufacturing facilities, we were able to seamlessly add each phase onto the existing one with minimal interruption.
"The facility looks and flows as if it was completed all at the same time. Having this seamless integration is really helpful in maintaining and cleaning the facility."
Expanded Tastes
For Casper's to remain competitive, it needs to do more than just expand its production capabilities. It also needs to grow and evolve, responding to ever-changing tastes of consumers, particularly those who are health-conscious. "We know the FatBoy brand is not going to be an all-natural, healthy-type item," Lawes acknowledges. "We see that consumers are looking for healthier items, so we wanted to capture more of that market."
To do so, Casper's purchased Jolly Llama two years ago. Jolly Llama is a gluten- and dairy-free fruit sorbet pop that can be found at Whole Foods and other natural specialty food stores. The timing of the move could not have been better. Just as the purchase was made, Kroger and other major chains such as Walmart began creating organic sections. Thanks to acquisitions like its purchase of Jolly Llama, Casper's has experienced double-digit growth the past five years.
Sticking to its Roots
Even though the company has embraced some healthier-for-you product lines, Lawes says Casper's remains committed to using full-fat ice cream in products. "We consider ourselves a value premium product," Lawes notes. "We want to maintain that designation in all of our products; you have to find that balance. We want the size of our bars to remain the same."
There is also the challenge of responding to never-ending reports on various ingredients in ice cream bars such as high fructose corn syrup and gluten. "Every week it seems, some new study comes up," Lawes says. "You have to look at economical ways to meet those major concerns. We have worked to remove high fructose sugar from our items. We are working on certifying the items that we can as gluten free. We are constantly looking at ways to improve the product."
Flexible Options
Another advantage of Casper's plant expansion is that it has a lot more flexibility in the work it can do and in the services it can offer. These are advantages it can offer to other manufacturers through co-packing.
"We can do smaller runs for customers," Lawes says. "For a lot of the new brands, they don't have a lot of infrastructure, so we're balancing packaging for other companies' products as well as our own."
Along with the upgraded facilities, there has also been an effort at Casper's to empower its workers, particularly as the company began implementing lean manufacturing in 2007. "One of our key focuses has been involving our workers more," Lawes says. "We want to let them know that they have some input, and that input is valued. We want them to see the benefits of lean manufacturing, which includes eliminating waste and creating a continuous improvement culture."
Lawes says there is a continued commitment from the Merrill family to its employees as the company strives to maintain a family-oriented environment. "We also want them to understand that there is a commitment from the top down, that management is going to support our workers as we move to lean manufacturing."