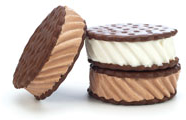 For many people, the old-fashioned malt shop serving fresh, handmade ice cream is something they've only seen in movies or old TV shows. Locals in Providence, Utah, however, don't need to look very far to find tasty shakes, malts, sundaes and other treats made in much the same fashion as they were decades ago.
Casper's Malt Shoppe in Providence is just the tip of the cone when it comes to its owners' dedication to making its customers happy. The malt shoppe exclusively offers ice cream products produced by Richmond, Utah-based Casper's Ice Cream Inc., a family owned company with a deep tradition in the area.
Casper's Ice Cream's most popular product is the FatBoy®, a thick, creamy ice cream sandwich offered in flavors including vanilla, chocolate, strawberry, raspberry, cookies and cream, mint chocolate chip and peppermint.
The company also produces "ice cream sundae on a stick" ice cream bars under the Casco brand. Casper's Ice Cream's most recent product is "Active Delights," a line of probiotic, low-fat ice cream sandwiches.
A Family Tradition
Casper's Ice Cream's origins date back to 1925, when company founder Casper Merrill took milk and cream from his family's milk cows and made the first "ice cream sundae on a stick" bars in a 10-gallon milk can. Merrill sold the bars at a local Fourth of July event. Shortly afterward, he made the first FatBoy brand sandwich.
"Everyone who tried those Casco nut sundaes and FatBoy ice cream sandwiches enjoyed them so much they wanted more," the company says. "Merrill began making them on a large scale and soon people all over the Intermountain West were enjoying them." The ingredients and recipe are largely unchanged since Merrill first created them for his customers.
"Today, folks across the country are eating Casco nut sundaes and FatBoy ice cream sandwiches and enjoying them just as much as those who enjoyed the first ones during the 4th of July celebration of 1925," the company adds.
Casper's Ice Cream, which today is owned and operated by Casper Merrill's grandsons, produces more than 360,000 ice cream bars and sandwiches daily. FatBoy and Casco products can be found in major national retailers such as Walmart.
While its products have a nationwide reach, the company retains a friendly, community-oriented culture both in its malt shoppe and production floor.
"One of the ways FatBoy Ice Cream gets involved in our community is by supporting races and race teams," the company says. "We've been involved in everything from 5K fun runs to marathons." Casper's also offers local organizations and schools fundraising opportunities, it adds.
The company is a member of the Utah Food Council's "Utah's Own" program, created in 2001 to support and promote local products.
"The Utah's Own program was established to create a consumer culture of choosing Utah products at retail stores, restaurants and everywhere consumers shop," the council explains. "When Utah consumers purchase locally produced or grown products it builds our Utah economy since a dollar spent on a Utah product creates the effect of adding $4 to $6 to our Utah economy.
"In addition, when Utah consumers purchase locally produced products it enhances our Utah environment by protecting our watershed and reducing the carbon footprint of those products."