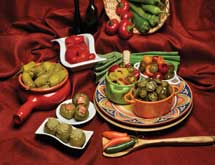 Some companies decide to serve only one type of client, but Castella Imports Inc. refuses to limit its options, Vice President Chris Valsamos says. "We like to [go after the] global marketplace," he says. Based in Hauppauge, N.Y., Castella Imports sells specialty foods, spices, olives, cheeses and other products imported from around the world. Valsamos' father, President Bill Valsamos, founded the firm nearly 20 years ago, after working for several different companies.
The elder Valsamos, Chris Valsamos explains, had a mission in mind for Castella Imports. "His vision was to incorporate items that were staples of distributors, like spices and olives," he explains. "[My father] wanted to be able to do a one-stop shop, but to incorporate enough selections where they would be highly valuable freight-wise and price wise [so customers would] buy from one vendor."
When Castella Imports opened, it had a modest start with a 15,000-square-foot location in Hicksville, N.Y. Additionally, Valsamos began the company with little capital, Chris Valsamos says.
However, the company grew over time and moved to a 66,000-square-foot location in Farmingdale, N.Y., in 1999. Four years later, Castella Imports acquired Millflow Spice Corp. and Regal Extra Co., which helped improve its stature as one of the largest spice firms in the Northeast.
In 2004, Castella Imports also acquired Salvati Foods, an Italian specialty food manufacturer and moved to its current location, a 3.5-million-cubic-foot building in Hauppauge. Today, Castella Imports is one of the largest specialty food importers and manufacturers in the United States, with 950 product SKUs.
Additionally, Castella Imports says it has become "the recognized market of quality" in the gourmet food industry in a relatively short period of time. "Through hard work and dedication, Castella has succeeded in offering products of top quality, with the best in packaging and distribution, plus unsurpassed prices, exceeding the highest standards in the industry," it says.
"Castella takes pride in its label," Marketing Manager Patty Echeverria says. "'Castella' means you're going to get the best quality at the best value."
Committed to Castella
Valsamos is a longtime veteran of his family's company. Originally, "I entered college when we started the business," Valsamos recalls, noting that he joined the company after graduating in 1988. "I always made a commitment to join the family business when I graduated."
One of the advantages of joining the firm in its early years, Valsamos says, was that it allowed him to take on many different roles in the company. "[From] handling company buyouts to handling strategies, [I have been] fine-tuning the company's vision for the future," he says.
His tenure also has given him the opportunity to learn more about the company's products. "Knowing the whole journey, from the beginning to the end, is relatively fascinating," he says.
Valsamos is proud of how the company has grown over the years, even after the recession. "Castella has the ability to weather downturns," he says, adding that the firm has doubled its sales every five years.
But the downside of its rapid success is that Castella Imports has attracted more competitors. "The larger you get, you go from a little boat to an oil tanker," Valsamos says. "[But] we still have the flexibility and the agility of a speed boat.
"That is a compliment to the staff," he asserts. "The team members are definitely hands-on and are able to move targets and strategies quickly, [while] other companies have a lot of red tape."
Echeverria, who is a seven-year veteran of the company, adds that Castella Imports' success is largely due to the work of Valsamos and his father. "Chris and Bill both complement each other in a way that helps the company grow," she says.
"Bill is old world and Chris is new world," she continues. "Bill brings to the company his knowledge of the industry and Chris brings a lot to the company in terms of strategy."
A Broad Base
Castella Imports serves a diverse customer base of foodservice clients, grocery stores and specialty retailers, including Costco Wholesale Corp. and Stop & Shop.
When the economy crashed, he explains, many consumers chose to spend less money going to restaurants and more on buying food at the grocery stores. Although the company has suffered on the foodservice side, "We have excelled in the retail [side]," he says.
To expose its new products to customers, Castella Imports does road shows weekly with Costco. This allows "Castella the ability to see the demand of its customers on a one-on-one basis and get feedback," Echeverria says.
Castella Imports provides marketing materials with product uses and suggestions. "A lot of that goes with just educating our customers and making sure that gets to the end users," she says. "We have the ability to be out in the market. We can give ideas on the versatility of the products."
Castella Imports is planning on future growth, Echeverria says. "They are looking to expand in different areas," she says, naming Atlanta and Houston as two possibilities.