Castella Imports is adjusting its print lineup to feature more natural, non-GMO foods.
Sustainability is an essential ingredient in the food industry's business practices and encompasses a gamut of production touch points including environmentally friendly farming methods, green operational practices, cleaner food preparation and customers' perceptions.
As customer's preferences shift to doing business with companies who are socially responsible, sustainability has become an important element for Hauppauge, N.Y.,-based specialty food manufacturer Castella Imports. Castella Vice President Chris Valsamos states that the company's interest in sustainability stems from its sense of social responsibility and is propelled by its internal culture across departments.
Valsamos shared the organization's sustainability initiatives, citing Castella's recent investments in solar panels and LED lighting at its main facility in Hauppauge. These initiatives are expected to cut the company's energy use by 95 percent. "Hopefully, we'll be completely off the grid in the next five years," Valsamos says.
The company is also converting its truck fleet from diesel fuel to more environmentally friendly compressed natural gas and is aiming to reduce its landfill-bound waste by 50 percent in the next five years.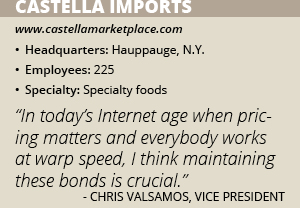 Finding an Advantage through Sustainability
Castella is one of the largest importers and manufacturers of specialty foods in the United States. The company offers a wide range of spices, olives, cheeses and other specialty products to grocers and food distributors. When Castella was founded in 1992 its lineup was not as diverse as it is today. Back then, the company's emphasis was predominantly on Greek foods and spices and it sold primarily to food distributors and ethnic retail stores.
Today, it boasts more than 1,000 SKUs ranging across a variety of sources from the Mediterranean and beyond. The company manufactures or reprocesses about 75 percent of its products. Castella sells to grocers such as Costco, Sam's Club and Stop & Shop and distributors such as Sysco, US Foods and Restaurant Depot. Castella now has 225 employees at three facilities, two in Hauppauge and one in Addison, Ill., plus a third-party warehouse in Buena Park, Calif.
Many of its products are imported in bulk packaging sourced from more than 25 countries. Castella breaks the bulk packaging down and reprocesses the food into retail-friendly jars. Items such as seasonings, juices and sauces on the other hand, are made entirely in-house.
New Castella products include its Live Quinoa brand and a line of tapenades. One of the company's most popular offerings is its holiday platter at Costco, which features marinated artichokes, stuffed zesty peppers with garlic herb cream cheese, hot pitted olive salad, Castellavetrano® pitted olives and mushroom antipasto. Its olive bar program is also popular in supermarkets and has helped the company grow its retail presence.
Valsamos says Castella's diverse range of products created an advantage over competitors. "Having such a wide array of products allows us to compete more efficiently," he explains. "Nobody can take on all our wide array of products at once." Many of Castella's customers prefer Castella's one-stop-shop offerings. The approach helps save customers' time and money, Valsamos adds, because they can buy more products from one supplier and reduce the cost of freight.
Another advantage lies in the company's operations beyond food production. Castella is a vertically integrated business, able to package and deliver its own products using its own staff. "We manufacture, we distribute, we have our own fleet of trucks and our own quality assurance lab," Valsamos explains. "By being vertically integrated you have the competitive advantage of saving on costs and controlling the quality of the product from beginning to end," Valsamos says, adding that Castella passes that savings on to its customers.
The organization prides itself on a strict focus on food safety from farm to fork through maintaining an SQF (Safe Quality Foods) Level 3 accreditation, a designation more buyers are asking for.
Adding to the advantage are Castella's sustainability initiatives. Valsamos stated that implementing sustainable practices can help break the tie when supermarkets are deciding between two similar producers. However, "You really don't engage in sustainability to be profitable," Valsamos says. "We're not focusing on sustainability for the customer. We're implementing sustainability initiatives for the environment. We want to move forward and if we happen to become more profitable, it will be a bonus."
Sustainable Relationships
When importing goods from around the world, Castella needs to be able to ensure the quality of every food item that comes through its facilities. The company requires certifications from each of its vendors, regularly conducts food safety audits and even sends its internal lab technicians to inspect supplier facilities. Valsamos says sustainable relationship building is a key part of that inspection process. "I think the core of any good business model is relationships," he says.
Castella has worked to build those relationships throughout its 24-year history by staying transparent and loyal to its vendors and expecting loyalty in return. "That strikes a bond that with many vendors is very hard to break," Valsamos says, adding that some vendors have even invited him to weddings. "In today's Internet age when pricing matters and everybody works at warp speed, I think maintaining these bonds is crucial."
Relationship building is not limited to Castella's business partners. The company also strives to support the Hauppauge community. The Castella Cares program feeds those in need during the holidays. Last year, the company provided complete turkey dinners to more than 50 local families for Thanksgiving and collected gifts for children during the Holiday season for another 100 families.
Staying Ahead
As the healthy foods trend continues to move from restaurants to grocery stores, Castella is developing more natural products with cleaner labeling and no preservatives. "We want to be on the forefront of that initiative," Valsamos says. The company is changing all of its spices to remove genetically modified organisms (GMOs) and plans to follow suit with the rest of its foodservice items in the foreseeable future. The popular olive bar is also adapting to use cleaner ingredients including sea salt.
Castella's ability to change with the market while still providing a wide variety of products has helped the company double sales every five years since 2000. But despite that success, Valsamos says growing pains have made it difficult for Castella to maintain that pace. The company is now slowing things down to make adjustments and prime Castella for another period of growth. "Success starts with a great team," Valsamos explains. "We're focusing on training, increasing our personnel and hiring the right people."
Finding those team members will be critical in shaping the company as it expands westward. Valsamos points out that no company can rely on luck for a 10 or 20 year run. That is why Castella is working to improve its training and onboarding for its employees. "We really think that training and onboarding your team members is the key to success," he says. "Without the right team members, the right mentality or the right culture you can't be successful."
Although it works with a third-party facility in California, Castella today is concentrated east of the Mississippi. The company sees an opportunity to build its presence on the West Coast. Castella is hiring new staff members to cover the western states and is adjusting truck routes to better serve those markets. "This approach is going to be key to us in terms of sales and brand recognition," Valsamos explains.
Castella also wants to replace its third-party facility with its own operation. "We would like to see our own facility staffed by our own people with our own distribution in the next three years," Valsamos says. That facility would be located near Buena Park and would enable Castella to have a permanent presence on the West Coast.
As it looks to expand its presence, Castella will continue to innovate with its products and watch for the next food trend. "You can be a follower, a tagalong, or you can innovate," Valsamos says. "We're trying to find the next item that we can be the ones to bring to market."