The spirit of Kentucky
Blending traditional production methods with a modern approach to business, Castle & Key is reimagining how Kentucky spirits are presented to the world
Considered by many to be the modern forefather of whiskey in America, bourbon legend Colonel Edmund Haynes Taylor, Jr founded one of the United States' most unique distilleries in 1887. Inspired by European architecture, the Frankfort, Kentucky-based site featured a giant limestone castle, a classical springhouse, and a sunken garden. Determined to elevate the perception of bourbon and produce 'spirits fit for royalty', Taylor's creation served not only as a striking culmination of his life's work, but also the birthplace of bourbon tourism.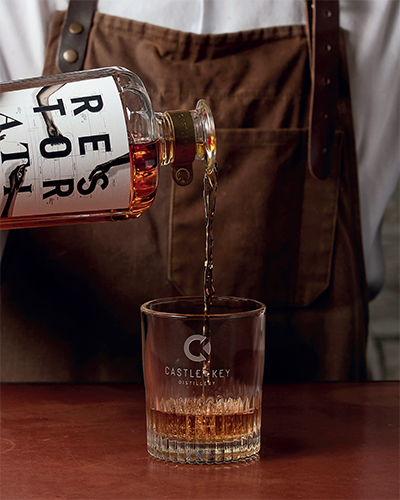 Sadly, in 1920, Prohibition forced the closing of the distillery and it fell, slowly, into disrepair. Having lay in ruins for almost a century, in 2012, local businessman Will Arvin resolved to restore the Old Taylor Distillery to its former glory. Building on Colonel Taylor's commitment to excellence, embracing his traditional methods, and inspired by local ingredients, Mr. Arvin enlisted the help of a like-minded team and launched Castle & Key, a thoughtful spirits brand challenging conventions and palates alike.
"Before coming into this business, I had never made a drop of whiskey before, but I certainly had an appreciation for craft whiskey and the way it is made," Will explains. "Being from Kentucky, whiskey is part of our history and our culture, so we want to create it well. That goes for all our products. We don't source our spirits from elsewhere like a lot of other distilleries; we create our own gin, vodka and whiskey, on-site, from grain to glass."
Continued traditions
Employing a team approach to production, and using a variety of local ingredients, Castle & Key benefits from a range of key differentiators that help it stand out from the competition. A number of these factors, Will says, have been passed down as part of the legacy left behind by Colonel Taylor.
"At Castle & Key, we use some pretty unique grains, like an heirloom varietal of white corn, which we believe is very similar to what Colonel Taylor used back in the day," reveals Director of Sales Jon Newton. "Additionally, we have an interesting higher malt mash than many other producers.
"The nature of our distillery, as designed by Colonel Taylor, also makes us different. For example, Taylor designed the water source to be a 40,000-gallon natural-fed limestone spring in the shape of a keyhole (hence, 'Castle & Key') and he always said the mineral-rich, iron-free water was critical to the success of good bourbon. It remains the water source for everything we do."
Operating from a highly significant location in the history of American whiskey – Taylor, a politician among other things, helped pass the Bottle and Bond Act of 1897, one of the USA's first consumer protection laws – Jon, Will and the team at Castle & Key see themselves as stewards of a grand tradition. In 2021, not only is the company aiming to capture the original essence of Colonel Taylor's work, but it also hopes to put its own modern take on the Kentucky spirit craft.
"We repurposed what we could during the restoration process of the distillery, and we've really tried to keep the place looking as historic as possible," Director of Operations Jess Peterson remarks. "Furthermore, we try to use local vendors for any equipment we procure externally, and, as a result, the distillery stays more deeply rooted in the community.
"We were able to take some of the equipment that was present during National Distiller's times, such as fermenters, grain silos and weigh bins, and connect those up with modern technology so that we can effectively operate the entire facility from an iPad. It's a real blend of old and new."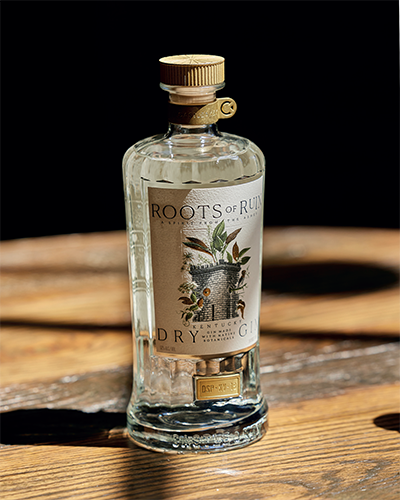 Modern takes
The community connection that Jess mentions encompasses everyone from local farms supplying grain, the employment of people from the surrounding area, and ongoing fundraising initiatives. One of Castle & Key's most important contributions in recent times has come through its partnership with Kentucky Black Bourbon Guild on a whiskey called The Untold Story of Kentucky Whiskey, Chapter 1.
"Untold Story is a special one-off bottling that aims to pull back the curtain on the African American contribution to bourbon in the American spirits industry," Jess confirms. "As part of this special release, 100 percent of the revenue from Untold Story will be fed back into a scholarship fund for minorities interested in pursuing careers in distillation. It's another good example of how we are trying to be very community-minded – both in the local area and in the distillation community as a whole."
Of course, Untold Story is not the only exciting product on offer from Castle & Key at present. Guided by a pioneering R&D team and an experienced sensory panel, the company continues to harness the best grains and botanicals to create modern takes on consumer favorites.
"Our distillery's spring water pool connects with a local creek and means we always have fresh, running water – just like Colonel Taylor did," Will states. "Using this natural resource, we created our first two releases: Sacred Spring Vodka and Roots of Ruin Gin. Sacred Spring starts with a bourbon mash bill and is a recipe of 73 percent corn, 17 percent malted barley, and 10 percent rye, while
Roots of Ruin starts with the whiskey mash bill and consists of 63 percent rye, 17 percent corn and a 20 percent malted barley. Naturally, these spirits are unaged, which means they could be released quickly, but we still put the same care and attention into creating them as we do with our bourbon.
"The gin and vodka," Will continues, "was soon followed by our very first whiskey – Restoration Rye. Perhaps most exciting of all though is the fact that, in the spring of 2022, we will be releasing our first bourbon, which will have a traditional bourbon mash bill. It has been eight years in the making, but we have always wanted to ensure the aging process is right because that is what makes bourbon so special. You can't force bourbon; you have to wait for nature to do its thing, but finally, the time is right."
Iconic site
As traditional as many of its surroundings and processes might appear, Castle & Key is a modern and highly progressive organization, with all the resilience and adaptability of a distiller that could rise to the very top. For instance, the company more than proved itself under the pressure and scrutiny brought about by the Covid-19 pandemic.
"Over the last year and a half, in spite of the pandemic, we have still been able to continue with whiskey distillation. More than that though, we were able to produce hand sanitizer in bulk," Jon declares. "We made several hundred pallets of the sanitizer product, and still have a bit on hand. It meant we were able to support our local community, schools in the area, and hardworking emergency response teams.
"Throughout the sanitizer production process, it was so great to see everybody come together and bring something completely new online in a very short space of time. From conception to finished product, the timespan was no more than four weeks."
Over the next five-to-six years, Castle & Key aims to be a 100,000-case brand, inspiring consumers around the world through an unmatched experience with spirits. For Jon however, the Castle & Key story is about more than just spirits – it's a testament to the power of pursuing your passions.
"Our journey has been a really universal one and a celebration of doing what makes you happy," Jon proclaims. "We want to share our tale with people all around the world and inspire them to go out and follow their dreams."
"When I look back on how far we've come, I think we should be proud of the way we restored a historic, dilapidated facility on 130 acres and transformed it back into an iconic site," adds Will. "There's so much bourbon history at this site and it is a real thrill to think that there is now so much more to come."
www.castleandkey.com