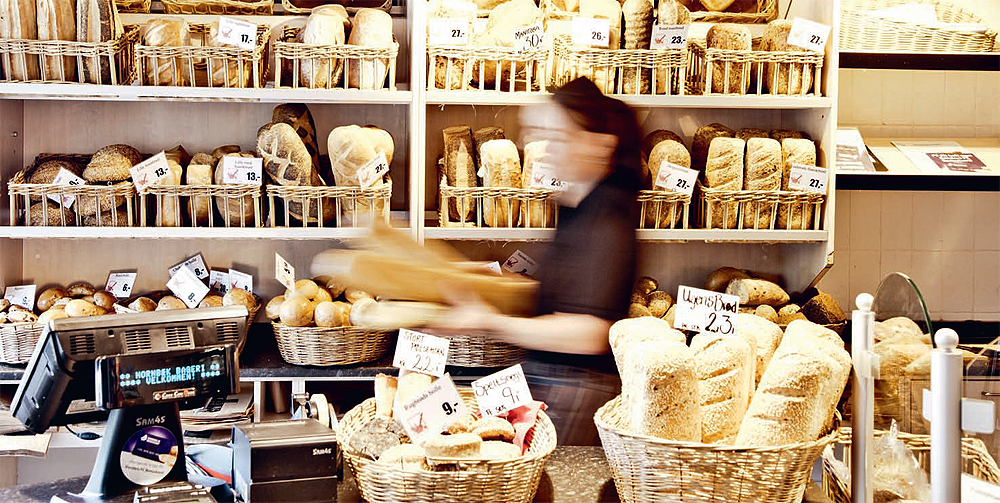 On the rise
Firmly believing that its passion will result in customer success, CBP offers ingredients and bakery solutions that create value, inspiration, growth and confidence for the market
With a history dating back to 1931, CBP has developed since its early days as a platform for the sale of malt to Danish bakeries to become a diverse company with a focus on value-added Bakery
solutions. Wholly owned by Orkla, the Nordic region's leading supplier of brands and goods (Foods, Snacks, Health & Care etc.) as well as ingredients for bakeries and the food industry. CBP has undergone strategic expansion into new segments over recent years with the goal of remaining competitive in a complex and evolving market.
"Our main area of operation is in the delivery of ingredients and non-food (packaging, cleaning agents, cloths etc.) to the B2B sector – historically selling the whole range to the baker in Denmark's artisan sector. However, we considered back in 2012 that this artisan segment of the business was decreasing by about 25 per cent during 2005 to 2010, which means that we needed to do something to save the business. We went to the board and gave them the brutal truth about the market but explained that our position as a Sales & Distribution company (wholesaler) meant we had a position between the farmers and middlemen and the market. We also saw that the flour isn't running to the artisan businesses but the consumption of bread and cake is very stable, even increasing in Denmark, so we came to the conclusion that we would progress into industry, retail & convenience and the out of home sector. With the decision made, we explained to the artisan bakers that for us to still have the scale to deliver competitive prices to their sites, we needed to have this scale in our buying power, which meant we needed other ways to sell our product," says Henning Jensen, Managing Director at CBP.
He continues: "From here, we established a retail and convenience unit as well as an industry unit of the business in January 2014, with the non-food unit launched in January 2015. By the end of 2016 we saw that the new business divisions are taking up 25 per cent of our turnover, so we made the right choice to strategise and diversify our company and to spread the risk. In the near future, we expect to grow our business in total and that the turnover from the new business will increase and the artisan side of the business will lower to 50 per cent of our business, so we will remain the market leader in artisan but will also become stronger in these new segments."
Value-adding partner
The company's progression into new sectors further strengthens its foothold in the food sector as an expert, value-creating partner that can deliver tailor-made products that boost customer competitiveness. The company provides ingredient and bakery solutions for the bustling segments such as catering, bake-off and retail trades as well as on-the-go solutions for petrol stations and kiosks. Meanwhile, CBP Nonfood helps customers with areas of the business that are not part of the ingredients in their bakery products. For example, by delivering a total experience in store, through signs, packaging, apparel and even cleaning, customers will return again and again. CBP Industry, meanwhile, provides ingredients, raw materials and solutions to the food industry and production companies.
Customer support
More than a traditional supplier of bakery goods, CBP Bakery has also further developed its artisan segment so it operates as a valuable partner that helps its customers to increase their success via
the provision of knowledge, inspiration and the development of new concepts with the goal of strengthening the customer's sales. A strong supporter of businesses with new initiatives, the company focuses on close collaboration that in turn delivers extra benefits to each customer. Not only a chain concept, CBP Premium is centred around working together to make businesses even better through well thought out solutions and competent, experienced advice.
These solutions include CBP developed software, CBP Premium Pro, which calculates everything the customer needs once they enter their recipes. Raw ingredients data is taken directly from suppliers, so the software is always up to date with the latest information; this overview not only saves time, but means customers have more time to enhance their bakery products and strengthen their business. "CBP Premium Pro is online 24/7, with customers connected to the system so they can provide their own recipes and provide ingredients, which then shows consumers or even the authorities about the content of the product. On top of this, bakers can also see the fluctuating price of ingredients, which is changed immediately and offers the baker the option of changing their consumer price. Through these services and this level of support we help the company manage their business," says Henning.
Enhanced operations
"We also have our own quality department, which has four full time employees that travel to China to look at pumpings and producers out there to ensure high quality operations are in place and the people are working in good conditions. We travel to the US and South Africa too to undertake our own audits to ensure the products offered to customers are the best possible quality. There is no doubt that the bakery market must progress with the trends of consumers; the consumption level in Europe is increasing and people are more willing to spend money on the right products if there is high quality, a good level or service and innovative product. If the baker can manage this and differentiate himself he will be in a stronger position despite the competition from the discount market," says Henning.
"We say to our customers that we do not compete on price, but on delivering value-added service, elements and quality. I hope these artisan bakers look at our way of operating and see how we can help them, as I am certain we can," he adds.
With the artisan sector set to continue decreasing over the next 12 months, CBP is ready and willing to help its customers to enhance their operations and increase their competitiveness in a challenging market. "We are the right partner for European suppliers looking to enter Denmark as we put a lot of effort into collaboration and have the right staff and value-added elements in place. It is my goal to take CBP into a leading position as a seller of bakery ingredients to the market; we currently have around ten to 15 per cent of the pie in the Danish market and we aim to double this over the next five to seven years," he concludes.