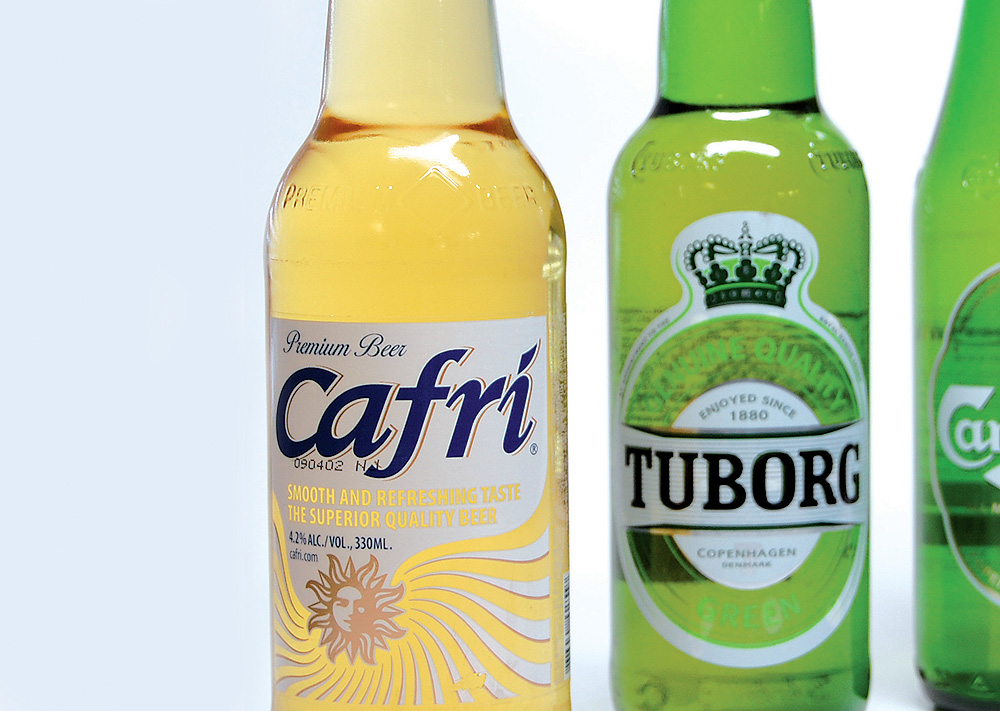 Label innovations
CCL Label is able to offer innovative solutions for a changing marketplace
CCL Label is the world's largest and leading label company. Working with three main industries (home and personal, healthcare and pharmaceutical and food and beverage) the company's shrink sleeves and label technology offers its clients outstanding impact at the point of sale.
In the food and beverage market, eye-catching graphics are key to brand differentiation. When faced with stacked store shelves, products must stand out to gain consumers' attention, and attention-grabbing labelling can be an all-important differentiator.
The 'no-label' look
Even though volumes for premium brands have been affected by the economic climate, there is still a strong interest for no-label' look decoration and replacement of direct print and paper wet-glue labelling by Pressure-Sensitive (Ps) technology. First movers to Pressure-Sensitive Label (PSL) found out that many benefits can be gained switching to clear plastic labels, including:
The image of a direct printed glass bottle can be matched with lower costs
Marketers have much more creative options compared with direct print or paper wet-glue labels
The 'clarity' or 'purity' of products can be underlined with no-label-look decoration
Special effect inks, varnishes or functional features can be built into a PSL
Line efficiencies are by far better than with paper wet-glue applications
Tooling costs and downtime on the labelling machine can be heavily reduced, if not eliminated.
In the beginning, PSLs had been mainly used as marketing tool for premium brands but as users found out about operational advantages, it is manufacturers now who are pushing to implement the technology and to replace paper wet-glue applications. This is no longer valid for the premium category only; it is the belief that PSLs will become the new standard in bottle decoration over time. CCL was also able to reduce the costs of PSLs, as volumes increased. The company then implemented new material constructions, which narrow the price gap to paper wet-glue labels. The latest PSLs are as thin as 40 micron, which are thinner than paper labels. The prediction is that further down-gauging will happen but it needs to be engineered together with the labelling machine manufacturers.
CCL´s clients are now requesting the 'next generation' of PSLs, which incorporate visual effects, including special inks and holographic effects, and/or functional features and late stage differentiation. CCL is meeting those demands and constantly presents new solutions to their partners enabling them to set the trend with their products. This includes all kind of print process combinations, digital printing, unique production processes for hologram and optical lens images as well as new material constructions with built-in promotional features, such as coding and collectible pieces.
WashOff
CCL´s WashOff labels for returnable bottles have been commercially launched in 2004 and since then, fine-tuned to run on a wide range of existing bottle washing machines without altering the washing process.
The top breweries like Carlsberg, SABMiller, Heineken and AB InBev are utilising the technology for returnable bottle floats enabling them to have the same premium decoration on a returnable bottle as on one-way bottles. New bottle coating technologies have been implemented to 'mask' imperfections like scratches or scuff rings on existing bottle floats and retain the fresh look of new bottle floats for at least 25 cycles. This has been very important to help the entire concept of premium brands in returnable bottles.
CCL WashOff labels remove faster and cleaner than paper labels and do not generate explosive emissions like metallised paper labels – this results in lower operating costs. The need for water, chemicals and energy can be reduced compared to removal of paper labels, which besides cost savings, also has a small environmental impact. Increasingly more clients discover the benefits of CCL WashOff labels – not only breweries but also an increasing number of soft drink and water bottling companies are switching to this great technology.
Promotions
In order to boost sales during a launch or specific period of the year, Promotional Labels have proven to be a good marketing tool. There are numerous options to organise a promotion, including:
Unique codes on labels
Scratch & win games
Collectible pieces
Colour-switching elements
Depending on the aim and complexity of a promotion, CCL offers low-cost solutions that can be relatively easily incorporated into the existing label – up to 48-page booklet labels for little magazines to be attached on bottles. Most promotions need a bit of customisation and CCL's development and engineering team remains at the disposal of its clients to help them create the best solution. Supported by its global platform, state-of-the-art facilities, a solid international management team, and strong balance sheet, CCL Label is ideally positioned to deliver on the expectations of it's clients.