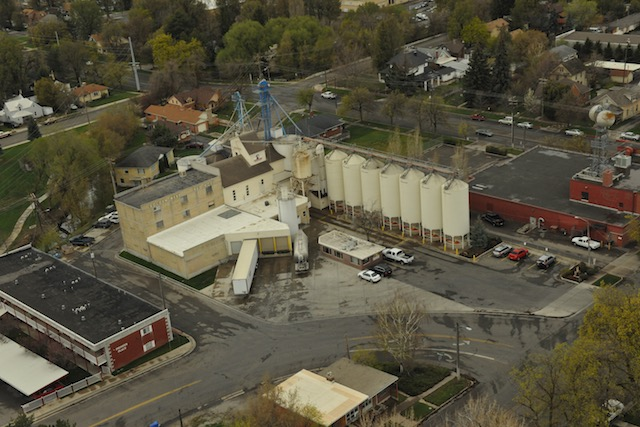 Central Milling's entire team cares about the quality of its flour products.
For Central Milling Co., flour is simply more than an ingredient. "We treat flour almost like a wine," President Lynn Perry declares, adding that the company often sources grain based on flavor, color and baking ability. "We're creating very unique types of flour so great bakers can create their visions."
Based in Logan, Utah, the company operates from a 151-year-old mill that was originally opened by Mormon pioneers. In the 1950s, Perry's father, a farmer, learned about organic farming methods and "got an entrepreneurial attitude," the younger Perry recalls.
His father went to Central Milling's current location, as well as Gilt Edge, another mill in Richmond, Utah, with the goal of producing organic flour. "He brought wheat into them, milled it into flour and developed that market," Lynn Perry says.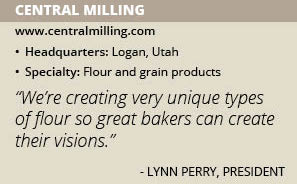 When the family saw its business grow, "We bought those two flour mills," he continues, noting that it added a third milling facility in Collinston, Utah, and a distribution company, and a baking center in Petaluma, California.
Today, its products have a nationwide reach. Whole Foods Market sells its flour as part of its 365 product line, while Costco stocks it under the Central Milling label. "We also do flour for Acme Bread, Amy's Kitchen and smaller artisan bakers throughout the country," Perry says.
Product Pioneer
A longtime veteran of Central Milling, Perry joined his family's company in 1975. Today, he credits its success to its role as a pioneer in the organic movement.
"We always dealt directly with farmers and helped [them] move from commercial farming to organic farming," Perry says, noting that this continues to this day. "We have close relationships with the farmers that grow our wheat."
This has allowed Central Milling to provide products that are completely traceable. "If you buy a bag of our organic flour, we can trace it back to the farm," he says, noting that the company also has relationships with artisan bakers, including Keith Giusto, who works as the company's vice president.
These relationships also have enabled Central Milling to develop unique products. For example, when the company learned that some bakers were creating breads using three to five flours, "We said, 'Why don't we create one flour for you?'" Perry recalls.
Central Milling also works with bakers through its center in Petaluma, which is used for teaching artisan baking styles. "We have different bakers from around the country come and teach there," he says.
These include Giusto and his nephew, Nicky Giusto, who is "one of the great bakers in the world," Perry declares. "He works on creating these great breads and trying to raise the quality of bread."
All Together
Central Milling started as a family business and still retains that type of environment to this day. "It's a wonderful company to work for," Perry says, noting that relationships are close among employees. "It really has that 'family together' feel."
Its status as a 100 percent employee owned company has helped nurture this. "We also think that helps raise the quality of our products because everybody is an owner," he says. "Everybody cares about the products we're producing."
Perry personally takes pride in Central Milling's role making organic products. "The organic movement overall is improving the sustainability of the land in the country," he says, noting that this is by allows farmers to maintain smaller spaces.
"The trend is to build larger and larger farms, and have less family owned farms," he says. "But the organic trend has allowed the family owned farm to continue to exist, which is something we're very proud of."
Central Milling will move forward with that passion, he predicts, as it utilizes ancient grains and continues to educate others in its baking center with the help of Nicky and Keith Giusto. "I feel like we really have a very exciting future ahead of us, [where we] will be more involved in the finished product," Perry says.