Centre Bell incorporates Montreal's local flavor to serve concert-goers and hockey fans alike.
It is hard to trump hockey as the No. 1 source for entertainment among Canadians. "In Montreal, hockey is a religion," Centre Bell Director of Operations, premium F&B Patrick Bigras observes.
As such, when people go to Montreal Canadiens games, they are doing more than watching a game. In today's culture, many suite holders at Centre Bell are also conducting business, finalizing agreements and forming long-standing relationships. "If you were to come in a suite on a weeknight, you might be amazed to see that 60 percent of the guests here show up in a suit and tie," Bigras notes.
And that's where Bigras and his group come into play. He is responsible for the culinary experience in 136 suites, three clubs, and several rooms for VIP events as well as banquets and weddings. His group is part of Levy Restaurants, the Chicago-based division of Compass Group that specializes in providing premium-quality vending and foodservices to major sports and entertainment venues.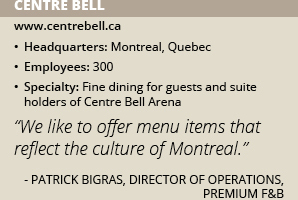 One of the pioneers in the field, Levy originally made its name in Chicago, handling the fine dining at venues such as the United Center and Wrigley Field in the Windy City. "We are a very unique operation within Levy," Bigras notes. "We are one of the two French Canadian properties that are managed by Levy, and they have always recognized that the culture here is so unique. They have always given us the freedom to run our unit as we see fit, and as long as we're profitable, and that guests are happy."
Fine Dining
To think of Centre Bell as merely a sports and entertainment venue somewhat undersells its appeal. "I'm always amazed to see how different it is," Bigras says. "Here, we serve 3,000 guests a night in fine dining. It's more like operating a cruise ship." Given the tastes of a more upscale crowd, it is common to see menu items such as filet mignon, rack of lamb and lobster available to guests.
To produce such a diverse menu virtually every evening throughout the year, Bigras oversees a culinary staff of 100 team members. To please a discerning group of French Canadians, Bigras recognizes that the food must really be special.
"I would describe it as French cuisine with a twist," Bigras says. "We like to offer menu items that reflect the local culture of Montreal, and we definitely try and source our food as much as we can locally as well." And of course, French Canadians are also known for their love of wine. "Presently, we have roughly 10,000 bottles. And if I am out and about and see a bottle that would really add to the collection, I am free to purchase it. Canadians are very passionate about wine, so we buy it and age it ourselves."
Not Just Hockey
Though Centre Bell is known primarily for its main tenant, it has consistently been listed as one of the busiest arenas in the world since it opened in 1996, and the busiest arena in Canada based on ticket sales. Major musical entertainers such as Coldplay, U2, Taylor Swift and Quebec's own Celine Dion have all played to sold-out shows.
And with different artists, Bigras is allowed to tailor the menu to their fans. "If it's Taylor Swift, the menu is going to be different than it is with Barbara Streisand," Bigras says. "We like to change the menus up depending on who is playing on any given evening."
Bigras started at Centre Bell in 2007 as assistant director of operations, but left in 2013 to work for a boutique hotel in Montreal. He returned in 2015 as director of operations, with a mandate to improve the offerings and to bring back passion within food and beverage in the team. "I was free to make all changes needed," Bigras recalls.
People here want to feel the food is made by people who are passionate about what they do." In addition to bringing in a new culinary team, Bigras changed the overall food culture. "We wanted to create the feeling of dining in a local Montreal restaurant. And that could best be described as 'simple, but fresh.'"
Bigras' group works in partnership with Evenko, a group owned by the Molson family, owners of Centre Bell. Evenko has become a major promoter and producer of music, art, sports, festivals and other event bookings across Canada.
Within the Montreal area, Bigras' group and Evenko have grown hand in hand. "We do take care of a lot of events in Montreal outside of Centre Bell," Bigras notes. "We do work very well with them, and when they envision a show, we are able to bring in our ideas and make it happen along with them."
Regardless of whether it's a hockey game, concert or catering event, Bigras is able to rely on a core strength: infusing an event with Montreal's unique flavor. "I've worked in many places around the world, and we have more restaurants per capita than anywhere," he says. "It's a tough business, but if you're passionate about what you do, they will come."