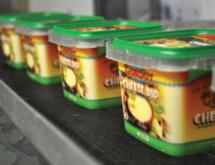 Ward Sweat, president of Charley & Sons, grew up in the food industry. His father, Charley, owned and operated a retail meat market in the Atlanta area in the early 1970s. Everything changed for the Sweat family when the owner of El Toro Mexican restaurant needed to have some meat cut to serve to his customers. After that fateful day, word of mouth spread around within the Mexican restaurant industry about Charley's knife skills. Soon after that, just about every player in the market was purchasing their cut meat from him.
Charley & Sons has come a long way from selling and cutting meat. Today, the company is a full-service foodservice distributor that supplies more than 100 Mexican restaurants in the northern Georgia area with tortillas, fresh produce, meat, chicken and cheese. Charley & Sons has become known as the "Hispanic foodservice specialist" and has broadened its service to supplying and consulting for the largest food service suppliers in the world.
Cheese Expansion
When Sweat was a boy and visited a Mexican restaurant, he would always get the white cheese dip. "I remember saying, 'If you could put this in a can, you'd be rich,'" he says. "Well, I didn't put it in a can – [the product is available in a plastic container] – but I am selling it." Sweat's dream of selling the cheese dip became a reality in 2005 when Charley & Sons began selling its version of the popular dip to food service companies. Sweat says when the product became more popular, the company packaged it for retail sales.
In 2007, Charley & Sons was selling Gordo's Authentic Mexican Restaurant Style Cheese Dip at Walmart and local grocery stores primarily east of the Mississippi River.
The popularity of the cheese dip has surpassed the company's expectations. In fact, the company has outgrown its additions to the original cheese-making facility. "We're looking to triple our space," Sweat adds. "We need a new warehouse just for distribution, and we can use the existing facility for production."
The Supply Guy
When it comes to the restaurant supplier side of Charley & Sons, Sweat says the industry has changed. "It's become more price-driven than quality-driven," he claims. "The loyalty has disappeared, and so has the quality. I prefer to do business with people who care about the end-user."
According to Sweat, this change happened when the Atlanta area was flooded with Mexican restaurants. He says the company even lost some business because he refused to play the price game. "I'd get customers telling me they could buy this or that cheaper from someone else and they'd want me to beat those prices," Sweat says. "I decided not to lessen our quality standards and maintain our service."
Because of the company's location near the Georgia Farmer's Market, Sweat is able to provide customers with the freshest produce possible while helping support local farmers. "We deliver fresh produce six days a week," he says. "We know it's fresh because we get it from the farmer's market. It's not sitting around in a warehouse."
All in the Family
Charley & Sons really is a family owned and operated business; Sweat is president, his sister Katy helps manage the facility, and there are three other family members who work at the company in managerial roles. Sweat's wife also helps with administration duties.
Even though not everyone who works at Charley & Sons is related, the company treats its employees like family. "They're the best group in the world," Sweat says. "My employees make us who we are."
That loving, family atmosphere shines brightest around the Christmas season. For the last 15 years, Charley & Sons has been a sponsor to almost 1,000 disabled children at its annual Christmas party. "We have Santa Claus, live music and a parade," Sweat says. "We make sure everybody leaves with a present. Participating in this event completes our Christmas."